Exclusive: Al-Selwady Set For Featherweight Clash At BRAVE CF 29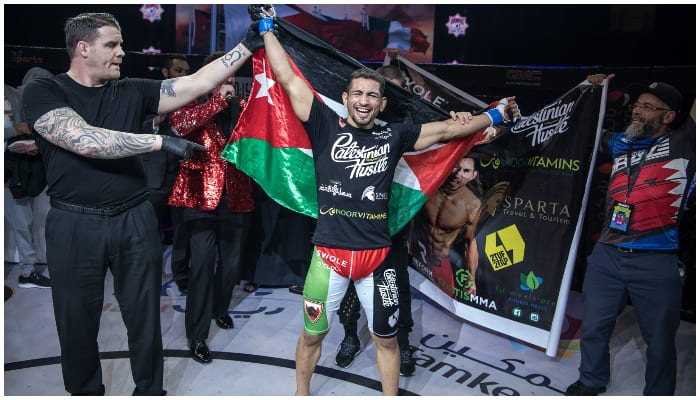 After losing his BRAVE CF lightweight title to Brazilian Luan Santiago at BRAVE 23, Abdul-Kareem Al-Selwady has decided to drop a weight class to pursue the BRAVE CF featherweight strap.
Al-Selwady has not fought at featherweight since 2015, but this Friday the 24-year-old will square off against Colombia's Dumar Roa in a featherweight bout.The pair will meet in the co-main event of BRAVE CF 29 which is set to take place inside the Khalifa Sports City Arena in Bahrain.
"I'm really excited to be returning to BRAVE in Bahrain, especially because I have been fighting in Bahrain for four years in a row, every time I come, I get a win, and it's always a finish," Al-Selwady said to LowKickMMA.
"I love fighting in front of Sheikh Khalid; in front of the Bahrain fans, I feel like its a second home. I have a lot of Jordanian fans and Palestinian fans as well, so I am excited to be coming back and also excited to be fighting in general.
"I wanted to fight as soon as possible after my last fight just to redeem myself just because I know what I am made of and it was just like a lucky hit, and I'm better than that. I've worked a lot on myself to prepare and do a nice comeback."
The featherweight division is currently ruled by Bubba Jenkins. The American impressively dismantled Brazil's Lucas Martins at BRAVE CF 24, to mark the start of his title reign. It was a performance that got Al-Selwady's attention and he is not ruling out a run at Jenkin's title. However, this week, his sole focus is on his upcoming bout with Roa.
"Bubba Jenkins, he's a good fighter, he's the champ he defended it, but right now I am focused on my fight.
" I want to see how my body reacts to featherweight, the weight cut is going well, but I also want to see how my body is going to react when I actually get to that weight.
"How is my body on fight day? How am I going to refuel?  So once I see how my body is, then I will make my decision  if I am going to stay at featherweight or go back to lightweight.
A clash between Al-Selwady and Jenkins would get plenty of attention in the Middle East and from the BRAVE's fanbase. Al-Selwady has been with BRAVE CF ever since the promotion staged its inaugural event back in 2016. The former Desert Force featherweight champion is a veteran of the Middle East MMA scene, which is currently developing at a rapid rate.
"I've seen MMA grow in the Middle East from nothing to where it is right now and with the UFC coming and with BRAVE I feel it's like going to be an unstoppable train."
Al-Selwady is undefeated when competing in Bahrain and if he can maintain that record this Friday, it may not be long before he finds himself closing in on a shot at another title.