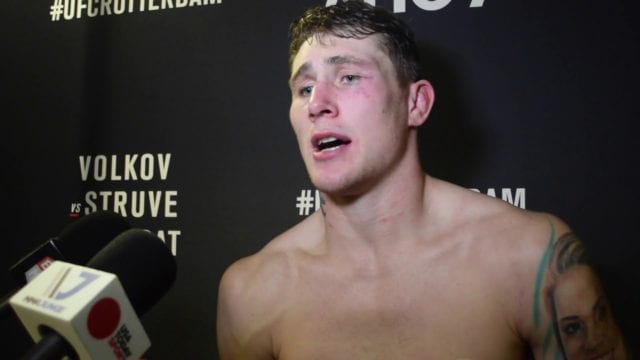 UFC welterweight contender Darren Till snapped back at internet trolls who laid into him after Till recently posted a video of him dropping an overmatched training partner.
Till is preparing for the biggest fight in his young MMA career in Stephen 'Wonderboy' Thompson, and posted a video of himself looking pretty sharp, but it was against an unknown, nameless training partner.
The internet trolls ripped into Till for bullying the downed training partner, and Till has had enough (via MMA Fighting):
The ensuing response prompted Till to post a lengthy diatribe, claiming the training partner in question had actually gone a "few (hard) rounds", and that they both got their licks in:
"For all you dumb cunts commenting on my previous video talking shit, saying that it's bullying. Giving my training partner shit saying he is not worthy to be in there with me! We had a good few rounds together were he gave me a smack and I gave him one, it was a hard day and I feel I have it my all and that previous video was a good clip of me landing some shots. All you internet fighters haven't got a fucking clue so stick to internet fighting and leave the real fighting to us! Here is a video which I posted last December of me taking a smack! I post when I'm hitting and I post when I'm taking a smack, so keep talking shit!"
Till will fortunately have the crowd's support when he takes on 'Wonderboy', as the two will be the main event in Till's native Liverpool.
Did Till go overboard with an overmatched training partner in the first video? If you enjoyed this story, please share it on social media!