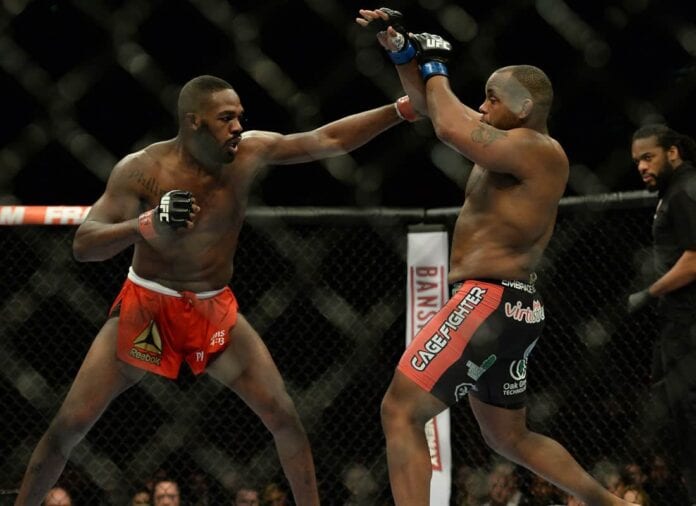 Daniel Cormier is getting ready to defend his light heavyweight title for the very first time against Alexander Gustafsson at the upcoming UFC 192 which is set for October 2, 2015 from Houston, Texas, but "DC's" mind seems to always be on former champion Jon "Bones" Jones.
Jones, and Cormier squared off last January for Jones' then held title in one of the most hyped up fights of all-time, and a fight that Cormier ultimately lost by unanimous decision. Jones was then scheduled to meet Anthony Johnson at UFC 187, but he was pulled from the bout, and stripped of his title after being arrested on hit-and-run charges in April.
"DC" ultimately stepped in, submitting Johnson, and becoming the undisputed champion. The former Olympian has been eager to get revenge on Jones, however, and he recently claimed that there's a large gap between he, Jones, and the rest of the division:
"I think it's me and Jon Jones and then everybody else," Cormier told FOX Sports recently. "If he's not around, then it's me. People can like it or they can hate it, but it's the truth, or as I say, the truth as I know it."
Despite losing to Jones quite clearly, "DC" firmly believes that he and Jones are in a league of their own, and he's out to prove that while the troubled former boss is away:
"Between him (Jones) and I and the rest of the division, there's a divide. I think I can show that during the time that he's gone and while I'm holding onto the belt," Cormier said. "I need to beat these guys and I need to beat these guys impressively."
 "A lot of people put pressure on themselves to win. I put a different kind of pressure on myself. I put more pressure on myself to win, but win as thoroughly as I can in all situations. I don't do that out of disrespect for my opponents — I do that because that's what I expect out of myself."
Although he may be thinking of Jones quite a bit, Cormier isn't overlooking Gustafsson, or anyone for that matter, noting that one misstep could cost him his belt:
"Make no mistake about it, if I don't fight correctly and have an off night, I could lose to every one of them, too. But we put in the work day-to-day to make sure I don't have those nights," Cormier said. "I put in that work to make sure every time I step into the Octagon, I'm 100-percent prepared and ready to go to war."
At the end of the day, however, "DC" isn't just confident that he could beat all of the contenders, but he's confident that he could dominate them:
"I believe with my skills I can compete against these guys, I can beat these guys, I can beat every one of them," Cormier said. "I can beat them all in dominant fashion if I fight the way I'm supposed to fight."
It was recently announced that Jones was set to appear in court in just a few days on September 29, 2015, when hopefully we will get an idea of what the future holds for him fighting wise.

If Jones can get his life together, and Cormier can knock off a few contenders, will we be treated to one of the biggest rematches in the history of the sport?