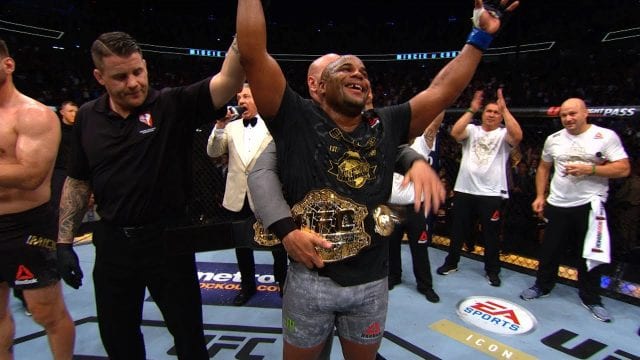 Madison Square Garden will host UFC 230 this evening (Nov. 3, 2018) as Daniel Cormier Defends his heavyweight title against Derrick Lewis, we have you covered with all the results.
To say that matchmakers had some challenges putting together UFC 230 would be an understatement. It seemed every other day there was a change to the co-main event or the main event. Hurdles abound, Dana White and the boys (Sean Shelby & Mick Maynard) managed to put together a pretty compelling night of fights for the New York fans.
The most compelling of all is by far the main event of the evening, as "DC" takes on "The Black Beast" just 28 days removed from his knock out of Alexander Volkov at UFC 229.
If Cormier defends the heavyweight title at UFC 230 he will become the first person in company history to defend each of his two titles during his simultaneous reign. Many have discounted Lewis as a serious threat to "DC's" title, however, the double champ isn't looking past a deserving Lewis.
This opportunity may have come via a hilarious post-fight interview with Joe Rogan but "The Black Beast" has won nine of his last ten fights; that's in the UFC's heavyweight division, that's basically unheard of. All Lewis needs to do is land one punch on the button and down goes "DC".
Round One
The fighters exchange leg kicks, Lewis gets the better. He then goes to the head with a kick but Cormier blocks it. DC closes the distance and gets a takedown fairly easy. Cormier is on top landing some decent ground and pound. Lewis just stands up and gets to his feet. Cormier drags Lewis to the ground with a single leg. Cormier opens up with some hard ground and pound. Lewis trying to get to his feet again but DC is landing some strikes.
Round Two
Lewis opens up the second round with a combo and then a switch kick. Cormier backs him up to the cage and flips him to the canvas. Lewis again just stands up. DC drags Lewis down with a front headlock and picks his ankle. Cormier locks in the RNC and Lewis promptly taps.
 Daniel Cormier defeats Derrick Lewis via submission (RNC) at 2:14 of round two
If you enjoyed this story, please share it on social media!