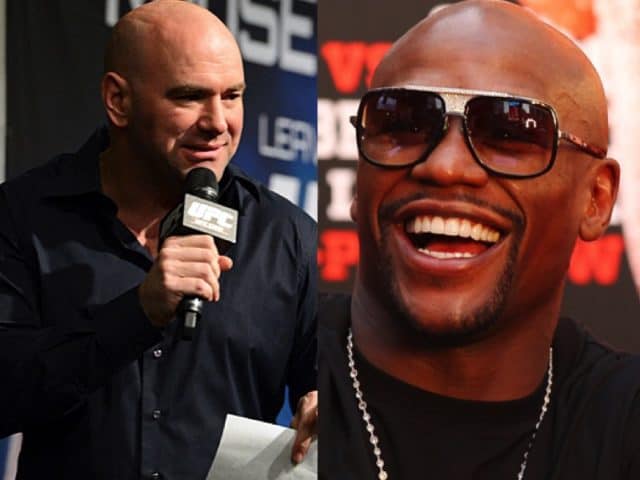 Dana White tells everyone to stop thinking about a boxing bout between Khabib Nurmagomedov and Floyd Mayweather.
This includes everyone from fighters to fans to media members – the UFC President wants you to let it go.
The supposed fight has been a hot topic within the MMA and boxing worlds as it would no doubt be a big spectacle. However, it most likely wouldn't be as big as Mayweather's bout against former UFC champion Conor McGregor.
Mayweather has gone from talking about Khabib to teasing a rematch with McGregor and then even claiming he would fight Canelo Alvarez. Those are some big statements made from a fighter who is no longer in his prime and hasn't fought since last year. However, no one can blame him for keeping his name relevant and trying to bank a huge payday.
White Responds
UFC President Dana White made it clear where things stand regarding Mayweather fighting Khabib while discussing the potential fight with ESPN's Brett Okamoto. White said he has yet to be contacted by the camp of the boxing legend:
"Don't pay attention to it," White told ESPN. "First of all, the Mayweather team has not approached us at all. Khabib is under contract with the UFC. Floyd is very good about getting his name out there when he wants to."
Nurmagomedov is fresh off the biggest win of his career when he picked up a submission victory over McGregor at UFC 229 earlier this month. It was the highest-selling pay-per-view in UFC history.
The expectation is that the NSAC will have a hefty sanction for Khabib and possibly McGregor due to his actions in the UFC 229 brawl. His disclosed salary of $2,000,000 has already been withheld by the Nevada State Athletic Commission. Khabib and McGregor will go before the commission to receive their punishments on October 24.
As for his potential fight with Mayweather, however, White wants us to focus on different possibilities for Khabib.