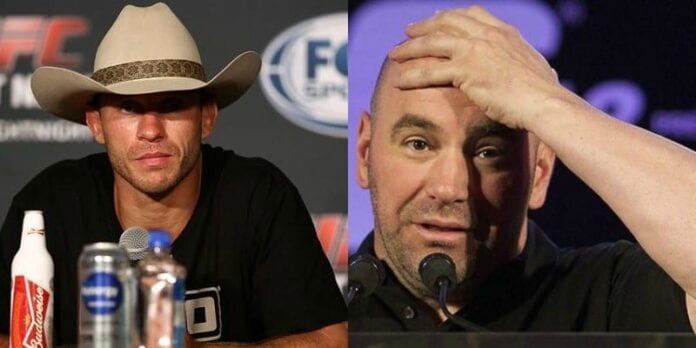 While the UFC recently released a statement on the formation of the Mixed Martial Arts Athletes Association, UFC President Dana White has remained relatively quiet on the news up until now.
In an appearance on the UFC Unfiltered podcast (via MMA Mania), however, White opened up about the formation of the association, which is led by former Bellator CEO Bjorn Rebney as well as Georges St. Pierre, Tim Kennedy, Donald Cerrone, TJ Dillashaw and Cain Velasquez:
"The only thing that I need to know is that the biggest scumbag in the history of combat sports, Bjork, is involved in this thing," he said. "Listen, there are three unions out there right now battling against each other. And, if you're a fighter, all these guys are looking to get in your pocket — it's a business where guys are going to make money. As a fighter, if this is what you want to do, you need to figure our whose hand you want in your pocket. And I guarantee you don't want Bjork's hand in your pocket."
While White clearly isn't a big fan of Rebney, he said that he wasn't necessarily mad at the fighters on the board, although he was a bit surprised at "Cowboy's" presence within the group considering he supposedly helped Cerrone out when he was in a legal bind a few years back:
"I'm not mad at all [at the fighters]," he said. "At the end of the day here is the reality: The fighters can go out and do what they want to do — they are all grown men. We all have paths to walk down in life and this is what these guys [decided to to]."

"I was shocked that [Donald] Cerrone didn't give me a call," White said. "He has headlined three [UFC events]. Never held a title in WEC or UFC. And, a couple of years ago, he was on his boat and gets into a beef with a guy on another boat and he's in big trouble. Who does he call? He calls me. What do I do? I go out and find him the best criminal defense lawyer and spent $100,000 of my own money. So, when I see 'Cowboy' standing up there I'm like, 'really?' Listen, no one has thicker skin than me. So, it just gets to a point where it's, 'whatever.' It's all good."
What do you make of White's comments about a fighter who has been nothing but willing to fight anyone on short notice in order to save a card?