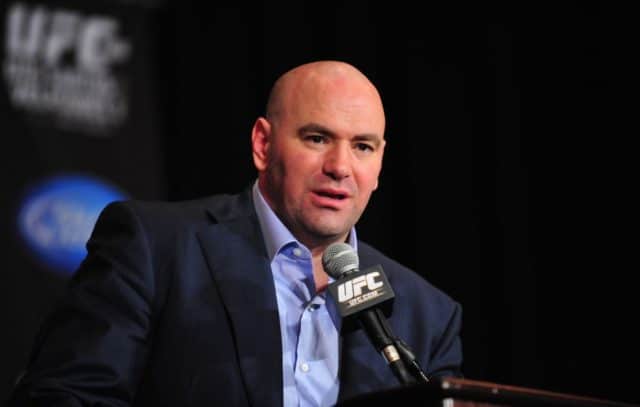 Greg Hardy's UFC future is looking bright after yet another first-round knockout.
However, it's the end of the road for 'The Ultimate Fighter' gym according to UFC President Dana White.
White addressed the media following the conclusion of his 'Dana White's Tuesday Night Contender Series" second season last night and explained that 'The Ultimate Fighter' gym will close its doors, but TUF will live on at ESPN.
Watch White's post-Contender-Series scrum here via MMA Fighting:
The UFC's head man addressed the future of TUF and the Contender Series. He also spoke on Greg Hardy's, who scored another violent knockout last night, UFC future and what he needs to improve:
"I told him, I said, 'I hope you're working on your wrestling, because I think guys are gonna start coming out and trying to take you down,'" White said. "I don't see how much longer guys will come out and strike with him. He claims he's working on his wrestling and his ground game all day, every day, so we're gonna continue to build this guy, continue to get him fights and see what he does.

"It's the level of competition. The guy is 1-0 and he just fought a guy who was 3-0. When a guy has that mentality going into a fight, it's a good thing," White said. "But you saw what happened. In 17 seconds, he finished him. [Hardy] hits hard, he's big, he's strong, he's confident. He got hit with a couple shots on the chin, took him. It's all gonna be about that ground game when that happens to him."
As for the criticism the UFC has received for signing Hardy, White said he's trying to turn his life around. The former NFL star has a concerning history of arrests, but has been great with the UFC:
"The guy has changed his life around," White said. "This is his second chance. He's been excellent to deal with. Every body who has come in contact with him since he's been with us has said nothing but good [things] about him. The guy made a mistake. You're always gonna have the freaks that have nothing better to do and this and that and somebody has a cause.

"What the guy did was horrible. He has a second chance here. He turned his life around. What do they want the guy to do? He should never work again? He should never do anything again? Life doesn't work that way."
If you enjoyed this story, please share it on social media!