One of the most controversial decisions read my Nevada mixed martial arts (MMA) judges went down earlier this month (Saturday December 3, 2016), where No. 1-ranked UFC flyweight Joseph Benavidez was granted a split decision win over No. 2-ranked Henry Cejudo.
Cejudo seemed to have dominated the first two rounds before getting into a slug-fest with Benavidez in the third round that arguably could have gone to either man, and despite having a point taken away in the first round due to consecutive low blows, Cejudo was still expected to take home the victory. A draw was also a reasonable expectation.
When the scorecards were read, however, it came to many's surprise the Benavidez was given the nod as the judge's scorecards read (27-29, 30-26, 29-27). The 30-26 ruling in favor of Benavidez is what many really took issue with, as it indicates that one referee believed that Benavidez won all three rounds of the contest, which was clearly not the case.
Cejudo recently joined Ariel Helwani on The MMA Hour earlier this week (Monday December 5, 2016) to discuss the issue, courtesy of MMA Mania, stating that UFC President Dana White actually called him to apologize for the terrible judging, and stated that he believed Cejudo won the fight:
"You know it's bad when Dana White calls you to apologize for the judging," Cejudo said. "He literally called me two seconds right after I sent [a] text message to him. He was like, 'Listen Henry, I apologize. I'm sincerely sorry. You won that fight. Everybody I talked to — Sean Shelby said you won the fight, everybody that was ringside, there was not one person in that arena that thought you didn't win that fight.'

"It was just a sincere apology and I don't really have a relationship with Dana White," he continued. "I just happened to text him and he was apologetic."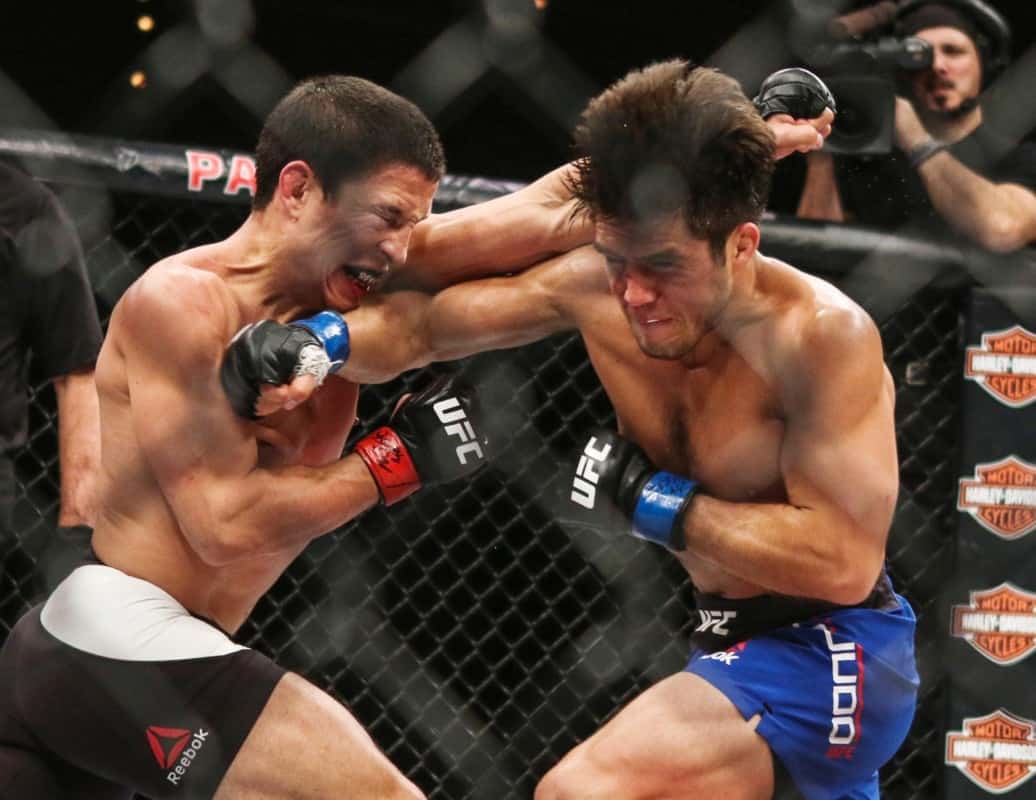 The former Olympian believes that a possible motive for the 'robbery' could be that he backed former welterweight title challenger Nick Diaz during his scuffle with the Nevada State Athletic Commission (NSAC) after being banned five years for the use of marijuana. The suspension was later overturned and Diaz is now available to compete once again:
"I counted every round, all the significant strikes and I just felt like it was a complete robbery," he said. "It's a shame what the judges are willing to do. I wonder if it was due to the backing up Nick Diaz — the whole Nevada Athletic Commission thing. I don't know if they still have it out for me. I definitely do want to fight Joe again eventually, but I won't fight him in Vegas."
With all the controversy surrounding the first bout, it wouldn't come much as a surprise to anyone if the UFC decides to run this one back to determine the next challenger for 125-pound champ Demetrious 'Mighty Mouse' Johnson's throne.
What are your thoughts? Did the Nevada judges get the call wrong on fight night this past weekend? Is a rematch the way to go next?