For years, fight fans drooled over the idea of a potential super fight between former UFC women's bantamweight champion Ronda Rousey and Invicta FC champion Cris Cyborg Justino.
At one point, it was clear that Rousey and Justino were the best in the world in regards to women's MMA, but in the fight game, fans always want to know who the true king, or queen in this case, of the jungle is. The weight disparity between the two, however, has always proved to be too much of a barrier to the fight taking place.
Rousey has since brutally fallen from her throne, but Cyborg has indeed made her way over to the UFC. Making her Octagon debut at May 2016's UFC 198, Justino scored a vicious first round knockout victory over Leslie Smith in a 140-pound catchweight bout. She followed that up with yet another impressive stoppage victory over Lina Lansberg this past September in her native Brazil with the bout once again taking place at 140 pounds.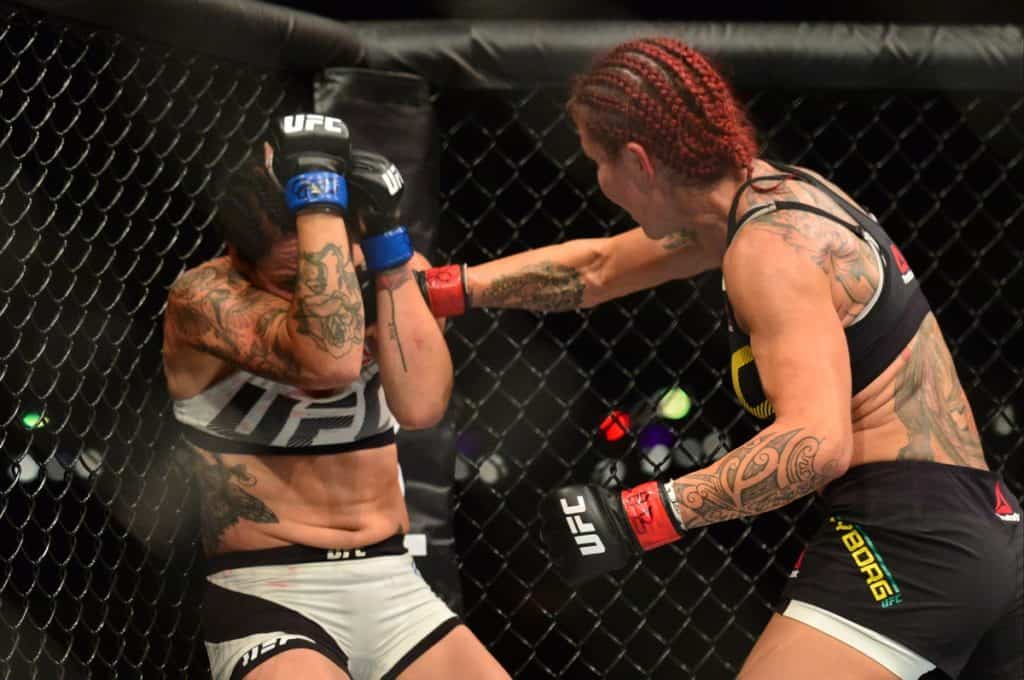 It was clear that Cyborg's brutal knockout power transferred over to the Octagon quite nicely. It was also clear that she was a legitimate draw and a legitimate star, but it was even clearer that she would never fight at 135 pounds. Weight once again proved to be an issue as she struggled to make the 140-pound catchweight limit.
The UFC, being the money-driven business it is, however, knew Cyborg was a valuable asset and an asset worth keeping, which is why they created a women's featherweight division. The inaugural female 145-pound champion was crowned in the main event of last weekend's (Feb. 11, 2017) UFC 208 from Brooklyn, New York, but oddly enough, Justino was not involved in the fight.
Instead, former bantamweight champion Holly Holm took on Dutch striker Germaine de Randamie. Shortly after the bout was announced, Cyborg was flagged by USADA (United States Anti-Doping Agency) for a potential anti-doping violation. Given that she has dealt with performance-enhancing-drug issues in the past, few were surprised that Justino was flagged, and it then made sense why she wasn't a part of UFC 208's main event.
De Randamie went on to win a somewhat controversial decision over Holm, but the division was left in a clutter. It had a champion who few felt was the best featherweight in the world, and a clear lack of contenders.
Yesterday (Feb. 17, 2017), however, it was announced that Justino had a received a retroactive TUE (Therapeutic Use Exemption), meaning that she was eligible to compete in the UFC immediately.
With that being said, it's clear that de Randamie vs. Justino is the fight to make, despite the fact that "The Iron Lady" said she may need hand surgery when asked about fighting the Brazilian slugger.
Either way, the fight world will likely get to see what it's been waiting so long for: Cris Cyborg competing in the UFC at her natural weight. In other words, the uncrowned featherweight queen should finally get the chance to capture her crown.
Will she seize the opportunity?