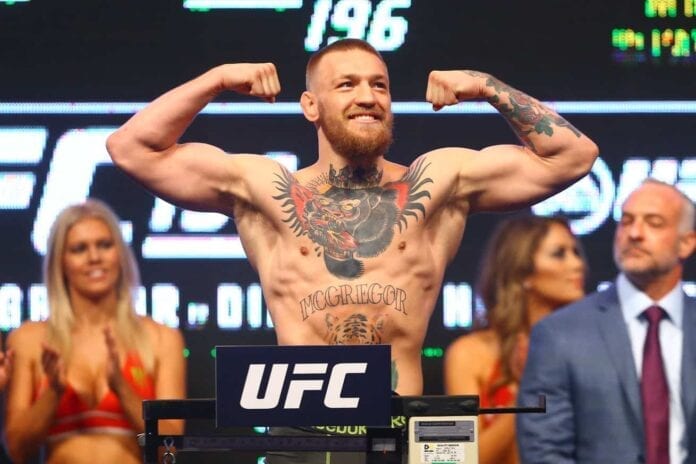 Reigning UFC featherweight champion Conor McGregor and No. 5-ranked lightweight contender Nate Diaz hardly get along, and the two will finally settle the score when they face off for a second time at August 20's UFC 202 from the T-Mobile Arena in Las Vegas, Nevada. There is, however, one thing that the two men can agree on in the midst of their bitter rivalry and it regards the issue of performance-enhancing-drugs (PEDs) in MMA.
Diaz has infamously and repeatedly stated that 'everyone is on steroids', and it appears as if the "Notorious" one feels the same way:
"I'm happy to be tested," McGregor said on a UFC 202 conference call. "The boy is not far along — they f*cking all are on steroids. So it is f*cked up. The co-main and main at 200. That's messed up to me. I don't know."
As far as UFC 200 goes, McGregor is referring to Jon Jones, who was pulled from his scheduled main event bout just days prior after being notified of a potential anti-doping violation, and Brock Lesnar, who was notified of a potential anti-doping violation in the aftermath of his co-main event victory over Mark Hunt.
Neither McGregor nor Diaz has ever tested positive for a banned substance, but the Irishman has been tested 14 times which ranks as the most amongst fighters as opposed to Diaz, who's been tested seven times. The "Notorious" one does question Diaz a bit, however, as the Stockton native has had multiple teammates test positive in recent memory:
"It's his teammates that have been caught before," McGregor said of Diaz. "I just hope that he's being tested as much as I'm being tested. I am happy to be tested. I never kick up a fuss. I never do [a Jose] Aldo and throw the piss over my shoulder and ring the police like he done in Brazil. I welcome them in, I do the test and on they go and then that's it. It's a good thing for the sport, that's all I know."

Who do you see coming out on top on August 20th in 'Sin City'?