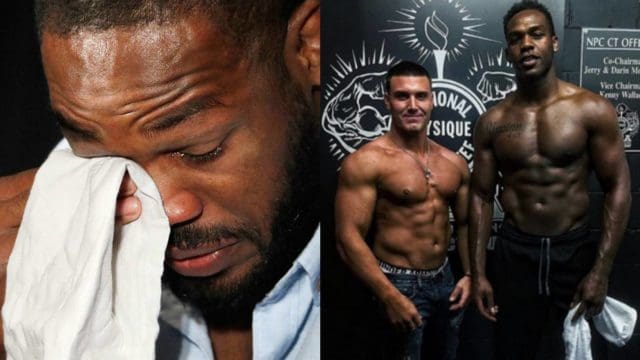 It's been nearly two weeks since decorated former UFC light heavyweight champion Jon Jones threw the MMA world into complete madness when he was forced out of his scheduled UFC 200 main event against arch nemesis Daniel Cormier due to a potential USADA violation from a June 28 test.
The discussion has now shifted to just what will happen to the troubled but talented Jones, and that process got started at today's (Mon., July 18, 2016) Nevada State Athletic Commission (NSAC) hearing in Las Vegas.
First, it was confirmed by ESPN's Brett Okamoto that Jones had indeed tested positive for anti-estrogen substances as had been speculated by Chael Sonnen and Rashad Evans:
Just confirmed at NSAC meeting, Jon Jones tested positive for anti-estrogen substance.

— Brett Okamoto (@bokamotoESPN) July 18, 2016
The substances were eventually revealed as anti-estrogen agent Hydroxy-clomiphene and Letrozole metabolite.
Then word came from FOX Sports' Damon Martin that Jones would be temporarily suspended until a later hearing:
Jon Jones temporarily suspended until a permanent hearing can be held at a later date. #UFC

— Damon Martin (@DamonMartin) July 18, 2016
So the wheels of Jones' final punishment are in motion, but obviously not anywhere close to stopping for good anytime soon. His team has claimed the standard go-to defense of a tainted supplement, something that UFC athletes Yoel Romero and Tim Means have actually gotten reduced suspensions for after violating the UFC's new and increased doping policy, which obviously has some kinks still to be worked out.
But the onus is going to fall on Jones here, because at the very least he was responsible for not having a supplement checked for the dangerous red flag of having anti-estrogen substances in them somehow.
It's simply the latest in a long line of highly-publicized and sad incidents in the saga of Jones, who could potentially face a two-year ban from USADA in the prime of his fighting career.
There's also no telling how this may affect his probation, which he received for leaving the scene after hitting and fracturing the arm of a 25-year-old pregnant women in Albuquerque last year and was already jailed for violating earlier this year.
If you enjoyed this story, please share it on social media!