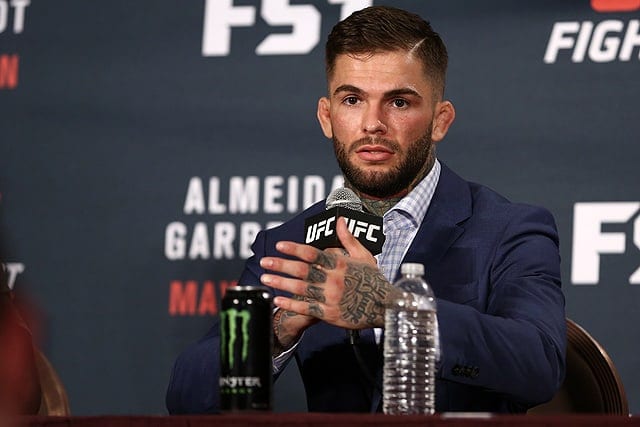 Cody "No Love" Garbrandt is no hater when it comes to fighters wanting big-money fights.
During Monday's media luncheon for this weekend's (Aug. 4, 2018) UFC 227 PPV event in Los Angeles, California (via MMA Fighting), former UFC bantamweight champion Garbrandt was on hand to give his thoughts on his upcoming rematch with reigning champ TJ Dillashaw. Not one to hold his words, Garbrandt also shared his opinion on why fighters are holding out for "money fights":
"My money thing, I never wanted to have my motivation to be money, that's not why I got into this sport, I got into it to be a world champion," Garbrandt explained. "What can I do? I pulled out of the fight [for their first date in July]. I had a wife that was pregnant. I fought Dominick Cruz for $200,000 a year before that. I'm trying to buy a house, I'm trying to get insurance, all the things you're thinking you made it, you're a world champion and you've got all this f*cking money but we're not, man. I understand you have to build your way up to it and it's good, but, I couldn't pull out."
The lifespan of a mixed martial artist is short-lived; if they are lucky an elite fighter may have four or five years at their physical prime., if and when they ever reach their peak is another story altogether.
Bering that to mind, Garbrandt isn't taking any chances.
"You have to live life and now I have to take care of my family," Garbrandt said. "That's why you see all these fighters who want these money fights. You can't blame them. They go in there and literally take years off our life. For what, $40,000? $50,000, some of these fighters are coming in 10 and 10 so, what, if they get their ass beat and make what, $10,000? It's crazy, man. You've got NHL players and MLB players making millions and millions and millions and we're the fastest growing sport in the world. Something's gotta change."
Whether or not something does change regarding the pay scale in MMA remains to be seen. It remains a hot topic in MMA, but until fighters are able to unionize and therefore collectively bargain, it seems like nothing will change.
Garbrandt could earn himself a hefty pay raise if he can beat Dillashaw at UFC 227 and reclaim the bantamweight strap, but he's also concerned about the fighters still struggling to make a name for themselves as they put their health on the line for what he believes are peanuts.
You can watch Garbrandt's full media scrum here: