Chuck 'The Iceman' Liddell knows a thing or two about getting hit inside the UFC's Octagon, as he is the former king of the 205-pound division. Liddell made his name as one of the greatest knockout artists of his era, dispatching foes such as Kevin Randleman, Randy Couture, Renato Sobral and many others in his prime years.
When he sees former UFC heavyweight champion Brock Lesnar compete inside the Octagon, he sees a man who is afraid to get hit. It's no secret, and no fighter really wants to get hit, but 'The Iceman' feels Lesnar is particularly vulnerable to strikes.
"He was a good college wrestler, but he is afraid to get hit. That makes things dangerous — when you have a guy that can punch, and if he can stop Brock's takedowns a little bit, then [Brock] is in a lot of trouble.
I mean, he is tough and has heart because he will still fight and still keep coming and I will give him that. He has heart and he fights hard, but he is very afraid of the punch. So you just have to start punching him!"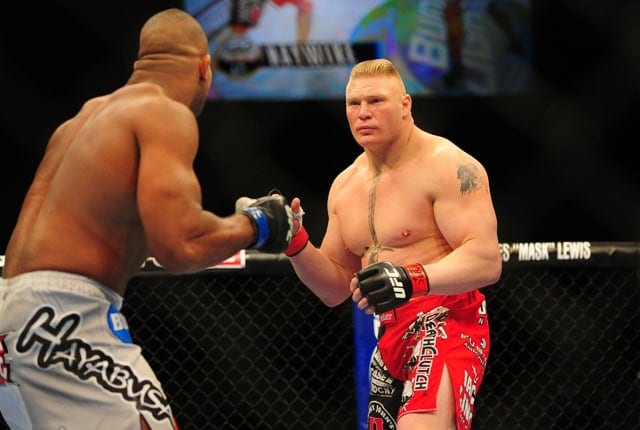 Lesnar (5-3) hasn't seen the inside of an Octagon since suffering a devastating first round TKO loss to current title challenger Alistair Overeem at UFC 141 in 2011. 'The Beast' was once recognized as 'the baddest man on the planet', as he carried the UFC heavyweight championship around his waist once upon a time.
The former NCAA Division I heavyweight champion secured the coveted strap when he defeated Randy Couture in the main event of their clash at UFC 91, but would go on to drop the title to Cain Velasquez at UFC 121 after two successful defenses.
Lesnar and Hunt are set to co-headline the monstrous UFC 200 card this summer, live on pay-per-view (PPV) from the T-Mobile Arena in Las Vegas, Nevada on July 9, 2016.
(All transcribed quotes courtesy of MMA Mania)