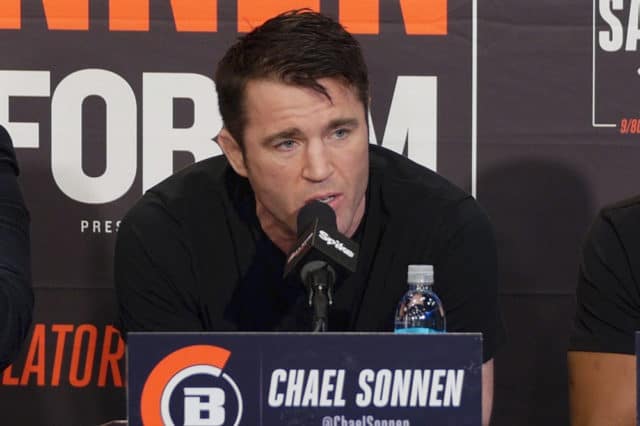 Chael Sonnen's harsh responses to certain fans who have criticized Conor McGregor for throwing the first punch in the brawl at the UFC 229 pay-per-view event. We are almost a week removed from this incident but yet people are still talking about it and dominating the headlines.
There have been many fans making the case that Conor McGregor was the one who threw the first punch to start the melee inside the Octagon. On the flip side, some say that it wasn't his fault but rather Khabib Nurmagomedov.
Dispute
Sonnen is firing back at fans and has given his take on the situation. He also sent a message to fans who make this claim.
"First up, they can shove it up their ass," Sonnen told MMA Fighting (H/T to Bloody Elbow). "That whole thing was created by some wimp somewhere about the other guy has to throw the first punch. If you're engaging me aggressively, and I let you within an arm's reach, I'm a sucker if I allow you to throw the first punch."
Old School Fight
Sonnen brought up how in a fight, you never let someone get within an arm's reach of you before a fight.
"The first thing you do – and remember this, if your dads weren't smart enough to tell you. If you learned how to fight from your moms, or from your wimpy teachers in your liberal school district, you don't let somebody get within an arm's reach of you when they got that look in their eye. You keep them back, and if they break the distance, you always hit them first."
Was Conor Wrong?
The former title contender believes that it was the former featherweight and lightweight champion who was in the right in the way he responded.
"Conor McGregor, who I'm not a defender of, was where he was supposed to be, doing what he was supposed to do," he said. "He was a licensed fighter following the unified rule which says in front of everything else, you protect yourself at all times. He gets up on that cage and is confronted by somebody who is not licensed to be there and is not supposed to be there. He's not doing what he's supposed to do and a melee has broken out."
Blame Game
Instead, Sonnen places the blame on Nurmagomedov jumping over the Octagon to attack Dillon Danis.
"Conor McGregor had every reasonable right to throw at him, and that did not start the fight. Khabib had flown over the Octagon and thrown a jumping kick at into Dillon Danis. So, first off, your facts are wrong that Conor threw the first punch. It's factually incorrect. Secondly, the unified rules state: 'You protect yourself at all times.' Conor was where he was supposed to be, in an Octagon, protecting himself against somebody who had come in to do him harm."
Chael Sonnen's Harsh Response
At the end of the day, Sonnen told those who hate him for these comments through social media that they can do something with their take.
"That's the reality, and if you ask me if I'm getting hate on social media, then I hate you right back. And you can shove it up your ass, because that is what happened."
If you enjoyed this story, please share it on social media!