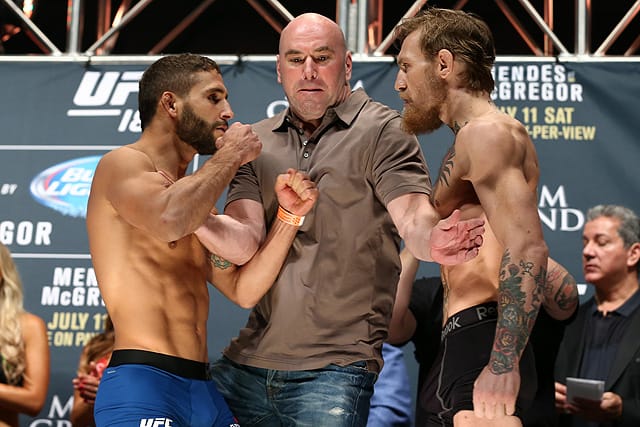 UFC interim featherweight champion Conor McGregor has a bullseye on his back, and it's too his credit when you consider how young he is in the UFC timeline. His victory over Chad Mendes came with both heavy praise for his milestone achievement, but also many fans and fighter alike have said they believe 'Money' with a full camp wins that fight.
As 'The Notorious' moves on from the Mendes fight and UFC 189, it appears the Team Alpha Male standout and three-time UFC title challenger has not quite got there yet. Although having been booked in the now-confirmed December 11th bout with Frankie Edgar, a scrap that could earn either man another crack at the belt, Mendes tells UFC Tonight that he would smash his Irish rival with a full camp, and McGregor knows it:
Mendes on his loss to McGregor: "I know it, he knows it, everyone knows that if I have a full camp I destroy that guy."

— UFC Tonight (@UFCTonight) August 27, 2015
Mendes: "I called him (Edgar) out on Twitter and the next day…BOOM…the fight is official."

— UFC Tonight (@UFCTonight) August 27, 2015
Frankie Edgar vs Chad Mendes is booked for at 145lbs on December 11th. Chad Mendes joins us now to discuss the big news.

— UFC Tonight (@UFCTonight) August 27, 2015
It could be his fourth title fight in a very short time frame if Mendes beats 'The Answer' and is indeed granted another go for the belt, and the questions raised from UFC 189 would surely get addressed if that were the case.
It's a widely believed opinion that Mendes would have much more success with a full training camp, but does that necessarily mean he would get a victory? On top of that, it would be yet another title rematch for fans that are certainly starting to tire of that trend.
Either way, Chad Mendes has another huge opportunity in front of him in the form of Frankie Edgar, but the former lightweight champion is no pushover, and staying focused on Conor McGregor could be a very bad move.