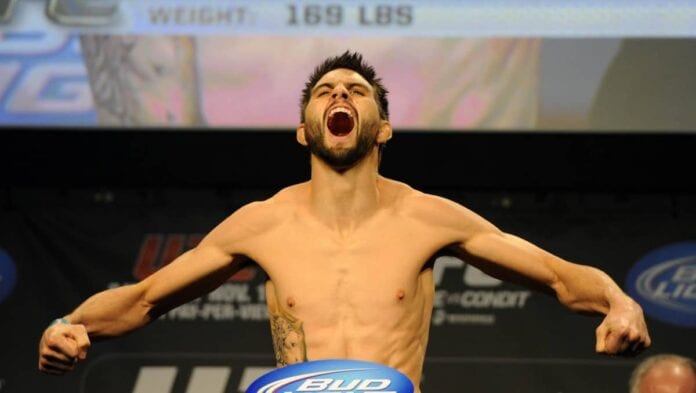 It's been over nine months since we've seen No. 4-ranked UFC welterweight Carlos "The Natural Born Killer" Condit, when he tore his ACL and meniscus during a second round loss to No. 3 Tyron Woodley at March's UFC c171.
The former interim champion has been rehabilitating his surgically repaired knee ever since, and has resumed training with his eyes fixated on an early 2015 comeback. Condit even helped his Team Jackson-Winkeljohn teammate Jon Jones prepare for his pivotal title fight against Daniel Cormier, as witness in the recent first episode of UFC 182 Embedded.
But as far as Condit's next opponent goes, well, he doesn't have one. With most of the top welterweights already booked, Condit is left in kind of a no-man's land until those elite 170-pound bouts take place.
"The Natural Born Killer" could potentially sign on for an anticipated rematch with No. 2 Rory MacDonald after "The Red King" was denied a title shot, but he's got another opponent in mind. Speaking to KQRE News from Albuquerque, Condit said he would mind throwing down again with bad boy Nick Diaz:
"You know, Nick Diaz is back in the picture and I was thinking about maybe after he fights Anderson Silva getting that shot at him. Doing a rematch and kind of settling the score."
That's an interesting point of view from Condit, as Diaz hasn't exactly been considered as an opponent for him heading into the Stockton native's blockbuster UFC 183 match-up with Anderson Silva.
However, this apparently isn't the first time that Diaz has been offered a rematch with Condit, who beat him with a very controversial unanimous decision at UFC 142 in February 2012. According to Condit, Diaz has already turned down the fight earlier this year (via MMA Fighting):
"Nick, for whatever reason, I'm sure he's got his reasons, didn't take the fight. But in the future I would be interested in the fight. I think rematches are always intriguing, especially when they're close like that one."
Rematches do tend to have an aura to them that initial bouts sometimes fail to possess, and there are still many to this this day that believe Diaz won their first meeting hands down due to his constant pressure and control.
That would be a very interesting fight to make, as would Condit rematching MacDonald or Woodley. No. 5-ranked Matt Brown, whom Condit was scheduled to fight back at UFC on FOX 9, would also put his name into the mix if he can get past Tarec Saffiedine at February 14's UFC Fight Night 60.
So while Condit doesn't have a fight booked just yet, he's ready to jump into a training camp the moment a big name comes up:
"I'm taking it easy. But if the UFC comes through with a fight I'll be ready to get into camp."
Condit has faced most of the best welterweights in the world during his 10-year career, but he sits with losses in three out of his last four bouts, and he'll be coming off a serious injury into a crowded sea of dangerous sharks.
Will "The Natural Born Killer" be able to claw his way back to a title shot in 2015?

Photo Credit: Eric Bolte for US PRESSWIRE