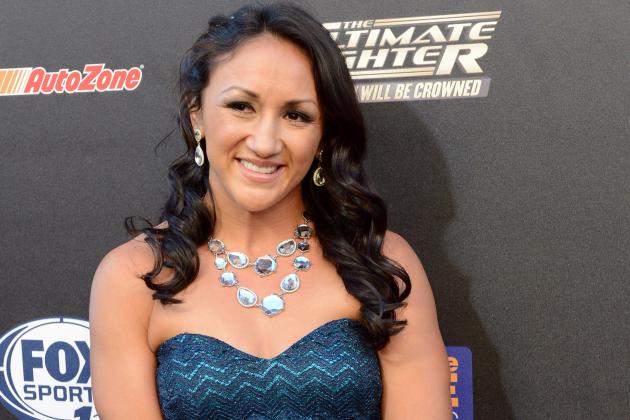 Inaugural UFC women's strawweight champion Carla "The Cookie Monster" Esparza is set to defend her title for the very first time this Saturday (March 14, 2015) at UFC 185, and she has a lot of pressure on her shoulders. Being the first champion in a brand new division, Esparza is essentially the face of the division, and will attempt to get the ball rolling on the division's growth this weekend.
"The Cookie Monster" has a tall order in front of her, taking on lethal Polish striker Joanna Jedrzejczyk. She also has the pressure of being the only other women's champion in the UFC besides superstar bantamweight queen Ronda Rousey, who scored a dominant 16-second win over Cat Zingano last month.
However, speaking with MMAFighting, Esparza is actually inspired and motivated by Rousey. She added that she hopes to follow in the footsteps of the 135-pound champ. "The Cookie Monster" admits that she feels pressure, but not in an intimidating way, rather in a way that she hopes to continue what Rousey has started:
"I want to live up to that pressure. I want to go out there and have an amazing finish. I think it'd be hard to beat 14-seconds, but I'm going for it."
Check out the full interview below:

Shifting over to her opponent, Esparza respects Jedrzejczyk's skill set, but feels confident. Noting that the Polish striker has solid takedown defense, Esparza added that Jedrzejczyk has never faced a wrestler of her caliber.

Will "The Cookie Monster" seal the deal this weekend and confirm her status as champion?