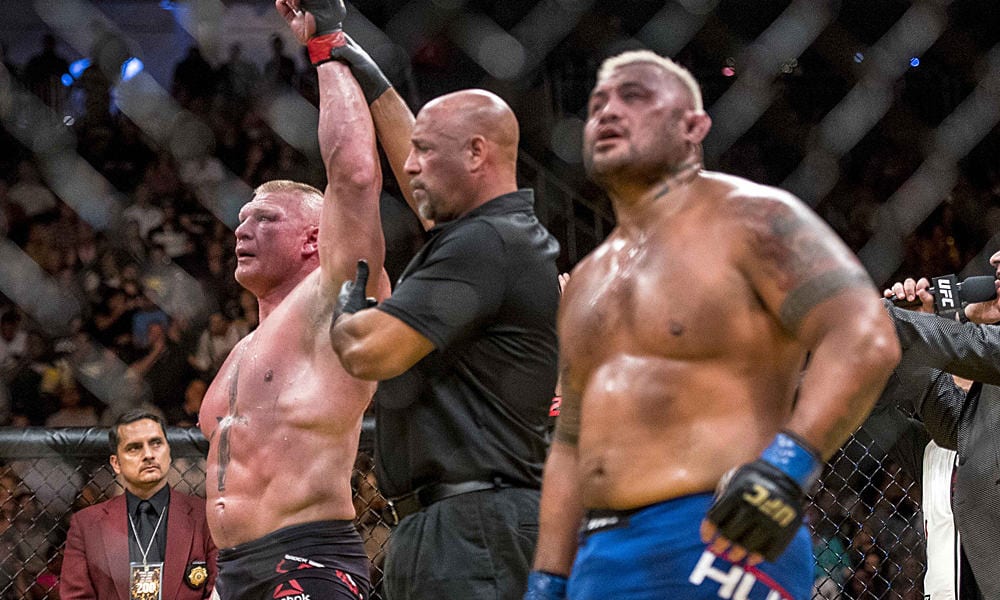 Brock Lesnar is back in bed with the UFC, and that could be to the benefit of Mark Hunt.
Lesnar's last Octagon appearance came back in July of 2016 when he faced Hunt in the co-main event of UFC 200. "The Beast" picked up a unanimous decision win on the judges' scorecards, but it was later revealed that Lesnar tested positive for a banned substance in two drug tests – the first being 11 days prior to his fight with Hunt, and the other on fight night itself.
This came as little surprise to the mixed martial arts (MMA) community, as the WWE star was given special treatment of sorts in the early stages of setting the fight up. After partnering up with the United States Anti-Doping Agency (USADA), the UFC's drug testing policy is now one of the strictest professional sports has to offer.
Lesnar hadn't competed in the UFC since December of 2011 heading into his fight with Hunt. Because of this, the UFC argued that Lesnar didn't have to comply with its policy of having fighters spend four months in the drug-testing pool before returning. Due to the fact that Lesnar came to an agreement with the UFC only one month before the fight, and that Lesnar's nearly five-year layoff extended back to before the UFC partnered with USADA, Lesnar didn't have to wait the four months before competing again.
After it was revealed that Lesnar failed his in-competition drug tests he was suspended for one year by the Nevada Athletic Commission (NAC) and given a $250,000 fine, which was 10 percent of his guaranteed purse. His victory over Hunt was also reversed to a no contest.
Shortly thereafter, Hunt launched a lawsuit against Lesnar, the UFC, and Dana White, alleging that the trio committed racketeering, fraud, battery, civil conspiracy, and more in regards to Lesnar's fight against him at UFC 200.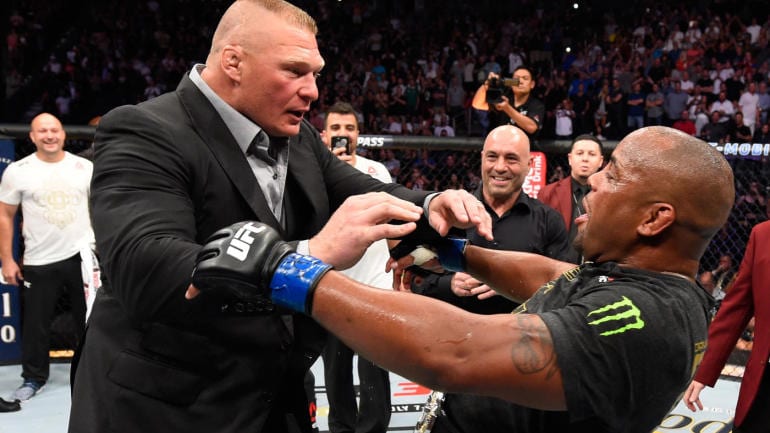 In December of 2016 Lesnar retired from MMA competition, freezing his one-year suspension.
That all changed earlier this month when Lesnar returned cage-side at UFC 226 to witness Daniel Cormier make history by knocking out Stipe Miocic to become the second fighter to hold two UFC titles simultaneously. After the fight, he entered the Octagon and engaged in a physical confrontation with "DC" before UFC President Dana White announced later in the night that Cormier vs. Lesnar is the next heavyweight title fight he intends on making.
Lesnar re-entered the USADA drug-testing pool on July 3rd, which is one of the requirements of serving out his 2016 suspension, and will be eligible to compete again on January 8th of 2019.
In the wake of Lesnar's UFC heavyweight title opportunity, Hunt's lawyer, Christina Denning, believes this could be helpful to "The Super Samoan's" case. She told MMA Fighting they are considering amending their complaint:
"We debated whether or not to, while the motion to dismiss is pending, to alter the complaint again, to keep adding more facts regarding the way that the organization works and perhaps the unfairness of it," Denning said.

"So, that's something that we have not done yet, but we definitely [might] with all the buzz around [Lesnar] coming back."
Denning's initial amended complaint, which was filed in January of 2017, reads as follows:
"LESNAR, WHITE, and UFC, acted in concert as set forth fully above, to defraud HUNT and commit a battery against HUNT by a scheme to knowingly pit HUNT, a clean fighter, against LESNAR, a doping fighter, to the wrongful benefit of Defendants and to the detriment of HUNT.

"On information and belief, WHITE and UFC were intentionally delaying the announcement because LESNAR was using banned substances and needed additional time in order to circumvent testing procedures."