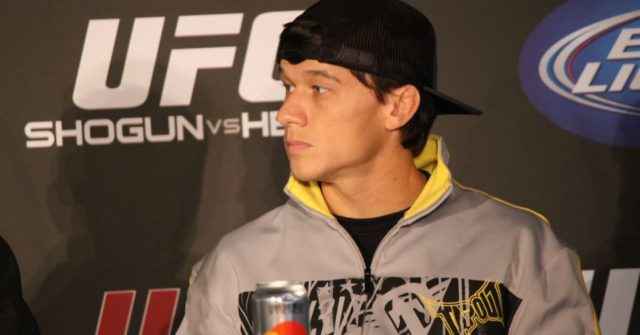 Former WEC bantamweight champion and current UFC 135-pounder Brian Bowles can be added to the list of MMA fighters to have been arrested this year. After BJ Penn got pinched for a brawl in a parking lot, Dave Herman got tasered (apparently for not much), we now learn that Brian Bowles got busted for possession of meth, marijuana and a fire arm too.
Check out the official report from the Jackson County Sheriff's office, courtesy of Sherdog:
"The Sheriff's Office responded to Bowles residence on Stoner Road in Arcade, Georgia in an attempt to serve an arrest warrant on a wanted female possibly at this location. This particular female was not located however; Investigator's found Moon and discovered she did have an outstanding Probation Warrant. After a search of the immediate area Investigator's found a quantity of methamphetamine. A Search Warrant was executed at the residence and a quantity of marijuana, other narcotics, a gun and numerous packaging materials were also located within the home. Moon and Bowels were both arrested and transported to the Jackson County Sheriff's Office. Moon has been charged with Possession of Methamphetamine, Possession of a Schedule IV Drug, Possession of Schedule IV Drug with Intent to Sell, Possession of Marijuana, Possession of Marijuana with Intent to Sell, Possession of Tools for the Commission of a Crime and Possession of a Firearm during the Commission of a Crime. Bowles is charged with the same. Both are currently incarcerated."
Bowles had beaten the then P4P worthy Miguel Torres at WEC 47 to win the bantamweight title, only to lose it against Dominick Cruz after breaking his hand in the second round. He would then cross over successfully to the UFC with two straight wins over Damacio Page and Takeya Mizugaki, before losing consecutively to Urijah Faber and George Roop.
The TKO loss to Roop at UFC 160 was followed by a failed dope test due to 20:1 testosterone to epitestosterone levels. He was given a $5700 fine and nine month suspension and he hasn't fought again since.
So add Brian Bowles to the growing list of troubled MMA fighters getting on the wrong side of the law. With UFC light-heavyweight champion Jon Jones getting popped for cocaine and the whole saga surrounding that, this news makes it four UFC names within the space of a month.
Follow @Rorylowkick

Follow @LowKick_MMA

Tweet

If you enjoyed this story, please share it on social media!