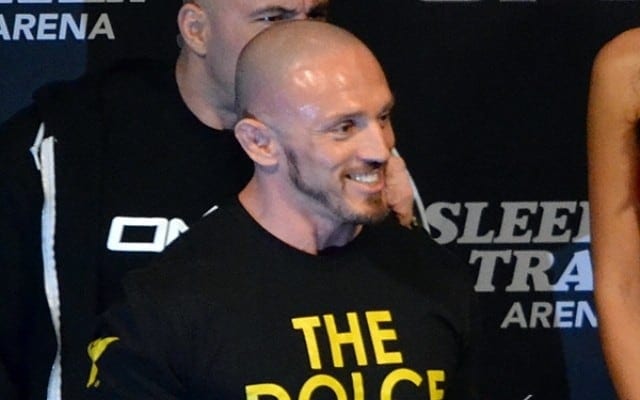 Former UFC welterweight and lightweight champion BJ Penn had a rather unjust end to his illustrious career, as he was smashed by three-time opponent Frankie Edgar before even hitting the championship rounds. "The Prodigy" was outclassed it seemed, and was a bloody mess by the time the referee stepped in to end the onslaught from "The Answer". By that time though, we already knew BJ was done.
The resulting retirement was both saddening and relieving; it was tough to let go of another original UFC and MMA pioneer, but we were content to never see him get beat up like that again. The form that Penn was in at The Ultimate Fighter 19 finals was poor to say the least, and surely an indicator that his time as a fighter was up. Although there were some that disagreed…
When questioned in the time since, Penn's dietician for the featherweight bout against Edgar, Mike Dolce, has said he had little influence on the former champion's final camp. Penn, talking to BJPenn.com, says this is just not true:
"He said he had no influence in my camp, but he brought in sparring partners, did my food and diet, and had me do his treadmill, plyometrics, and core routines. I don't know what he's talking about. I hadn't been to 145 (pounds) in 18 years and that cut was intimidating. I wanted to get it right, so we brought in Mike Dolce, and paid him $22,000.00 for 21 days of service. That's $1000.00 per day plus a $1000.00 tip." 
So not only is Penn saying that Dolce did have a hand in his final camp, but also that the famed dietician and cornerman made a substantial amount of cheddar for his three-week input. He continues, refuting the claims that Dolce filled his apartment with the correct foods for his cut:
"There was no food in that apartment, and he never told me what to eat. That's the first thing I thought after the fight, was that I should have just filled this place with food and not listened to Dolce. But when you pay someone that kind of money, you entrust them to do their job and take that off your hands. We trained 5-6 days a week. Cardio in the morning, I ran anywhere from 4 to 8 miles a day, and sparring/grappling and MMA training in the evening. I sparred 5 rounds at any moment. I passed all his treadmill intervals with flying colors, and I listened to him on every step of the diet that he gave me."
I'm not a 'what if' kinda guy too often, but I do wonder if "The Prodigy" would've stood a chance had he been fed properly. Obviously there is no substantial evidence for either party yet, but it sounds like Dolce might've been caught lying, if what BJ says is true…
"We had Dominick Cruz, Lowen Tynanes, Russell Doane, and the guys Dolce brought in, Nik Lentz and Mirsad Bektic. He brought Nick Lentz in for 5 rounds, but he couldn't continue after the 4th and left the cage bloodied.  Dolce even walked up to me after and said he 'knew I was going to win the fight because I just broke Nik Lentz. I don't know why he's saying my camp wasn't good. Everyone I sparred with knows that I was well prepared, including the two sparring partners that he brought in"
"I woke up the next day (fight day ) at 150 (pounds) and I ate this much food for the 13 hours before the fight that day. (Shows Page from Dolce's diet log). Dolce didn't come to check on me, or monitor my weight, and I couldn't get in touch with him. I don't feel there was any real attempt to get back to my sparring weight after weighing in. From all my years of experience in the UFC, every second counts from the scale to the cage, and Mike Dolce didn't share the same mentality as I did.  Dolce made every meal I ate the whole time I was there [in Vegas], and now after the fact, he says I should have went and ate my own food if I was hungry. After the fight I asked him why he  fed me so little on fight day. And all he said was, 'Why didn't you go eat if you were hungry? I replied, 'I was waiting for the $20,0000 dollar man to tell me what to do.', then he said, 'Take your $20,000.00 back then.' I figured that paying this guy $1,000 a day, I could just focus on the fight and Dolce would focus on the food and weight cut. But I guess that was my job to focus on the food, and my weight, and the money was charity for the Dolce Diet."
Wow, now that is some pretty condemning stuff for any potential Dolce Diet customers to read. It appears that Mike Dolce is, allegedly, a total asshole. Is this a case of sour grapes from Penn, or does he have another reason to be mad at Dolce? I can't give you the answers, but I feel like Penn's statements speak for themselves….thoughts?