Bellator MMA is back with perhaps their best card ever on paper with tomorrow night's (Sat., September 29, 2018) Bellator 206 from the SAP Center in San Jose, California.
The main card will stream live on new Bellator partner DAZN. The card's headlining bout features a highly anticipated middleweight super fight between 185-pound titleholder Gegard Mousasi and welterweight champion Rory MacDonald. In the co-main event, former PRIDE rivals Rampage Jackson and Wanderlei Silva will meet for the fourth time.
The Bellator World Welterweight Grand Prix will also kick off on the main card. Former champions Douglas Lima and Andrey Koreshkov will square off in the inaugural bout of the buzzworthy tournament. Ascending star Aaron Pico also has next fight on the main card, facing Leandro Higo on his continued rise.
All of that adds up to an incredibly packed Bellator 206 main card. We broke down the important aspects of each major bout. Check out our Bellator 206 preview, predictions, and analysis here.
Gegard Mousasi vs. Rory MacDonald
Hyperbole aside, this is probably the biggest fight Bellator could put on right now due to the track record of both fighters.
Mousasi has won seven straight bouts since his fluky TKO loss to Uriah Hall in September 2015. He's finished five of those opponents by knockout and may be at his peak as a result. Mousasi did have some trouble in his Bellator debut against Alexander Shlemenko. However, he most recently destroyed former champion Rafael Carvalho in one round at May's Bellator 200.
Likewise, MacDonald has been on a tear since coming to Bellator, albeit a smaller one. He's won both of his fights against Paul Daley and Lima, winning the belt from the latter at Bellator 192 this January.
Both of these fighters bring a wealth of relevant in-cage knowledge, a wholly well-rounded skillset, and the experience to back it up. Therefore, this is truly as elite a fight Bellator could make. Mousasi and MacDonald are somewhat similar in style. They both employ crisp, accurate, and measured striking on the feet, choosing to pick their spots with peerless efficiency. They also share a laserlike jab as one of their most effective weapons. Mousasi has shown much more knockout power on the feet, however, and does hold a size edge here.
While neither is known as a world-class wrestler, each man can take nearly any opponent down and defend opposing takedowns sufficiently. If and when the bout hits the ground, both fighters can absolutely come out on top with an extensive list of submissions. Mousasi is a black belt in judo and MacDonald is the same rank in Brazilian jiu-jitsu.
All of that boils down to an incredibly close fight on paper. When that happens, the size advantage may play the biggest deciding factor. As you can see from the photo above, Mousasi is the bigger fighter. It'll be close, but I think he outlasts MacDonald by decision in a back-and-forth battle.
Prediction: Gegard Mousasi def. Rory MacDonald via unanimous decision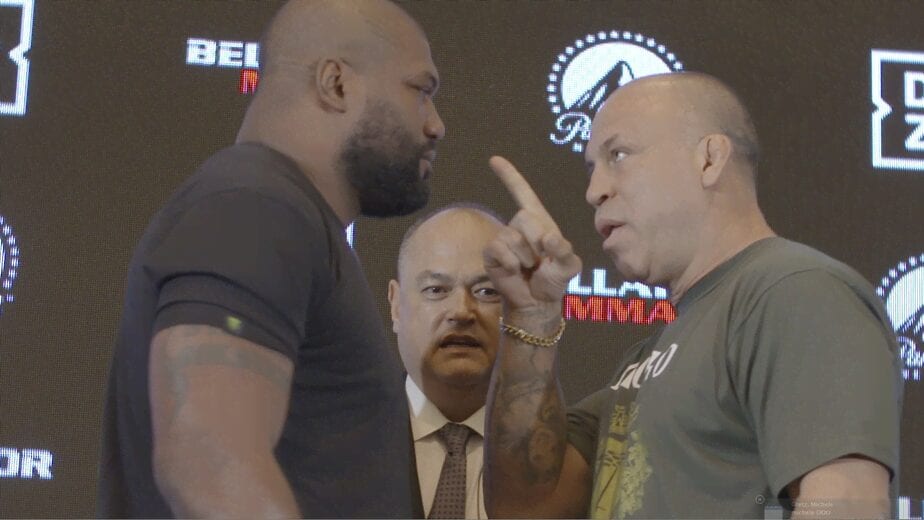 Rampage vs. Wanderlei Silva
We know that both of these fighters are obviously out of their respective fighting primes. Those primes were excellent. Jackson and Silva were definitely two of the most exciting and entertaining fighters in the world during PRIDE's heyday of the early 2000s.
Those days are long gone, however.
Silva won their first two bouts by T/KO at Pride Final Conflict 2003 and Pride 28. Jackson avenged the loss with a huge hook KO at UFC 92. Their most recent fight was almost 10 years ago, but they'll go at it again a fourth time this Saturday night.
The 40-year-old Rampage has lost his last two fights to wrestlers Chael Sonnen and Muhammad Lawal when they neutralized his striking-based attack with relentless takedowns. That's not going to happen against Wand.
The once-feared 42-year-old "Axe Murderer" has alternated wins and losses over his last six match-ups, with his most recent a decision loss to Sonnen at 2017's Bellator 180. Before that, he hadn't fought since a thrilling knockout of Brian Stann at UFC Japan in 2013.
Silva has lost eight of his last 12 bouts overall. Both of these sluggers look to put on a show and will be going for the knockout. Rampage seems to be the bigger and more active fighter despite him clearly being out of his prime.
This could be a letdown, but I think Jackson gets the job done with his trademark hooks in the second round.
Prediction: Rampage Jackson def. Wanderlei Silva via R2 TKO (punches)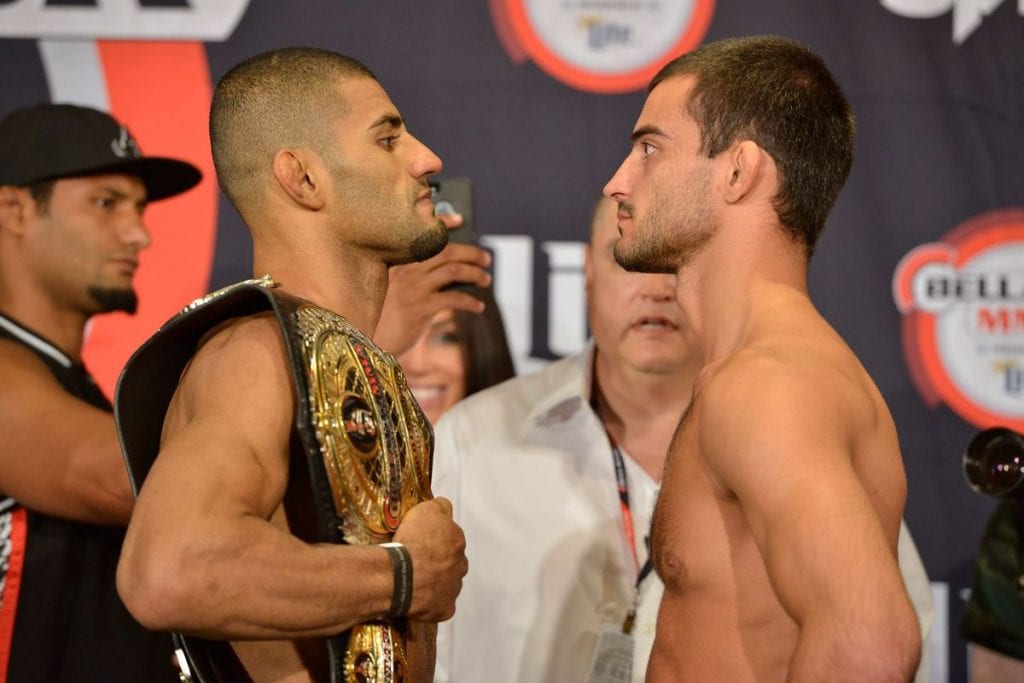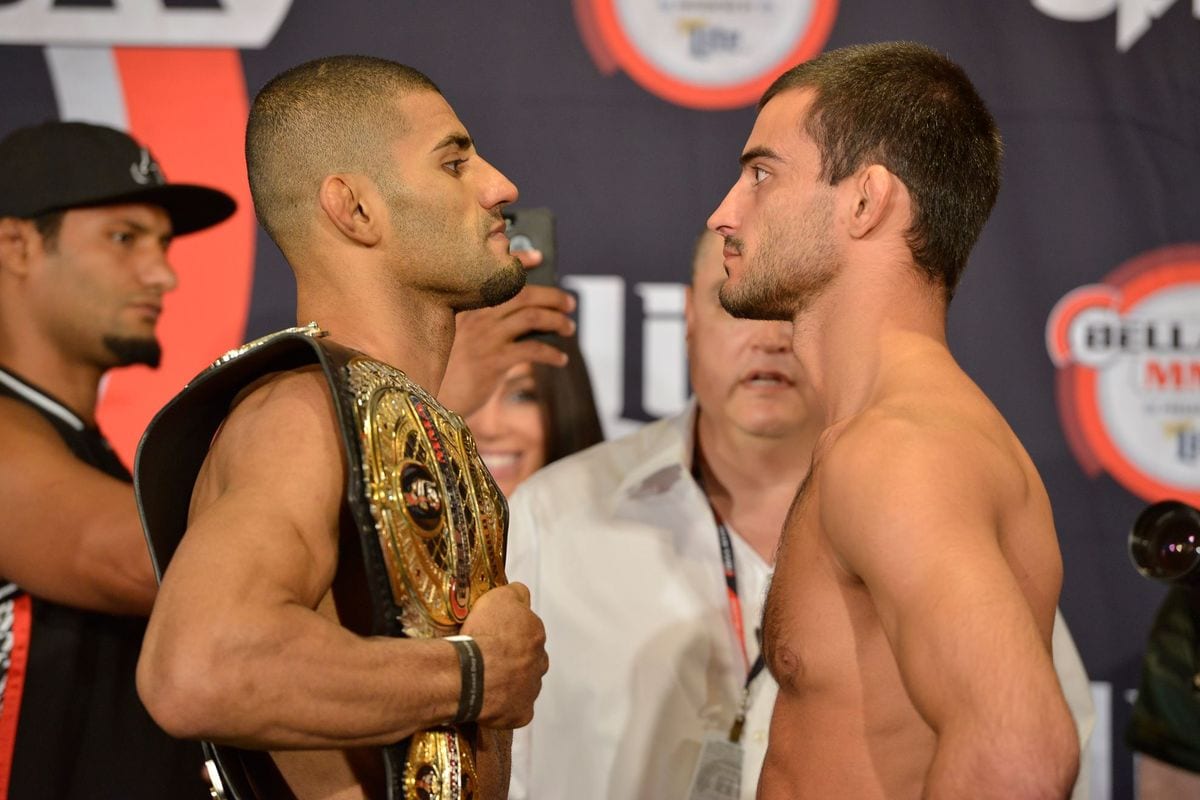 Douglas Lima vs. Andrey Koreshkov
This trilogy fight between former Bellator welterweight champions Lima and Koreshkov has several dynamics in play.
Koreshkov won the title by outlasting Lima by unanimous decision in mid-2015. Lima avenged the loss by knocking out Koreshkov in the third round of their rematch at Bellator 164 the following year. He then lost the title to MacDonald in a closely-contested decision at Bellator 192 this January. The promotion then announced the World Welterweight Grand Prix.
Lima vs. Koreshkov will serve as the opening round of the 10-man Grand Prix.
There couldn't be a better bout to kick of the 170-pound GP not involving MacDonald. These fighters bring extreme heat in all of the strikes thrown in their pressure-heavy gameplans. They're simply action fighters and have the records to show for it. Lima's known for his heavy low kicks. He has knocked out 13 opponents in his 29 wins, but he's also sneakily submitted 11 of them. Lima is a black belt in Brazilian jiu-jitsu under Roan Carneiro.
Koreshkov is more focused on the knockout. He's ko'ed his foe 12 times in 21 wins with only three submissions. Lima should be the more well-rounded fighter, but I don't expect this one to go to the ground. If it does, Lima should hold an edge.
But if it plays out in the striking department as I expect, it's anyone's game. Lima brings the mental advantage of having knocked out Koreshkov in the rematch. Koreshkov only beat Lima by decision, so that could come into play.
Ultimately, this should be a war where the fans win. I expect Lima to emerge with the victory and advance to the next round of the Welterweight Grand Prix.
Prediction: Douglas Lima def. Andrey Koreshkov via unanimous decision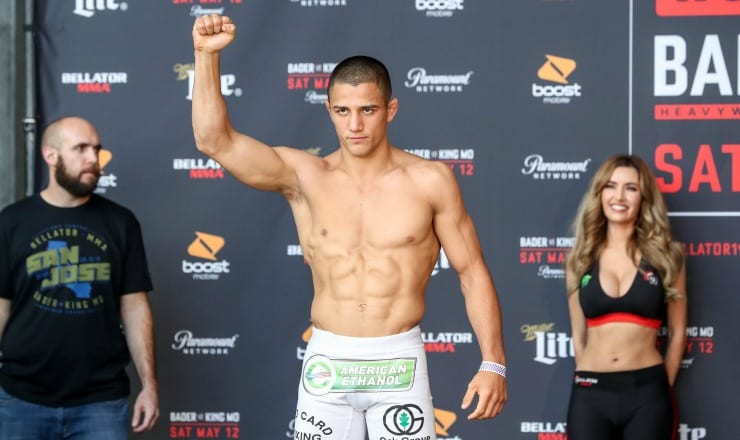 Aaron Pico vs. Leandro Higo
Hyped rising star Pico will look to continue his rapid rise when he meets the veteran Higo at Bellator 206.
Pico lost his first professional MMA bout last year to Zach Freeman at Bellator 180. Since then, he's been on an absolute tear, demolishing three straight fighters by first-round knockout. It appears the hype is real for the 21-year-old rising star. Either way, the hype will be hard to live up to because of the fact there's perhaps never been a young fighter who has received so much of it.
Pico has the look of a runaway freight train. His boxing is both crisp and powerful. He's a Golden Gloves national champion and has proven he can KO professional MMA fighters in one round. Pico is also a national champion in three forms of wrestling. He's not known for his submissions. Regardless, he's still one of the most well-rounded prospects MMA has ever seen. It sounds like fluff, but he's that good.
Higo is becoming sort of an afterthought due to Pico's rising star. But he's far from a slouch. He lost to Bellator bantamweight champ Darrion Caldwell in his last fight and moved up to featherweight to battle Pico. Before that, he won nine of his prior 10 fights. He brings a shining 18-4 professional record to Bellator 206. Higo has submitted his opponent in 10 of those wins, meaning his best shot to upset Pico will be on the canvas.
Pico has submitted before. It'll be easier said than done. Higo only has three knockout wins so he'll be at a decided disadvantage against Pico. Higo is also durable and has only been knocked out once.
I don't think that will matter here, however, as Pico is the real deal. He should only continue rising. I do question if Bellator is promoting him correctly right now. True, he's always on their biggest events. Aging, out-of-prime stars like Rampage and Wanderlei Silva are overshadowing him. Those nostalgic names may bring numbers in the short-term while they look to Pico as their major name in the future.
In any case, I believe that rise continues at Bellator 206. Higo is a great veteran and shouldn't be counted out. But I feel like Pico's striking is improving quickly and should be otherworldly in Sacramento.
Prediction: Aaron Pico def. Leandro Higo via R1 TKO (strikes)