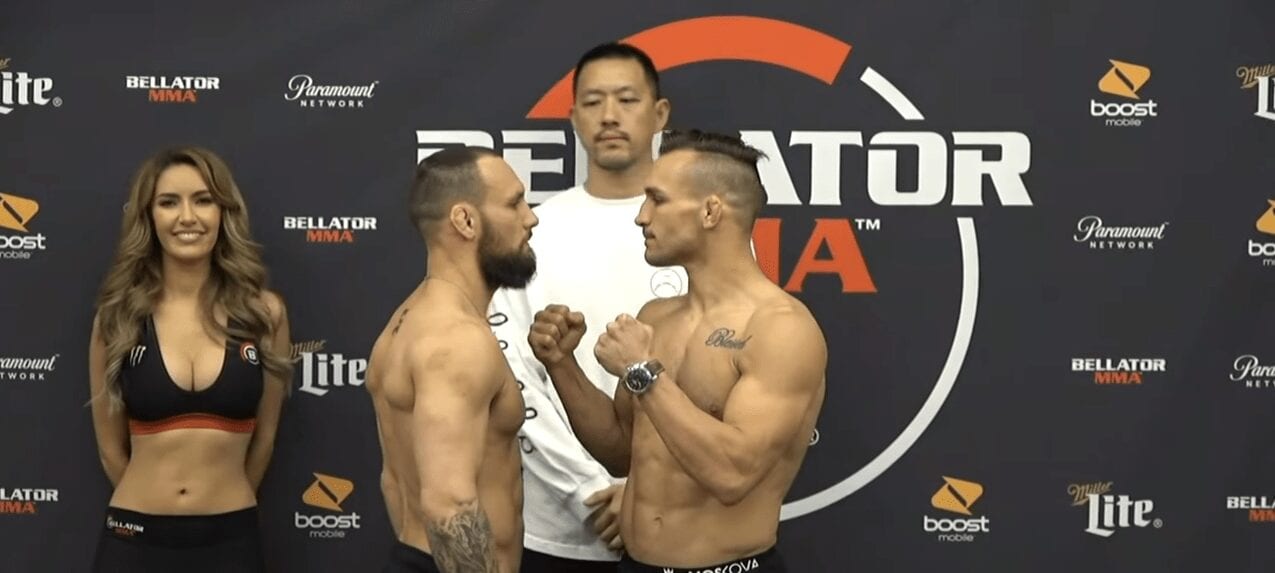 It's once again fight day here at LowKickMMA, and the talent on display tonight (Friday, April 13, 2018) will come in the form of Bellator 197. Headlining the card are Michael Chandler and Brent Primus, but there's a whole bunch of great fights also taking place on the rest of the main card.
Michael Chandler and Brandon Girtz meet in a lightweight bout in the main event. In round 1, Girtz caught him with a groin shot and there was a pause in the action. Chandler pressed the action and landed a body kick but it was caught and Girtz caught him with some shots briefly on the guard before Girtz got back to his feet. Chandler scored a takedown late in the round and got side control. Chandler locked in an arm triangle for the win.
In round 1, they had a feeling our process. McKee dropped him with a body kick and attempted a guillotine choke but let go of it and got back to their feet. They exchanged to end the round.  In round 2, Lawrence started to let his hands go in this round and even landed a nice combo that stumped the undefeated fighter. Lawrence kept pressing forward but McKee was landing some nice counter strikes. McKee chopped down on the lead leg of Lawrence, who was limping and appeared to have hurt his left ankle. In round 3, Lawrence knew he was down on the scorecards and attempted to pick up the pace but McKee was doing a nice job at keeping range and counter striking. The judges gave the win to McKee.
Logan Storley vs. Joaquin Buckley is next in a welterweight bout. In round 1, Storley came out and took him down right out of the gate. Storley got half guard and worked him over with strikes. Buckley was doing a good job off his back and defending nicely. Still tried to buck him. Mid-way through the round, Buck got to his feet but couldn't stay there as Storley dragged him back down to work him over with more strikes. In round 2, Storley took him down again and got half guard. Storley is taking this man to school and was just using his skills as well as gameplan. Storley was grinding Buckley down with this short elbows and strikes. Storley got full mount and blasted him with strikes to close out the round. In round 3, Storley once again came out with a takedown attempt. Buckley put up a great fight with his defense and raining down elbows while Storley worked on the takedown. Eventually, Storley got the takedown and just wore him down with his wrestling and strikes. Buckley got to his feet late in the round but was taken down again. The judges gave Storley the decision win.
Opening the main card on Spike TV is Kevin "Baby Slice" Ferguson Jr. vs. Devon Brock in a catchweight bout. In round 1, Baby Slice went for an early takedown but was stuffed. Brock got the fight back on the feet and they had a feeling out process. Baby Slice dropped him with a right hand and swarmed him with strikes from guard and then got his back and locked in the rear naked choke for the win.

Here are the results for this event:
MAIN CARD (Paramount Network/9 p.m. ET)

Lightweight: Michael Chandler def. Brandon Girtz — Technical Submission (Arm-Triangle Choke) 4:00 R1.

Featherweight: A.J. McKee def. Justin Lawrence via unanimous decision (30-27, 30-27, 30-27)
Welterweight: Logan Storley def. Joaquin Buckley via unanimous decision (30-27, 30-26, 30-26).
Catchweight: Kevin Ferguson Jr. def. Devon Brock via submission (Rear-Naked Choke) 0:34 R1
PRELIMINARY CARD (Online/7 p.m. ET)

Juliana Velasquez def. Rebecca Ruth via TKO (kick) – Round 3, 0:50
Derek Anderson def. Zak Bucia via unanimous decision (30-27, 30-27, 30-27)
Dominic Mazzotta def. Josh Sampo via unanimous decision (30-27, 30-27, 30-27)
Eric Ellington def. Jordan Howard via split decision (29-28, 28-29, 29-28)
Adam Cella def. Dewayne Diggs via TKO (strikes) – Round 1, 4:27
Cort Wahle def. Joe Roye via submission (guillotine choke) – Round 1, 0:21