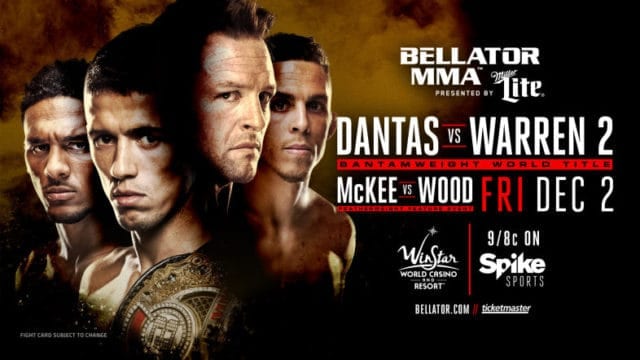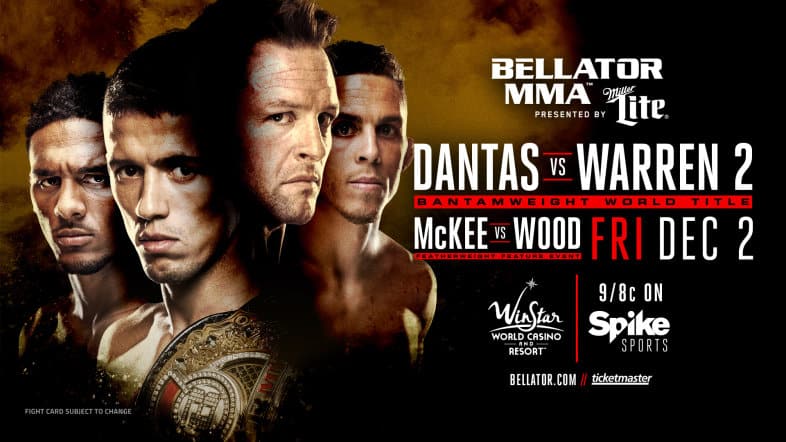 Bellator officials held the weigh-ins for Bellator 166 on Thursday and you can watch them here:
Bellator 166 takes place on Friday, December 2, 2016 at the WinStar World Casino in Thackerville, Oklahoma. The event will air live in prime time on Spike TV at 9 p.m. ET/8 p.m. CT while the prelims will air on Spike TV.com.
The event will be headlined by a title fight rematch as Eduardo Dantas will defend the bantamweight title against former champion Joe Warren. A.J. McKee vs. Ray Wood in a featherweight bout will serve as the co-main event. Rounding out the main card is Marcos Galvao vs. L.C. Davis in a bantamweight bout and Chris Honeycutt vs. Ben Reiter in a middleweight bout.
Here are the weigh-in results:
MAIN CARD (Spike, 9 p.m. ET)
Champ Eduardo Dantas (134.6) vs. Joe Warren (133.7) – for bantamweight title
A.J. McKee (145.8) vs. Ray Wood (145.8)
L.C. Davis (136) vs. Marcos Galvao (137.6)
Chris Honeycutt (194) vs. Ben Reiter (194.1) – 195-pound catchweight
PRELIMINARY CARD (7 p.m. ET)
John King (207.7) vs. Kinny Spotwood (208) – 210-pound catchweight
Derrick Adkins (161.9) vs. Chris Jones (163.4) – 164-pound catchweight
Gregory Babene (185.7) vs. Emiliano Sordi (185.5)
If you enjoyed this story, please share it on social media!