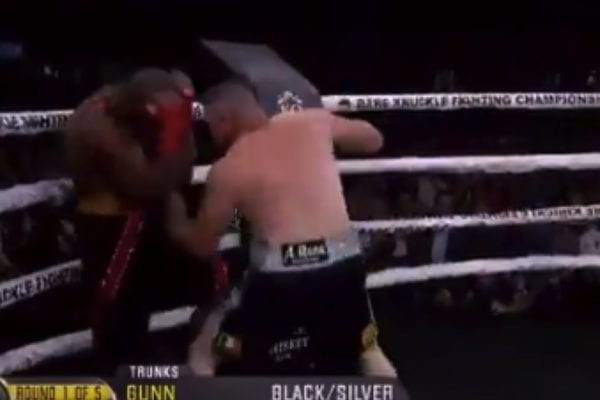 There was a ton of action at last night's (Sat., June 2, 2018) Bare Knuckle FC event from the Cheyenne Ice and Events Center in Cheyenne, Wyoming.
A former UFC women's strawweight got back into the win column by TKO, former UFC and Bellator vet Joey Beltran won a bloody- five-round war, and a former nine-time Bellator heavyweight competitor suffered a huge one-punch KO. You can watch the highlights for all of those bouts here, but some additional controversy in one of the fights arose involving bare knuckle legend Bobby Gunn.
Gunn, a folk legend of the sport with a ridiculous 71-0 record in bare knuckle fights heading into his match with Irineu Beato Costa Jr., proceeded to work Costa's body early on, dropping him. When he got back up and was dropped again just 41 seconds into the fight, people remarked that Gunn's finishing punch had not actually hit Costa in the head, although it seemed the body shots were what hurt him.
Overall, although it appeared Gunn was landing some decent shots, many watching were surprised to see Costa fold like a lawn chair from the blows, rendering him unable to continue awarding Gunn a TKO victory in under a single minute of the first round.
Watch the controversial finish here courtesy of Zombie Prophet on Twitter and decide for yourself:
https://twitter.com/GIFsByZP/status/1003100413116198913?ref_src=twsrc%5Etfw&ref_url=https%3A%2F%2Fwww.mmamania.com%2F2018%2F6%2F3%2F17421510%2Fbare-knuckle-fc-full-fight-video-highlights-knockout-boxing-mma-ufc