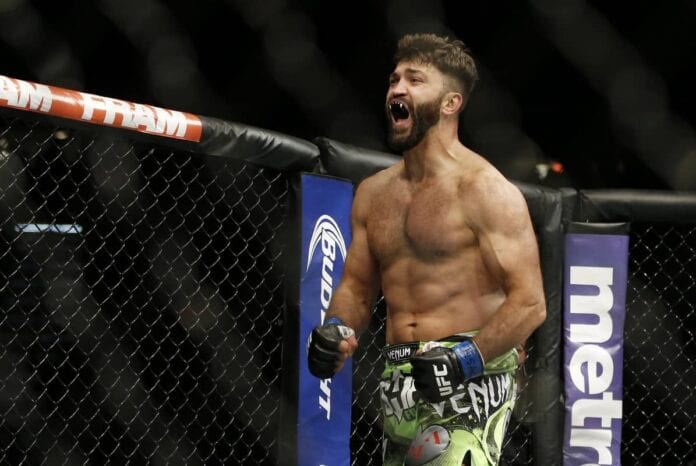 It seems as if two veteran former UFC heavyweight champions will meet this fall. It was recently reported on last week's edition of UFC Tonight that the UFC was targeting a heavyweight bout between No. 4-ranked Andrei "The Pitbull" Arlovski, and No. 10-ranked Frank Mir, a bout that has now been confirmed during the live pay-per-view (PPV) broadcast of tonight's (August 1, 2015) UFC 190.
Arlovski seemed to be in the running for a shot at 265-pound gold, but it seems as if the promotion has decided to go down a different path with the resurged "Pitbull". Arlovski has won five-straight fights, including three since his return to the Octagon in 2015, with two of those coming by way of first-round knockout.
If the "Pitbull" can score a fourth-straight UFC win come September, he will be that much closer to another shot at UFC gold.
Not too long ago, Mir had lost four-straight fights, and many were calling for his possible retirement, but he too has shockingly bounced back, and could find himself in the title talks sometime soon. Like his soon-to-be opponent, Mir has scored two-straight first-round knockout victories over Antonio "Bigfoot" Silva, and most recently Todd Duffee.
Scoring a win over a top-ranked fighter like Arlovski would undoubtedly sky rocket Mir towards the top of the now quite intriguing heavyweight division.
UFC 191, which is set for September 5, 2015 from Las Vegas, Nevada, features a highly-anticipated flyweight title rematch between dominant champion Demetrious "Mighty Mouse" Johnson, and No. 1-contender John "The Magician" Dodson.
The two did battle back in 2013, a bout in which Dodson pushed Johnson to his limits, leading many to believe that "The Magician" may be the only man capable of challenging the champion.
Stay tuned to LowKickMMA for all news regarding UFC 191 as the event nears closer.