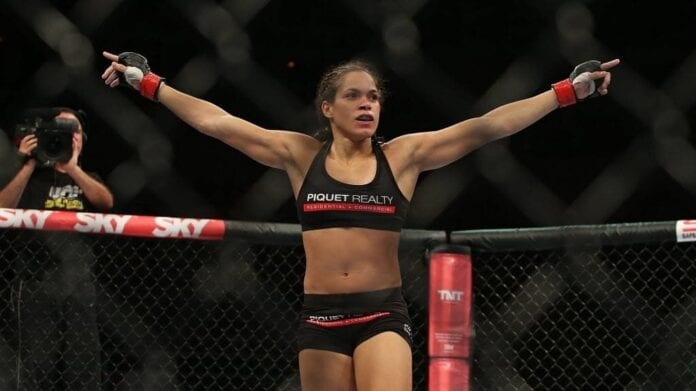 In the contender-starved UFC women's bantamweight division, Amanda Nunes made herself very relevant again last night (March 21, 2015), with her UFC Fight Night 62 performance. She met dominant champion Ronda Rousey's teammate Shayna Baszler and put on a show, absolutely battering Baszler's legs and body to secure a first round TKO victory.
After her impressive victory, Nunes knows what she wants next. Speaking with MMAJunkie, the Brazilian stated that she wants a chance to erase her only UFC loss and that would be in a rematch with former title challenger Cat Zingano:
"I'd really like to fight Cat again," Nunes said in her native Portuguese "That night, it wasn't me who was in there. And who knows, maybe another opportunity, a rematch against her, it would be very good."
Before her fight last night, Nunes' most recent bout was in fact her first showdown with Zingano back at UFC 178 back in September, and the Brazilian was actually able to hang with the top contender. Nunes had "Alpha" in trouble in the first before succumbing to a third-round TKO.
She admits that she didn't perform the way she is capable of that night, and that things have changed for the better. One of these changes is a move to the famed American Top Team (ATT) training camp:
"I had some personal problems during my last fights, and I couldn't concentrate," Nunes said. "I am really happy to see everything changed. I am now part of American Top Team, and things could not have started any better."
Although Zingano was absolutely demolished by Rousey at last month's UFC 184, many would probably agree that she remains one of the best 135-pounders on the planet, and a win over Zingano would likely put Nunes very close to a title shot. However, she also claims that she will be ready for whoever the UFC puts in front of her:
"We are here," Nunes said. "From now on, whatever Dana decides for me, I'm going to be facing it."
Would Nunes have more luck against Zingano in a rematch?