Alberto El Patron Explains Reasoning Behind Tito Ortiz Fight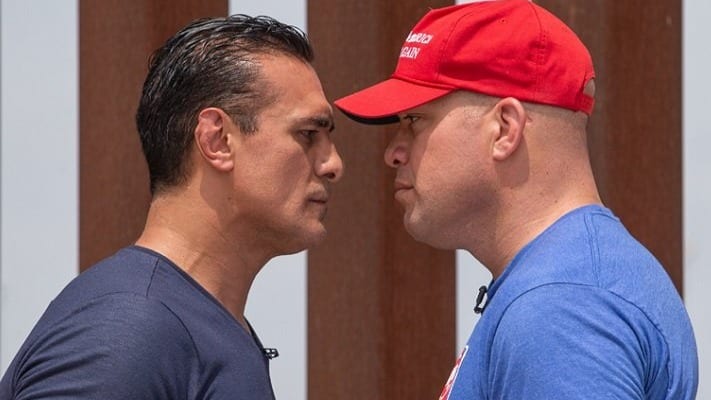 Alberto El Patron isn't fighting Tito Ortiz for the money — however, there are plenty of other reasons why.
El Patron will be returning to mixed martial arts action for the first time since 2010 when he meets Ortiz in a Combate Americas pay-per-view event on December 7 in McAllen, Texas.
Most would assume the 42-year-old president of Combate Americas is returning to combat sports for a lucrative payday. However, the former WWE champion claims he's doing it for the right reasons:
"I keep saying this — I'm doing it for the right reasons," Rodriguez told MMA Fighting. "No. 1, because the company Combate Americas, we're killing it. We're killing the competition. We have amazing numbers, the ratings are fantastic. We are changing the face of the Latinos in MMA.
"I have a lot of Mexicans and Latinos looking up to me and me being a role model after all these years. I want to continue inspiring people in Latin America or Mexico or anywhere around the world."
The most important factor, however, is because Combate Americas supported El Patron during a nasty divorce. And so, this is his way of paying the promotion back:
"I think this is really important — the main reason was my divorce was really difficult for me, for my life," he added. "The battle for the custody of my kids took a lot from me and it was a very difficult time in my life. The company, my bosses, they have been supporting me since day No. 1.
"When you go through things like that in your life, you start thinking about who are real friends, the real people that stood up for you in those difficult moments. Because I always say it's easy to be friends with Alberto Del Rio in the spotlight, money, girls, fun, but to be Alberto Rodriguez's friend, the real person, going through difficult times like other people out there, this company has been with me."
So again, he isn't doing this for money. Which is why the plan for now is to only return to MMA as a one-time thing. But one can never say for sure in this crazy sport:
"I'm not doing this like some others out there because of money problems or because they don't find anything to do with their lives," Rodriguez explained. "I'm lucky to have a company like Combate Americas where this is a job, this is a place where I feel at home. I don't just work for them. I'm enjoying what I'm doing for them and I'll continue being on TV and I'll continue doing pro wrestling in Mexico. That's what I want to do right now.
"It would be really hard for me to say I'll do it one more time but that's why they have the old saying, 'never say never.' Right now I'm saying yes [this is it] but that's what I said before my very first MMA fight. Never say never."
What do you think of El Patron's chances against Ortiz?