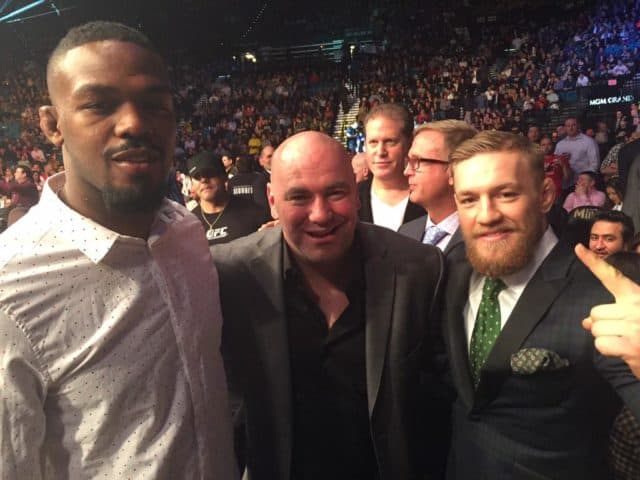 In the aftermath of a shocking state of events coming yesterday (April 19, 2016) that involved UFC featherweight champion Conor McGregor tweeting that he was retiring, and subsequently being pulled from his scheduled UFC 200 main event with Nate Diaz, the promotion is looking for a bout to fill out the blockbuster July 9th card.
One man that could step up to save the day would be reigning pound-for-pound king and former light heavyweight champion Jon "Bones" Jones.
Jones hasn't competed since January 2015 when he scored a unanimous decision victory over bitter rival Daniel "DC" Cormier.
That April, "Bones" was arrested on felony charges and stripped of his long-held title. He has since resolved his legal issues, and is scheduled to return in the main event of this Saturday's (April 23, 2016) UFC 197 against Ovince St. Preux for the interim 205 pound strap.
Jones was originally slated to receive his long awaited rematch with "DC", who now holds the title, but Cormier was forced to withdraw from the bout just a few weeks ago due to injury.
With that being said, if Jones is victorious this weekend, and Cormier heals up, the two stars could finally meet again this July.
"Bones" appears to be all for it:
"Absolutely, I would totally step in to UFC 200 and fill in that main event or co-main event slot," Jones told ESPN.
As far as McGregor goes, Jones simply doesn't feel as if we've truly seen the last of the brash Irishman, noting his deep respect for the "Notorious" one:
"I don't think he's retired," Jones said. "I don't think he's going to retire. Just a few days ago, he said on Instagram he's hungry like day one. Conor is a fighter and he is a winner. I don't think he would want to go out on a loss. I think if he doesn't fight again, his legacy is really that Diaz fight.
"Hats off to him for standing up for what he believes is right. At the end of the day, business is business. The guy obviously has respect for himself and his talents. Fights like this will help fighters in the future. I respect his willingness to fight for what's right."
What do you make of the McGregor situation, and would you like to see Jones fill in at UFC 200?
[interaction id="571876db39702c9c4f08377d"]
If you enjoyed this story, please share it on social media!