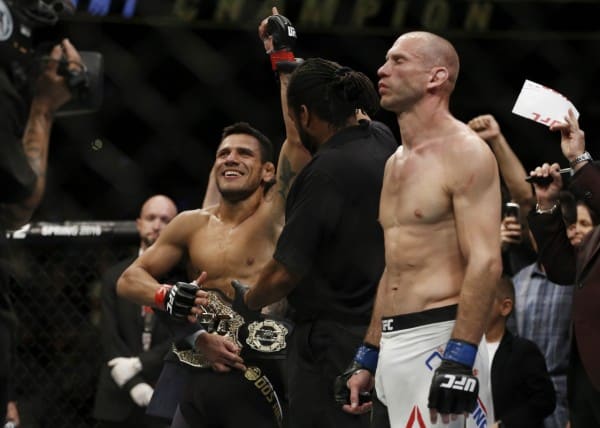 In his first UFC title fight in the main event of last night's (December 19, 2015) UFC on FOX 17, long-time lightweight contender Donald "Cowboy" Cerrone suffered a brutal 66-second stoppage loss at the hands of current champion Rafael dos Anjos.
Apparently some felt as if the stoppage may have been a bit early, but the humble Cerrone seemed to be indifferent on the matter:
"I don't have any control of it," Cerrone told Ariel Helwani on the FOX Sports 1 post-fight show. "They stopped it. [It's] whether I should have been intelligently defending myself, I guess. He had my back. I don't know. It doesn't matter."
Coming into the bout, Cerrone had rattled off a division best eight straight wins including five finishes. Many were picking "Cowboy" to take the Brazilian champion out, but obviously things did not go as planned.
As for where he went wrong, Cerrone said plain and simple that it just wasn't his night, giving complete credit to dos Anjos:
"It sucks," Cerrone said. "I don't have words for it. The unfortunate part about this job is if you don't show up to work and the other guy does, you end up getting your ass whipped, don't you?"
"He showed up, I didn't," Cerrone said. "Nature of the beast in this game. Hey, what are you gonna do?"
As one of the most active fighters on the UFC roster, "Cowboy" wasn't sure as to what would come next, once again reiterating that he didn't show up to fight last night, clearly missing out on a huge opportunity:
"I have no idea how that'll work," he said at the post-fight press conference. "I don't even know if they want to call me after that ass whoopin'. That's what I do is fight. Sometimes you just don't show up. I don't have an excuse. I just wasn't there. He did a great job. He showed up and did what he had to do."

Who would you like to see Cerrone attempt to bounce back against?