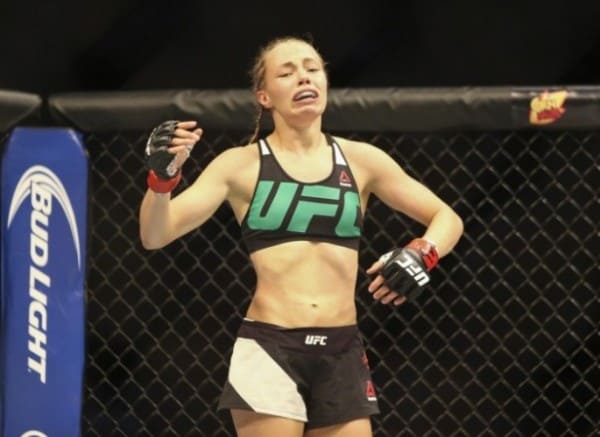 Hyped young women's strawweights Rose Namajunas and Paige VanZant went to war in the main event of tonight's (Thurs., December 10, 2015) UFC Fight Night Night 80 from The Chelsea at The Cosmopolitan in Las Vegas, Nevada.
'Thug' came out strong with a combination, to which VanZant responded with a low kick. Namajunas continued to land hard punches at will, transitioning to a takedown to ground her younger foe. She rained down elbows , then followed up with a knee and some punches on the feet. More shots followed from 'Thug,' opening up a cut on '12 Gauge' that gushed.
Loud straight punches landed, and Namajunas mounted VanZant on the ground. She switched to the back, throwing punches before looking for a rear-naked choke. '12 Gauge' persevered to get back up, but Namajunas forced her back to the ground. Hard punches and elbows rained up until the bell of the opening frame.
The second round was started with another crisp combo by Namajunas, who continued what was working with a takedown. Namajunas took her back immediately, but VanZant escaped. Namajunas still kept position, shoving her up against the fence. VanZant got a quick throw and went for 'Thug's' back, but Namajunas fought through it easily.
Taking '12 Gauge's' back again, the TUF 20 finalist closed out the second round up two rounds to none.
The third frame kicked off with Namajunas on top again, mounting VanZant and landing more strikes. '12 Gauge' landed a hard knee when the fight went back to the striking department, but Namajunas kept her range perfectly and landed a huge overhand right. She snapped a few more accurate shots and got another takedown, opening up a flow of blood on VanZant.
VanZant got up but Namajunas jumped for a standing rear-naked choke and locked it on tight. Somehow '12 Gauge' made it through, but ate some big shots from Namajunas as the third round ended.
VanZant came out aggressive in the fourth frame but was taken down for a sixth time, raining down with some more big shots and seeking a kimura then an armbar. She locked it on tight and VanZant amazingly got out again. 'Thug' kept seeking the back and raining down with punches. Namajunas finally locked on the kimura and switched to the armbar again, but VanZant escaped with her elbow bent back gruesomely.
Namajunas dominated position but VanZant was somehow still fighting as she was thrown to the mat as the bell sounded on the round.
The final frame kicked off with a hard shot from VanZant, but she was taken down as Namajunas kept up her positional domination. She took VanZan'ts back and locked on another rear-naked choke, and this time it was on for good. VanZant tapped out and one of the best women's strawweight bouts ever seen in the octagon ended with a fitting finish.