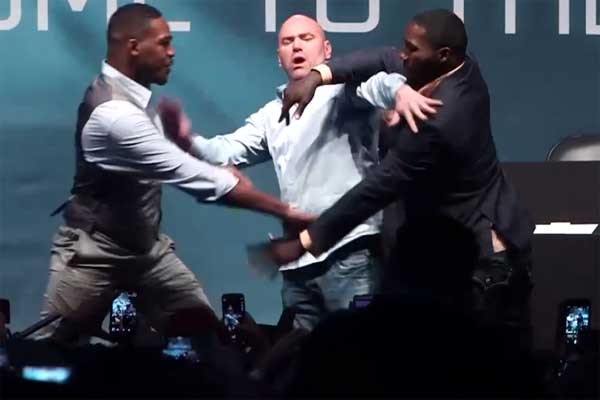 During his new hour-long interview with Ariel Helwani at MMAFighting.com, former UFC light heavyweight champion Jon Jones discussed the meeting he had with UFC owner Lorenzo Fertitta and UFC President Dana White after the hit and run incident.

According to Jones, he thinks that if he had told the UFC he'd go through with the fight with Anthony Johnson at UFC 187 that they wouldn't have stripped him of the belt and suspended him.
"They had never come to see me before. First time they came to Albuquerque to visit me was to take my belt away," Jones said of their May meeting (transcribed by MMAMania.com). "Honestly, Lorenzo seemed like he really did care. Lorenzo seemed very genuine. He looked me in the eyes the whole time and was like, 'how are you doing?' At the time I didn't know how I was feeling, I was all over the place emotionally. At the end of the day, it was still a business meeting – one that definitely wasn't in my favor.
"They asked me how I was feeling, and I told them I didn't want to fight. I do feel if I was ready to fight; I wouldn't have gotten suspended, and my belt stripped away. I didn't fight for it. I have nothing to prove, that belt doesn't solidify who I am as a fighter. I needed the break, man. The pressure that I put on myself and the level I was fighting at … to get away from that belt for awhile really set me free. Today I feel great."
Johnson would go on to fight Daniel Cormier, which he lost the fight, and "DC" won the UFC light heavyweight championship.
Jones and Cormier are rumored to fight in 2016.