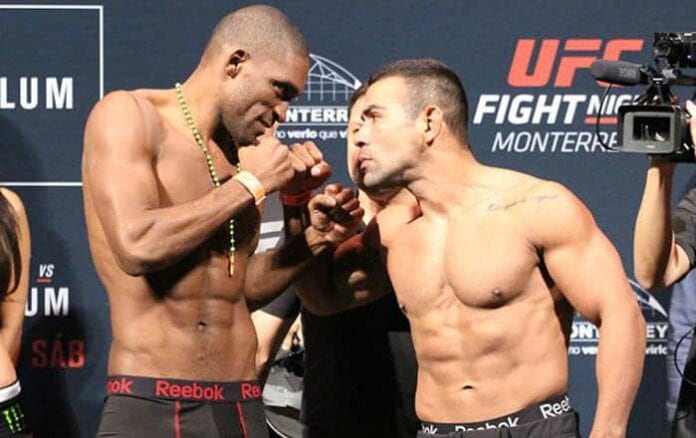 It was once again fight day here at LowKickMMA, and the talent on display tonight (Saturday, November 21st, 2015) will come from the in Monterrey, Mexico, in the form of UFC Fight Night 78. Headlining the card are Kelvin Gastelum and Neil Magny, but there's a whole bunch of great fights also taking place on the preliminary section of the card.
Taylor Lapilus vs. Erik Perez in a bantamweight bout closed the preliminary card on Fox Sports 1 for UFC Fight Night 78. This was a fun fight that saw a mix of striking and grappling that had both men shine. In the end, Perez got the win by unanimous decision.
Bartosz Fabinski and Hector Urbina met in a welterweight bout at UFC Fight Night 78. The fight was dominated by Fabinski with his constant takedowns and smothering Urbina when he took him down. The judges gave Fabinski the win by unanimous decision.
Scott Jorgensen and Alejandro Perez met in a bantamweight bout at UFC Fight Night 78. Perez targeted the left leg of Jorgensen with kicks that resulted in Jorgensen barely being able to walk on it. Jorgensen kept falling and attempted to fight through it, but come the second round, it was too much, and Perez won the fight by TKO.
Gabriel Benitez and Andre Fili met in a featherweight bout to open the Fox Sports 1 preliminary bouts for UFC Fight Night 78. Fili wanted to get out of the Octagon quickly. Fili pressed early and tagged Benitez with two high kicks to rock him then followed up with a series of punches to finish the fight.
Alvaro Herrera and Vernon Ramos met in a welterweight bout to finish off the UFC Fight Pass preliminary card for UFC Fight Night 78. This one did not last long as Herrera dropped him with a combo and finished him on the ground within the first thirty seconds of the fight.
Cesar Arzamendia and Polo Reyes met in a lightweight bout at UFC Fight Night 78. Arzamendia controlled the early part of the round with his takedowns. However, midway through the round, Reyes scrambled off his back and put Arzamendia down with one punch to wrap things up in the first round.
Opening the UFC Fight Pass prelims for UFC Fight Night 78 was Valmir Lazaro vs. Michel Prazeres in a lightweight bout. Most thought that Lazaro won this fight with striking and grappling, but the judges disagreed and gave the nod to Prazeres by split decision.
So join us right here at LowKickMMA for UFC Fight Night 78, kicking off at 6:30 p.m. ET!
Here are the preliminary results:
Erik Perez def. Taylor Lapilus via unanimous decision (29-28, 29-28, 29-28)
Bartosz Fabinski def. Hector Urbina via unanimous decision (29-28, 30-27, 30-27)
Alejandro Perez def. Scott Jorgensen via TKO (leg injury)
Andre Fili def. Gabriel Benitez via knockout (kick and punches) – Round 1, 3:13
Alvaro Herrera def. Vernon Ramos via TKO (punches) – Round 1, 0:30

Polo Reyes def. Cesar Arzamendia via knockout (punches) – Round 1, 3:42
Michel Prazeres def. Valmir Lazaro via split decision (29-28, 28-29, 29-28)