Robbie Lawler and Rory MacDonald took part in an instant classic last night (Saturday July 11th, 2015) at UFC 189, in a rematch of their UFC 167 bout. "Ruthless' and 'Red King' played second fiddle to Conor McGregor vs. Chad Mendes in the main event, but arguably stole the show with their explosive back-and-forth war for the welterweight title. It was Lawler's first defense of the strap since winning it from two-time foe Johny Hendricks, and he looked iles better than he even did seven months ago.
MacDonald has long been considered championship material, but he just wasn't able to get it done against the only ATT (American Top Team) champion in UFC history. Once again proving that the old school can still bang, 'Ruthless' turned up the heat in the fifth round and scored a massive TKO win. The two had scored so much damage throughout that they were hospitalized once the night was done, and MacDonald's coach Firas Zahabi posted the pic to Instagram: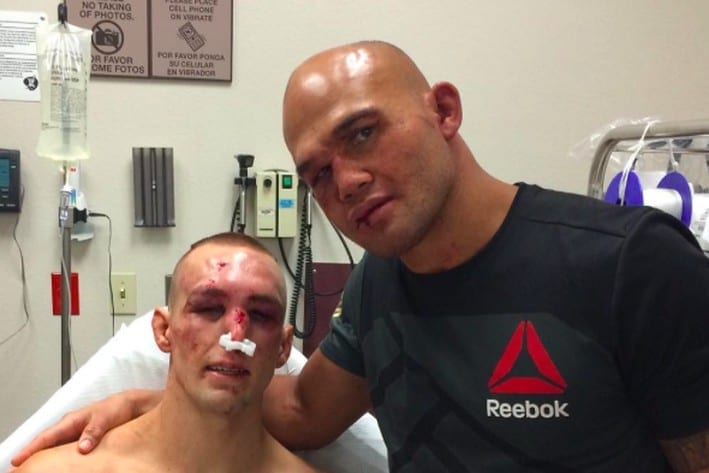 A great night of main card PPV (pay-per-view) action, and the mostly unsung welterweight title fight was more fun than any of us expected. Lawler and 'MacD' deserve their props for the effort and blood they shed for the fans at UFC 189, in their much-deserving 'Fight Of The Night' winning tilt.