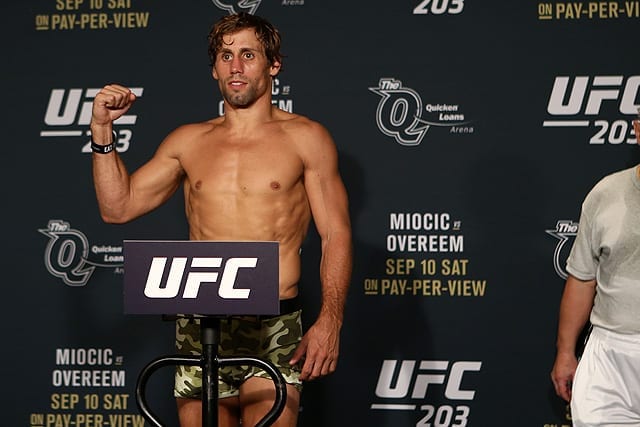 After losing a one-sided decision to bitter rival Dominick Cruz in a bantamweight title bout last June, longtime veteran and former WEC champion Urijah Faber seemed to be contemplating his fighting future. While not necessarily saying that he was considering retirement, Faber made it clear that the end could be near, but it wouldn't come without at least one more fight as he returned to action against Jimmie Rivera on the main card of this past weekend's (September 10, 2016) UFC 203.
Unfortunately, the downward spiral continued for "The California Kid" as he suffered yet another decision defeat in a bout that he had little success in. The somewhat poor performance could be attributed to a grueling weight cut as Faber recently revealed that he shed 21 pounds during the week leading up to the fight:
"I don't know (what's next)," Faber told UFC.com (Via MMAJunkie) after his loss. "I'm going to go back and relax. This week I came and I was doing my water load and I cut 21 pounds since Tuesday, so that was kind of rough. I'm going to take some time and think about things and watch the fight and see what happens after that. I've got no plans."
Faber has had trouble dealing with leg kicks at points during his career, and Rivera appeared to have exploited that weakness. "The California Kid" admitted that his leg went numb during the fight, also saying that he saw few opportunities to take the fight to the ground, which was his goal:
"He caught me with a low ankle kick that kind of made my leg go numb for a second for whatever reason," Faber said on UFC 203's post-fight show on FS2. "He's tough. He's a solid guy. I got my arms on him a couple times and he's like a slippery barrel. Just round.
"I was going to definitely look for some openings on scrambles and stuff like that, but you get yourself in danger when you're just hunting for a takedown," he continued. "I was definitely looking for opportunities to take it to the ground if I could, but he was so compact and small to find any openings for a lot of stuff. There wasn't as many opportunities."

Would you like to see Faber continue to compete at this stage of his career?