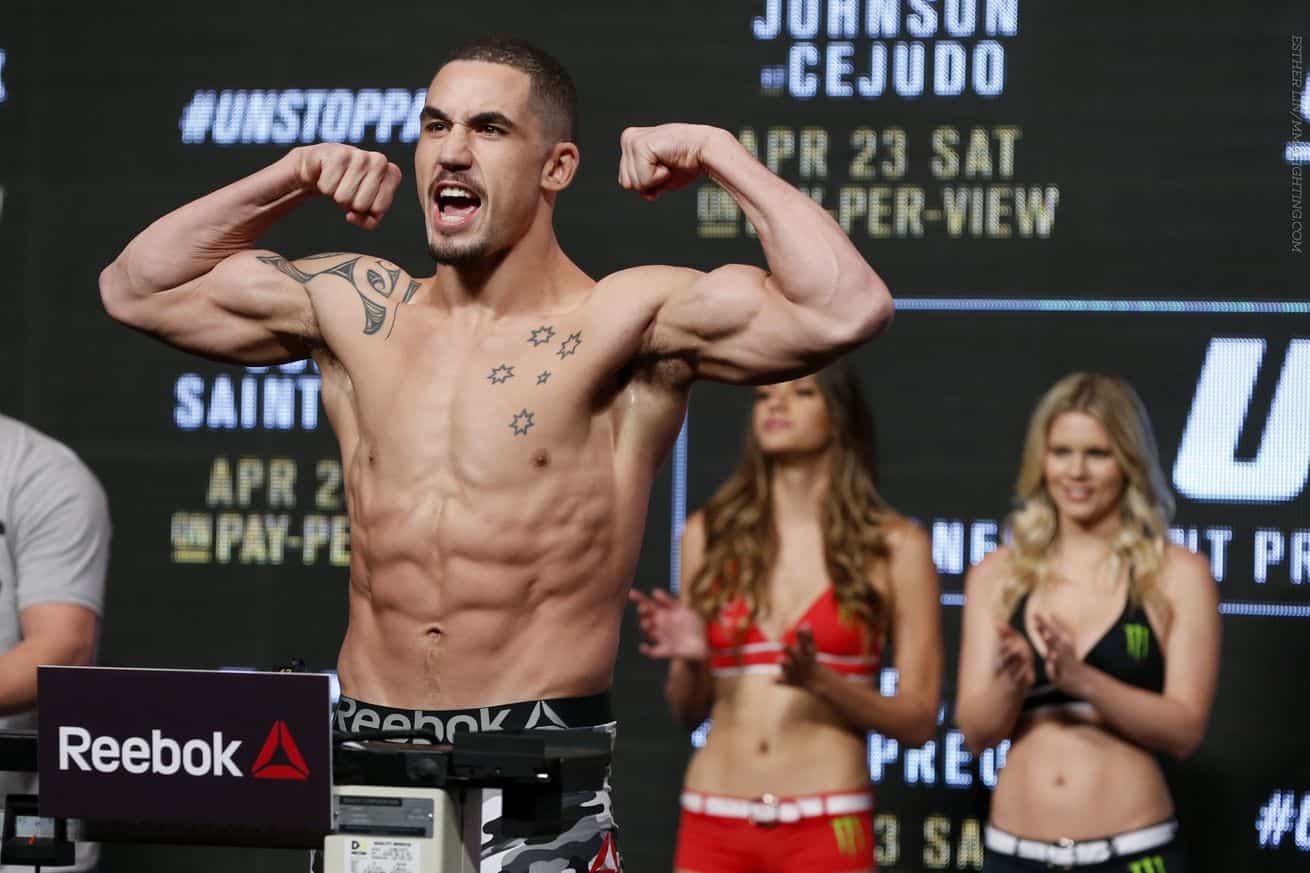 The UFC returns to Melbourne, Australia, for the first time since November 2015 with Robert Whittaker vs. Derek Brunson this weekend. Featuring two rising stars in the middleweight division, UFC Fight Night 101 showcases a host of promising talent from down under. The Rod Laven Arena hosts Saturday's (November 26) instalment of the UFC, with six main card and seven prelim bouts. As well as Whittaker vs. Brunson, Andrew Holbrook vs. Jake Matthews features at lightweight.
Kyle Noke returns at welterweight for a battle with Omari Akhmedov, and Chris Cammozi takes on Daniel Kelly in the feature prelim. Lacking in the star power of a pay-per-view line-up, UFC Melbourne has all the tools needed to be great card regardless.

Watch the UFC Fight Night Melbourne official weigh-in on Friday, Nov. 25 at 4:00pm/1:00pm ETPT live from Melbourne, Australia. Stay with us throughout the day for the updated early weigh-in results, or check in later for the traditional scales show.
Event: UFC Fight Night 101: "Whittaker vs. Brunson"
Date: Sun., Nov. 27, 2016 (airs Sat., Nov. 26 in United States)
Location: Rod Laver Arena in Melbourne, Victoria, Australia
Broadcast: FOX Sports 1, UFC Fight Pass
Main Card (10 PM ET, Fox Sports 1)
Robert Whittaker (185) vs. Derek Brunson (186)
Andrew Holbrook (154) vs. Jake Matthews (155)
Omari Akhmedov (171) vs. Kyle Noke (170)
Yusuke Kasuya (156) vs. Alex Volkanovski (154)
Khalil Rountree (206) vs. Tyson Pedro (205)
Seo Hee Ham (115) vs. Danielle Taylor (115)
Preliminary Card (8 PM ET, Fox Sports 1)
Chris Camozzi (186) vs. Daniel Kelly (186)
Damien Brown (154) vs. Jon Tuck (156)
Rich Walsh (171) vs. Jonathan Meunier (171)
Ben Nguyen (126) vs. Geane Herrera (125)
Preliminary Card (6:30 PM ET, Fight Pass)
Daniel Hooker (146) vs. Jason Knight (145)
Marlon Vera (144) vs. Ning Guangyou (146)
Yao Zhikui (127*) vs. Jenel Lausa (125)  – Zhikui will have 2 hours to make 126