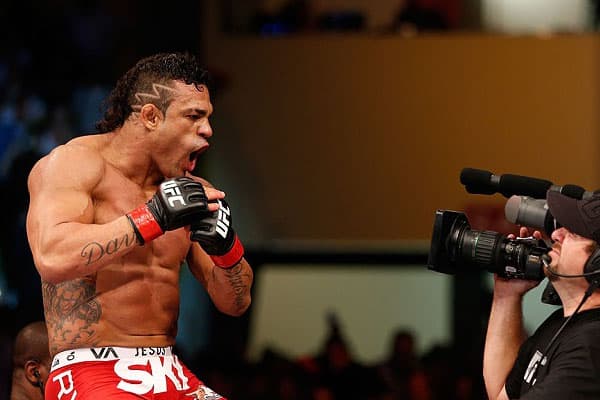 UFC 187 fight week is in full swing, as we look forward to what is being dubbed 'card of the year' this coming Saturday May 23rd. The co-main event for the evening is Chris Weidman vs Vitor Belfort, featuring a rivalry dating back three years, and cataloguing multiple injuries and the end of the TRT (testosterone replacement therapy) era since the two began bad-mouthing each other. All that aside, the middleweight championship is of course on the line, so there are some serious bragging rights waiting for the winner.
Vitor Belfort could join Randy Couture and BJ Penn in the record books as the third two-division champion UFC history. "The All-American' hopes to keep the title of the only undefeated male champion on the roster, and Belfort could actually tie Anderson Silva for most UFC finishes (14) if he puts Weidman away within the distance, he already holds the record for most first round finishes (12) in UFC history and is tied with Anderson Silva for most knockouts (11).
Without further ado, the UFC 187 Chris Weidman vs Vitor Belfort preview and analysis:
Striking
This is where Vitor will want to keep the fight, given that his 20 career finishes consist of 17 knockouts. The fast-handed Brazilian needed just 16 strikes in in 77 seconds to put away Dan Henderson when they fought in 2013. It should be said though, that the champion has some serious chops in the stand up, and needs to be given his dues.
Spectacular head kick knockouts over Hendo, Michael Bisping and current number one contender Luke Rockhold highlighted a title shot-winning year for 'The Phenom' in 2013, but will he still have that snap now the TRT is no longer around? It may get some fan's tempers, but it remains a legitimate question in many opinions.
Belfort is successful in 148 of his 316 attempted strikes with a ratio of 47%. The only thing is, he just needs to clip you with one of those vicious punches or kicks and it's over. Weidman connects with 242 of his 595 attempted strikes for a connect rate of 41%, his striking is still underrated in MMA, as the wrestler was able to outstrike Karate master Lyoto Machida at UFC 175, and was the first man to knock Anderson Silva out.
His power and presence in the stand up is undeniable, but I still feel the American is playing second fiddle to Belfort's fight-ending abilities in the stand up. It's not a land slide, but I'm giving 'The Phenom' the edge at 60-40.
Submissions
Both are black belts in Brailian Jiu Jitsu, both hold three submissions in their professional MMA records, Belfort was an ADCC 2001 bronze medal winner, and Weidman holds a rare Brabo choke submission win that we saw against Tom Lawlor at UFC 139.
Belfort may well be more versed in the BJJ department having held his black belt for much longer, and by default of having used his jits in more fights and tournaments, but the grappling technique and strength of Weidman levels the playing field in my opinion. It's not either guy's go-to-tool, but they can equally get it done here if needed. It's 50-50.
Takedowns
This is Weidman's bread and butter, he wants to take you down and beat your face in to the canvas for five whole rounds if he can. 20 from 35 attempted takedowns give Weidman the third highest in the division's history. He averages 3.69 takedowns per fifteen minutes of fighting, the highest in the middleweight division, and has only been controlled in the clinch or on the ground for 22 seconds in his UFC career. He has never been taken down, and holds the honor of being a two-time NCAA Division I All-American wrestler.
Belfort is only able to avoid 51% of his opponent's takedowns, and is successful in three of his four attempted takedowns in UFC fights. It's hard to describe 'The Phenom' as a bad wrestler, as it's just really a department he doesn't have much time for, that being said it'll be his defensive skills really under the microscope at UFC 187.
He's in there with an All-American wrestler, and though the Blackzilians probably have him well prepared, I still believe Weidman to have the size and skill advantage in this department. I'm calling it 60-40 Weidman
What's your pick for the co-main event at UFC 187 Chris Weidman vs Vitor Belfort? Do you think we'll see a wrestling master class from the champion, or a stand-up beat down from the travelled challenger, or maybe you believe that 'The All-American' will beat the Brazilian 'Phenom' at his own game?