UFC 121: Lesnar vs. Velasquez — Live Results and Commentary and Beards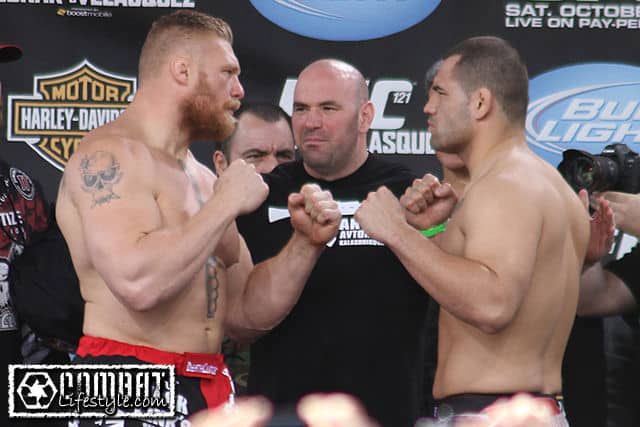 (Above: "Look, everybody in Minnesota grows a beard in the winter, and most of us use deer urine to keep it soft and shiny. I'm sorry if the smell is unfamiliar to you." Below: It's nice to see that someone else appreciates the long and brave career of Dana Delany. / Photos courtesy of CombatLifestyle.com)

With Brock Lesnar gunning for a historic third-consecutive heavyweight title defense against Mexican-American upstart Cain Velasquez, belt-collector Jake Shields making his first appearance in the Octagon, and Tito Ortiz possibly making his last appearance in the Octagon, there's a lot on the line tonight in Anaheim. Round-by-round results from UFC 121 can be found after the jump, starting with the Spike prelims at 9 p.m. ET / 6 p.m. PT. Refresh the page every few minutes for all latest, and please let your voice be heard in the comments section.


And away we go…
Tom Lawlor vs. Patrick Cote
Winner keeps their job. Lawlor showed up to the weigh-ins as one-gloved UFC 1 legend Art Jimmerson. Unfortunately, we didn't get to see what Tom's walkout was like. JOHN McCARTHY IS BACK?? AND WHERE THE HELL IS ARIANNY??
Round 1: They clinch up and dirty box right off the bell. Lawlor puts Cote against the fence. He starts throwing knees into Cote's left leg. Lawlor shoots down for a double-leg, and gets it. Lawlor in Cote's full guard. Cote tying Lawlor up from the bottom. Lawlor getting in some shots here and there, but it ain't much, and the crowd starts booing. Lawlor gets up, dives back in with a punch and lands in side-control. Cote establishes half-guard. Lawlor with hammerfists and elbows from the top. Lawlor wraps his arm around Cote's neck and goes for the arm-triangle, but loses it. Cote rolls and Lawlor starts slugging to the side of Cote's head. He tries a rear-naked but Cote escapes, reverses, and gets on top of Lawlor as the round ends. The replay shows that Cote grabbed the fence pretty blatantly to get out of danger.
Round 2: They start off punching. Lawlor lands a leg kick. He shoots for a takedown and bulls Cote against the fence. Cote grabs a guillotine but loses it. Lawlor starts dirty boxing, then drops down to drag Cote to the mat. Lawlor in Cote's guard. He drops an elbow and lands a couple punches. Lawlor gets to one knee to get some distance with his strikes, before going back into guard. Cote escapes and gets to his feet. Knees from Lawlor in the clinch. Lawlor once again takes Cote down from the clinch. Cote briefly tries a kimura, but Lawlor gets out and goes back to the slow GnP. McCarthy stands 'em up. Cote fires a high kick and some punches. Cote tries an uppercut. Lawlor lands a nice counterpunch. There's the horn…2-0 Lawlor.
Round 3: They slug for about two seconds before Lawlor takes Cote down, quite easily, and tries the arm triangle again. Cote escapes. Lawlor is warned for shots to the back of the head. Lawlor briefly puts Cote in a rather painful-looking crucifix position on the ground. Lawlor threatens with the arm-triangle again, but he really doesn't seem to know how to finish it. Cote scrambles, but Lawlor sticks on top of him and throws down short elbows. McCarthy stands them again. Lawlor lands a right straight and clinches against the cage. He drops down and gets the takedown. Cote has zero answer. Lawlor drops an elbow. Cote is mashed against the fence. Cote elbows upward in desperation. Lawlor responds with some hard punches from the top until the last horn.
Lawlor def. Cote via unanimous decision (30-27 x 3). No time for an interview. That makes three losses in a row for Patrick Cote.
Court McGee vs. Ryan Jensen
McGee is the TUF 11 champ with the amish-looking beard. Jensen is the…wait, who is this guy again?
Round 1: Jensen lands first with a hard right, but McGee gives back a 1-2. McGee shoots, Jensen stuffs. Jensen knocks McGee down with a left, but McGee bounces back down. Jensen throws a right, and McGee clinches. They trade knees and Jensen lands the reap takedown. McGee struggles to his feet as Jensen punishes him with punches and a knee. Jensen lands the jab. He throws a high kick and a low kick. Jensen lands a clean right. Leg kick McGee. Jensen with another right. His hands are fast as hell tonight. Jensen dashes forward with a right and scores. He sneaks in a left. McGee with an overhand right. McGee throws a leg kick and eats a punch. McGee gets in a right hand. They trade nasty leg kicks. Jensen misses a knockout punch. McGee goes to the body. Jensen with a sharp 1-2. There's the round. Total control by Ryan Jensen. But Jensen's nose is bloodied.
Round 2: Leg kicks from Jensen. Jensen with a body punch. More sharp shots from Jensen. But McGee lands a hard left that seems to stagger Jensen. McGee ducks a punch and counters to the body. McGee lands with a leg kick and punch. They clinch and Jensen tosses McGee down, but McGee rolls to his feet. Jensen with a right straight. Jensen with a body shot, and McGee returns it. Jensen with a right to the grill. The crowd starts booing ferociously…we're told it's because Josh Koscheck just walked in the room. Jesus. Anyway, these guys are still kickboxing. McGee on the attack, getting the better of the exhanges. Leg kick Jensen. McGee with a shot to the temple and a takedown as the round ends. Court evens the score going into the final round…
Round 3: McGee lands a few shots and slams Jensen to the ground. McGee works his ground and pound, then pounces to full mount, bashing Jensen with elbows and punches. McGee looks for the arm triangle, secures it, and taps Ryan Jensen. After a rough first round, McGee's conditioning and toughness won the day. Great fight, great performance from the TUF 11 winner. McGee def. Jensen via submission (arm-triangle choke), 1:21 of round 3.
And we go right into Mike "Joker" Guymon vs. Daniel "Ninja" Roberts from earlier in the evening…Roberts storms Guymon with a punch assault, then grabs a guillotine and transitions into a sick gator roll choke, dragging Guymon to the mat neck-first. Guymon tries to get up but Roberts flips him over and draws the tap instantly. It'll take something spectacular to steal "Submission of the Night" away from Roberts. Thing of beauty…
We hear "Baba O'Reilly" in the arena, which, if you've ever been to a UFC event live, means that the main card is about the begin. It's so loud in there that Dana White and Joe Rogan have to scream at each other to hype the remaining fights.
Mike Goldberg says that Cain Velasquez might be "the Ultimate Warrior." Mike, I watched the Ultimate Warrior. I was a fan of the Ultimate Warriror. Cain Velasquez is no Ultimate Warrior.
Kind of annoying that the only footage they have of Jake Shields is him rolling with training partners.
Gabriel Gonzaga vs. Brendan Schaub
While Gabe is in the prep-point, there's a huge bald dude in a tan suit behind him, with one of the gnarliest mustache-beard combos in modern times. It's that kind of night. Jesus, there he is again. He's got a clearance pass around his neck, but he's not doing anything except standing there and distracting me. Somebody make a gif of this guy.
Round 1: Schaub dances around on the outside. Schaub throws a right as Gonzaga lands a leg kick. Gonzaga jabs. Schaub grabs a leg kick and punches Gonzaga. Schaub with another good right hand. Leg kick Gonzaga, and Schaub brushes him off with punches. Schaub lands again. Schaub with a punch combo, ducking under the return fire. Gonzaga throws his high kick. Leg kick Gonzaga. They trade jabs. Gonzaga tries a takedown but gets stuffed. Schaub with a right, then a jab. Another glancing leg kick from Gonzaga. Gonzaga tries a body kick and takes a punch. Schaub staggers Gonzaga in an exchange.Jab, jab, straight from Schaub. Schaub charges in with a barrage of punches and drops Gonzaga at the bell! Great start from Schaub, but Gonzaga will survive…
Round 2: Leg kick from Schaub. Schaub tries to follow it up with punches but hits air. Nice leg kick from Gonzaga. And another. They're clearly starting to bother Schaub. Gonzaga lands another one, but slips, and Schaub attacks as Gonzaga gets to his feet. Schaub fires to the body. Schaub scores with jabs and a right straight. Quick leg kick from Gonzaga. Gonzaga with another leg kick, and Schaub swarms on him, landing punches and a knee. They trade punches. Gonzaga throws the head kick again but misses. Schaub dodges a leg kick. Schaub throws a punch combo at the bell. Schaub's up two rounds to none in my book.
Round 3: Gonzaga gets in a couple punches in an exchange. Schaub shoots, Gonzaga sprawls, and they get back to their feet. Schaub sticks the jab. And again. Gonzaga with a counter-left, but Schaub gives back a right straight. Jab from Schaub, body kick from Gonzaga. Body kick Gonzaga. And a sharp leg kick. Schaub gets hit low, but shakes it off. They trade jabs. Leg kick from Gonzaga. Both guys try the jab. Body kick Gonzaga. Both guys brawl at the end. Schaub shoots forward for a takedown, Gonzaga defends it, transitions to the back and tries for a desperation RNC as the horn sounds. Not enough time, buddy. Gonzaga may have taken that round, but it probably won't be enough.
Schaub def. Gonzaga via unanimous decision (30-27 x 3)

Tito Ortiz vs. Matt Hamill
"When I crush his fucking face in, I'll get my world title back," Tito says at the end of his preview package. If only it were that easy. Ortiz enters the arena to a sea of boos. But he does appear to be in solid physical shape. Could he really be "healthy" again? Big John will be the third man in this fight.
Round 1: Hamill lands a jab right away, and Ortiz responds with a kick to the dome. Ortiz is already gashed on the side of his head for some reason. Ortiz tries the high kick again, and Hamill catches it and takes him down. Ortiz gets to his feet and throws another high kick. Ortiz with a leg kick. Hamill jabs. Ortiz tries with high kick once again. Hamill with a right straight. They trade leg kicks. Ortiz attacks with punches. He's got a nice mouse under his right eye. Ortiz tries the spinnign back elbow, but misses. Uppercut from Hamill. Ortiz with a punch combo. They both land jabs. Another high kick from Tito. He presses forward, jabbing. Hamill lands a late shot right after the bell. Close round, though Ortiz is the only one who looks like he's been in a fight.
Round 2: Leg kick Ortiz. Nice hook from Hamill. And a right straight. Ortiz digs to the body. Hamill tries the high kick. Leg kick Ortiz. Ortiz lands a knee to Hamill's body. Ortiz fires a high kick. Hamill with a body shot. Hamill jabs. Ortiz launches another knee that lands to Hamill's body. Hamill shoots and takes Ortiz down. Hamill in Ortiz's guard, throwing down strikes when he can get his arms free. Ortiz tries to set up an armbar, but Hamill dodges and goes back to GnP. Ortiz rolls to go for a leg lock, but Hamill escapes it and transitions to side control. Hamill with short elbows. Ortiz establishes half guard and the round ends. A clear 10-9 for Hamill.
Round 3: Hamill goes first with punches. He lands a sharp left hook. Ortiz scores with a counter-right. Ortiz kicks to the body. Ortiz chases with punches. He lands cleanly with a body kick. Long uppercut from Hamill. Body kick and jab from Hamill. More jabs from Hamill. Ortiz shoots, Hamill stuffs. Hamill with a set of punches. Ortiz goes on the offensive with punches, and Hamill shoots forward and takes Ortiz down. Hamill in half-guard, slugging Ortiz with punches and elbows. Ortiz tries to find a way out, but Hamill is relentless on top of him. Ortiz shrimps to his hip, but the last horn sounds. The student has become the Punisher. Ortiz raises Hamill's arm as they get up.
Hamill def. Ortiz via unanimous decision (29-28 x 2, 30-27). Hamill says it was an honor to fight Tito ("the best fighter in the world"), and he wants to be a top ten fighter.
Diego Sanchez vs. Paulo Thiago
Sanchez isn't doing the "YES!" thing coming out to the cage. His walkout music is mariachi-ish, and the Velasquez fans who brought Mexican flags wave them proudly.
Round 1: Sanchez comes out with a charging 1-2, but misses. He tries it again. Thiago blasts a kick off of Sanchez's arm. He fires some short hooks. Sanchez shoots and almost lands in a choke. Thiago stays on his feet. They clinch against the fence, and Thiago gets in a knee to the head before they break. Sanchez lands a right. Thiago scores a takedown and gets in top in half-guard. Thiago looking for an arm-triangle choke. Sanchez rolls and Thiago transitions to a d'arce. Sanchez gets to his feet and escapes. Sanchez with a right, and then a couple more punches in a flurry. They clinch against the cage. Sanchez working for a takedown, but Thiago defends and makes Sanchez pay with a striking assault. There's the horn. I'd give it to Thiago.
Round 2: Thiago lands about five punches consecutively, and Sanchez asks him for more. Sanchez shoots forward, grabs Thiago and takes him down. Thiago gives him a reverse upkick on the way down, and Sanchez lands on top of him in a weird north-south sitting position. Thiago moves to half guard. He looks for a kimura, but Sanchez defends. The ref warns Thiago for an elbow to the back of Sanchez's head. Thiago attacks with a kimura again. Sanchez pulls out, and cartwheels over Thiago. Thiago stands, Sanchez picks him up, carries him across the cage and slams him! Sanchez works his way to Thiago's back, looks for the choke, but settles for some shots to the side of Thiago's head. Thiago escapes to his feetand fires some punches and a kick as the round ends. Sanchez evens the score…
Round 3: Thiago shoots for a takedown but winds up on his back. Sanchez with a knee to the ribs. Thiago almost locks a kimura. Sanchez escapes, moves to Thiago's back and sinks his legs in a body triangle. Sanchez softens Thiago up with punches. Thiago still looking for that armlock. Sanchez slugs Thiago in the spine. Thiago rolls, slips out from under Sanchez and escapes. Sanchez rushes back in and eats a nasty upkick, but he's back on Thiago. Sanchez moves to Thiago's back, but Thiago transitions to a d'arce attempt. It doesn't work out. Sanchez grabs control again and moves to Thiago's back. Sanchez gets mount when Thiago rolls, and hauls off like a madman in the closing seconds. The horn saves Thiago from certain death. Sick round. Honestly, this shitty recap does not do it justice.
Sanchez def. Thiago via unanimous decision (30-26, 29-28 x 2)
Sanchez is fired up. His "moto" during training camp was "just earn it." He gives Jesus the necessary props and shouts out the Cali fans. ("Old Mexico, whatever you wanna call it.")
Jake Shields vs. Martin Kampmann
Can this fight break tonight's string of decisions? Not that we didn't appreciate the insane grappling war of Shields/Kampmann, but still. Props to Shields for using Rage's version of "Renegades of Funk" for his walkout. As Rogan points out, Shields looked very drawn-out at the weigh-ins yesterday, in his official return to 170.
Round 1: Shields starts with a kick to the body. He shoots in to clinch. Kampmann does his best to stave him off, but Shields eventually works Kampmann to the mat. Shields in side control, then half guard. Kampmann attacks from the bottom. Shields works for an arm choke, but Kampmann defends. Shields pops to mount, but Kampmann bucks and gets out. They're back on their feet, in a clinch. Knees from Kampmann. Shields grabs a leg and drags Kampmann down. Kampmann gets back up and they're back against the fence. They separate. Body kick from Shields. Shields lands a jab. Leg kick Shields. Kampmann lands a jab. Shields shoots, Kampmann sprawls. Body kick Shields, and a leg kick. Shields bulls Kampmann against the cage and grabs a leg as the round ends.
"The beautiful Arianny…..Chandella."
Round 2: Shields shoots low then grabs onto Kampmann as he sprawls. They clinch against the fence. Kampmann nails Shields with a knee to the face and Shields drops to the mat. Kampmann grabs a guillotine, but Shields is still in it. He pushes forward and escapes the hold, takes Kampmann down, and defends another guillotine before separating. Kampmann lands another knee to Jake's face in the clinch, and Shields drops to his knees…it's probably intentional, but it doesn't look good. Shields works his way on top, and passes to mount with a minute left. Kampmann rolls out of it. They clinch against the fence. Big John breaks 'em. Kampmann lands a right to the jaw, then scores with the jab. There's the horn. Shields is looking pretty exhausted…and he's warned for shorts-grabbing on the way back to the stool.
Round 3: Shields shoots for a leg, Kampmann defends. Kampmann throws a high kick and a knee. Shields with another low shot, Kampmann defends. Shields turns his back getting to his feet and Kampmann kicks him in the side. Shields with a sad single-leg attempt and basically gives up on it when Kampmann resists. Kampmann gets on top of Shields on almost sets up a d'arce choke. Kampmann on top in half guard, throwing down some short elbows to the head and body. Kampmann sets up another choke, but Shields defends and gets back on top. Shields moves to side control. Kampmann rolls and tries to get to his feet but Shields pulls him back down and takes his back with the body triangle sunk. Shields throws some incredibly weak punches to Kampmann's head as the round ends. Anaheim is not impressed. Shields made his Octagon debut looking like Jon Fitch with better jiu-jitsu and a shitty gas-tank.
Shields def. Kampmann via split decision (30-27, 29-28, 28-29). He will not be getting a post-fight interview. Will he still be getting a title shot after that plodding performance? Sugar Ray Leonard is shown in the crowd, looking bored to death.
Brock Lesnar vs. Cain Velasquez
That peppy accordion music means it's time for the challenger to arrive. Lesnar comes out intense as fuck. He storms into the arena, eyes full of death. He shoves a police officer out of his way and continues forward, alone, unguarded.
Round 1: Lesnar rushes Velasquez and tries to take him down. He can't, so he fires a flying knee that smashes Cain. Lesnar resets and takes Velasquez down. Velasquez escapes and they're against the fence. Lesnar grabs Velasquez's waist and takes Velasquez down for a fraction of a second. Velasquez fires a head kick when they're standing again. Velasquez shoots for the takedown and gets it. Velasquez batters Lesnar with punches to the side of his head. Lesnar escapes. Lesnar stumbles after getting caught by a punch. Velasquez chases and bombs out on him. Lesnar is stunned. Velasquez punishing from the top, with a knee on Lesnar's belly. Lesnar covering. Lesnar gets up but is dropped with a punch. Lesnar turtles. His face is a bleeding wreck. He rolls but only finds more abuse from Velasquez. The ref stops the fight. Cain Velasquez is your new heavyweight champion.
Velasquez def. Lesnar via TKO, 4:12 of round 1.
"Todos Latinos…we did it, huh!" Velasquez says. Lesnar tips his hat to Velasquez. Rogan asks if he'll go back to the drawing board, study what he did wrong, and come back. "That's what a champion does, right?" Lesnar says.
"I really feel like we saw the beginning of a new era," Rogan says. Oh, you mean like the Machida Era?
We get the Jon Madsen/Gilbert Yvel fight from the prelims. Yvel is rocking a broke-ass bald spot. Madsen is usually one of the most boring fighters in the UFC. He starts things off with a very explosive takedown, and gets to punchin' from the top. Some savage ground-and-pound, and Yvel can't do anything but cover up. Madsen def. Yvel via TKO, 1:48 of round 1. He increases his Octagon record to 4-0, but this is the first time he was exciting to watch. Yvel drops to 0-3 in the Octagon, and will surely be released after this one. That's it for the liveblog. Thanks for hanging out, and be sure to come back tomorrow for some post-fight news and notes. Discussion question #1: how long will Velasquez hold his belt?