Tyson Fury Offers To Fight Francis Ngannou With UFC Gloves In Boxing Match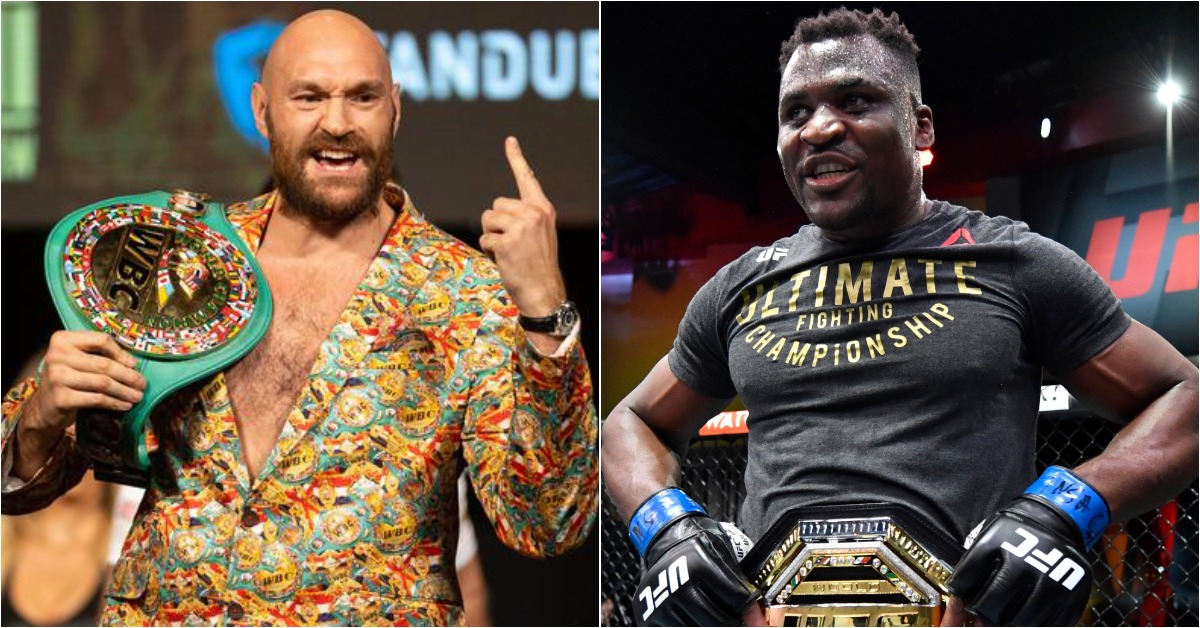 Reigning WBC heavyweight champion, Tyson Fury has questioned his followers if they would be interested in seeing him clash with UFC heavyweight champion, Francis Ngannou in a professional boxing match – with the pair sporting mixed martial arts gloves.
Tyson Fury, who most recently scored his second career win over former champion, Deontay Wilder – stopped the Alabama native with an eleventh round knockout back in October.
Francis Ngannou is set to headline UFC 270 later this month against interim heavyweight champion Ciryl Gane

For Ngannou, the Cameroon native is slated to take main event status at UFC 270 on January 22. – clashing with former teammate, Ciryl Gane in a heavyweight title unification bout at the Honda Center in Anaheim, California.
However, Ngannou, who retains just one fight on his current UFC contract, has admitted that he would love to test his striking skills inside the boxing ring, but the Batie native would be subject to a 'champion's clause' should he unify the titles against Gane later this month, tying him to the UFC for at least another fight.
Posting on his official Twitter this Thursday, Tyson Fury gauged fan interest in a potential boxing match against Ngannou, sharing a fan-made poster of the duo.

"Who would like to see me fight this beast (Francis Ngannou) (with) boxing rules (and) @ufc gloves?" Tyson Fury tweeted. "@danawhite @francis_ngannou"
Issuing his response to Tyson Fury, Ngannou suggested the two should meet in a professional mixed martial arts fight, sporting boxing gloves, instead.
"How about MMA rules with boxing gloves?" Francis Ngannou tweeted. "I can do you that favor."
Once more issuing a tweet directed at Ngannou, Fury claimed that he would knockout the heavyweight champion, and secure him the most lucrative payday of his professional career to date in the same night.

"You want to come in to (sic) my world calling me & (Deontay) Wilder out to a boxing match," Tyson Fury tweeted. "What I can guarantee you would be knocked out & also paid your highest purse to be so! So have a think (thinking face emoji)."
In a final response to Fury, Ngannou claimed that once he concludes business with Gane later this month, he wants to fight the Manchester native, whether that come inside the Octagon, in a boxing ring, or a phone booth. 
"After I handle business on Jan. 22 (UFC 270) I'll fight you under any special rule set you want," Francis Ngannou tweeted. "In a ring, an Octagon or a phone booth."