Twitter Reacts To Brad Pickett's Retirement Fight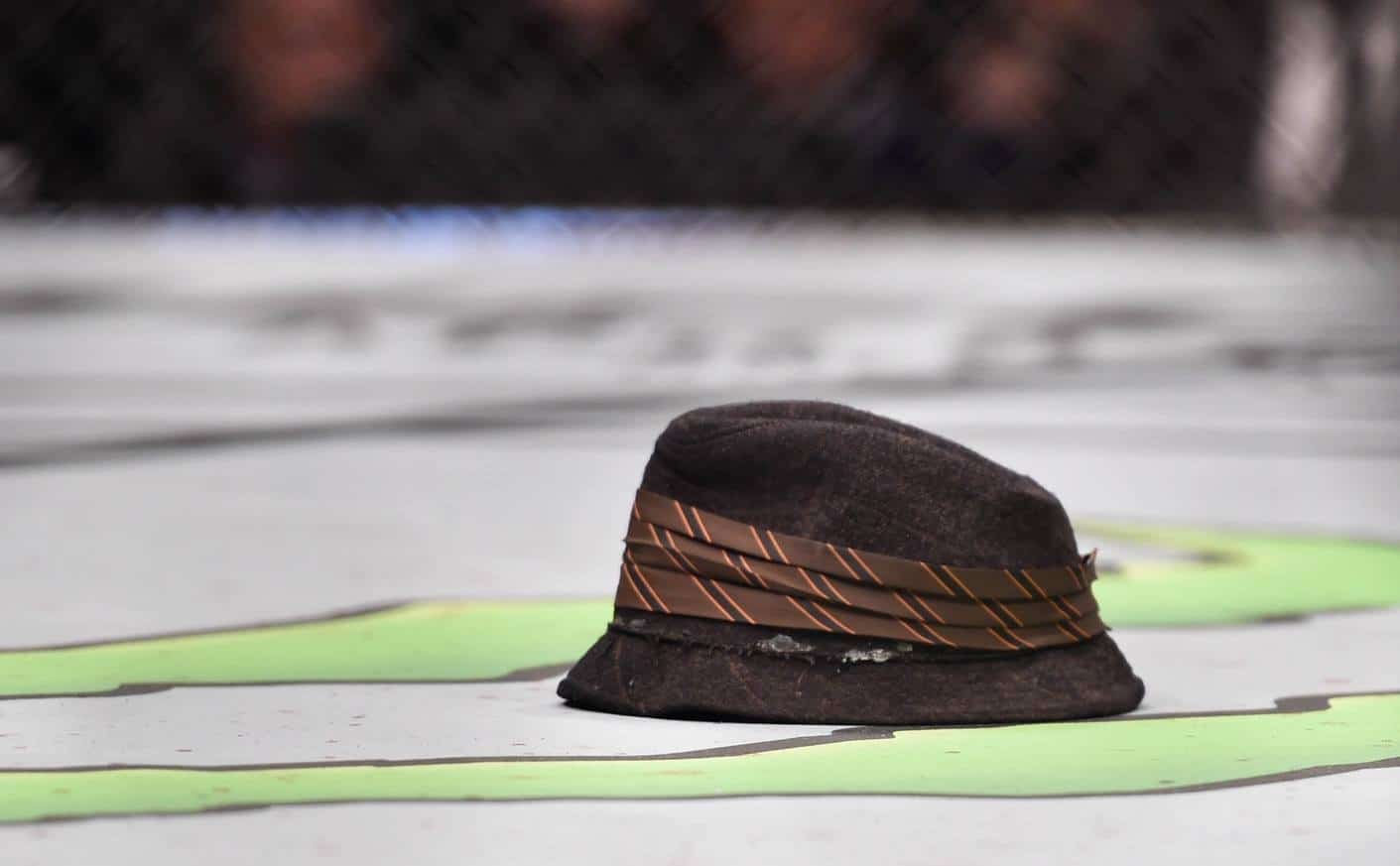 UFC Fight Night 107's main card featured the retirement fight of Brad "One Punch" Pickett in front of his home crowd at the O2 Arena in London, England. The storybook ending eluded him today (Saturday, March 18, 2017), as one of the most beloved action fighters in MMA history succumbed to Marlon Vera in the third round. Pickett likely took the first two rounds on the back of his wrestling and ground and pound. But when the final round came, Pickett seemed to be running out of gas. Vera scored consistently with punches and kicks, Pickett returning fire less and less often. Finally, Vera dropped Pickett with a clean head kick and finished the job with follow-up hammerfists. MMA Twitter collectively wept.
See the reaction to the heartbreaking end to one of the most lauded careers in history.
As longtime Brad Pickett fan, I'm hoping to see some classic Pikey action tonight. #UFCLondon pic.twitter.com/q39co68ucM

— Dan Tom (@DanTomMMA) March 18, 2017
Those are some lofty numbers throughout @One_Punch's career #UFCLondon pic.twitter.com/KIBh8HNpty

— UFC (@ufc) March 18, 2017
Feels like Pickett should be able to bully Vera standing, get takedowns, and then lock him down for a decision. #UFCLondon

— Bloody Elbow (@BloodyElbow) March 18, 2017
https://twitter.com/LegKickTKO/status/843216981386059776
https://twitter.com/SecretMovesMMA/status/843217383988838405
Crowd on their feet as Brad Pickett gets the main-event walk-in treatment. Well done.

— John Morgan (@JohnMorgan_MMA) March 18, 2017
Fun fact: @One_Punch's first fight was at Cage Rage 9 in a TKO win against Stuart Grant, 27th of November, 2004! #UFCLondon pic.twitter.com/RiQmgsdnQR

— Submission Radio (@SubmissionRadio) March 18, 2017
Pickett has the newspaper!!!!

— Luke Thomas🏋️‍♀️ (@lthomasnews) March 18, 2017
https://twitter.com/LegKickTKO/status/843218150594428928
https://twitter.com/ChampionsFight/status/843218048240816128
Most definitely looking forward to Mr Picketts last dance in the octagon. His boxing for MMA has been 1 I enjoyed breaking down#UFCLondon

— Aljamain Sterling (@funkmasterMMA) March 18, 2017
Brad @One_Punch making that final walk… to the octagon or the coffee shop? #UFCLondon pic.twitter.com/oDBrLmti0F

— Mike Jackson, Esq. (@TheTruthJackson) March 18, 2017
Classic Brad Pickett walkout ahead of his final fight. Perennially fun mixed martial artist.

— Josh Gross (@yay_yee) March 18, 2017
Hometown Hero#UFCLondon pic.twitter.com/msl8QMaNEq

— UFC (@ufc) March 18, 2017
its got messages from fellow fighters, fans, UFC staff and media members in it. The London UFC office did that for him.

— Chamatkar Sandhu (@SandhuMMA) March 18, 2017
Marlon Vera brought his best bad-guy mustache. He's here to spoil.

— Dann Stupp (@DannStupp) March 18, 2017
Let's go @One_Punch #UFCLondon #LastDance pic.twitter.com/oYBsnje5QF

— Łukasz Zaborowski (@Zabooor) March 18, 2017
100% a grounded fighter. Officiating has been atrocious. https://t.co/fcWviHRTEI

— RJ Clifford (@RJcliffordMMA) March 18, 2017
3 illegal kicks.

"Keep working" the ref says to the man illegally kicked in the head. #UFCLondon

— Seán Sheehan (@SeanSheehanBA) March 18, 2017
One more round for the rest of his life. #UFCLondon

— Tommy Toe Hold (@TommyToeHold) March 18, 2017
Protest aside, that was a legit stoppage. #UFC

— Mike Chiappetta MMA (@MikeChiappetta) March 18, 2017
Mixed Martial Arts isn't into fairy tale endings… #UFCLondon

— MiddleEasy (@MiddleEasy) March 18, 2017
Wow Marlon Vera with a vicious head kick to finish Brad Pickett. Heartbreaking for Pickett but a good stoppage#UFCLondon

— Damon Martin (@DamonMartin) March 18, 2017
https://twitter.com/FurysFightPicks/status/843222996441554944
Best laid plans of mice and men. Marlon Vera landed a nasty high kick that dropped Pickett in the final minute. Ref stepped in and ended it.

— Josh Gross (@yay_yee) March 18, 2017
https://twitter.com/iainkidd/status/843223455294275584
Not the way he wanted to close his career, but he has nothing to be ashamed about.

Thanks for everything @One_Punch 👊

— MMA History Today (@MMAHistoryToday) March 18, 2017
Damn, that sucks. Really was pulling for Pickett to finish close out the fight with the decision. Vera stuck with those kicks#UFCLondon

— Aljamain Sterling (@funkmasterMMA) March 18, 2017
#UFCLondon pic.twitter.com/9YUUnhtmX1

— MMA GOSSiP (@MMAxGossip) March 18, 2017
I love @one_punch. He's a class act and I wish him all the best in the next chapter of his life. Thank you for all the great fights! ♥

— Stephie Haynes (@CrooklynMMA) March 18, 2017
Ahh man. Pickett left his hat in the center of the Octagon #UFCLondon pic.twitter.com/wtJMXc0ChB

— Surfer Ken©™, BSN, RN, PMH-BC (@SurferKenLive) March 18, 2017
I'm so fuckin proud of my boy @chitoveraUFC.

— Andre Fili (@TouchyFili) March 18, 2017
Congrats on an amazing career @One_Punch! Thank you! #UFCLondon #Legend
👏 pic.twitter.com/rvW6FuwB0G

— UFC Canada (@UFC_CA) March 18, 2017
That hat stays in the center of the Octagon #ThankYouBrad #UFCLondon @One_Punch pic.twitter.com/MgsHTOlcNe

— UFC (@ufc) March 18, 2017
Heart-wrenching moment for Brad Pickett. Up two rounds in his retirement fight only to lose in the third. Hard not to feel for him.

— Ariel Helwani (@arielhelwani) March 18, 2017
Thank you @One_Punch for always giving it all during each one of your entertaining fights but also for always being so genuinely kind

— Megan Olivi (@MeganOlivi) March 18, 2017
Thank you @One_Punch for a awesome, entertaining career. Going out like a legend.

— Andre Fili (@TouchyFili) March 18, 2017
Thanks for everything, @One_Punch. Ride off into the sunset. #UFCLondon pic.twitter.com/t9LdsMLnBt

— earlmontclair.bsky.social (@EarlMontclair) March 18, 2017
"I love every one of you." @One_Punch sends the fans an emotional farewell. LIVE NOW on @UFCFightPass https://t.co/gqAQ9e5C7o pic.twitter.com/XfBVOgEvcB

— UFC (@ufc) March 18, 2017