Conor McGregor News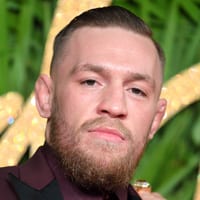 DOB: July 31, 1984
Birthplace: Crumlin, Dublin, Ireland
Nickname: Notorious
Gym: Straight Blast Gym
Style: Boxing/Karate
Weight Division: Lightweight
Championships: UFC Featherweight and Lightweight Champion
Conor discovers boxing and MMA
Conor McGregor grew up in the town of Crumlin and took up boxing when he was 12 at the Crumlin Boxing Club. His reason for taking up boxing was to learn to defend himself from bullies and boost his confidence.
After 4 years of boxing, Conor and his family moved to the town of Lucan and met future UFC fighter Tom Egan. McGregor quickly got interested after learning about MMA and started training with Egan.
After turning 18, Conor would have his only amateur MMA fight at the promotion Irish Ring of Truth. He would win the fight by TKO and immediately turn pro , having big aspirations of being a star.
Straight Blast Gym
After his one amateur win, Conor would move to Dublin to pursue his dream. There he began training at Straight Blast Gym under John Kavanaugh, where he has stayed throughout his career.
Conor's early pro MMA career would go 5 years(2008-2012) before making his UFC debut. In that time, Conor would go 12-2 and go on to win both of the Cage Warriors featherweight and lightweight titles.
Conor's UFC run
McGregor made his promotional debut in 2013 winning by TKO against Marcus Brimage. From there Conor quickly elevated himself to early stardom.
He beat a slew of top fights like future world champs Max Holloway and Dustin Porier. All while being brash with an ultra confident persona that would help create his fanbase and boost fight ratings.
Conor's featherweight title
During his quest for the featherweight title, Conor tormented champion Jose Aldo with mind games. Upon their initial match, Aldo had to pull out the week of the fight with an injury and Chad Mendes replaced him. 
Conor would win the interim featherweight title stopping Mendes stopping him in the 2nd. Setting up his title fight with Jose Aldo.
A blood feud developed between the two and the fight was set for UFC 194. McGregor would have a stunning 13 second knockout of the reigning champ becoming the undisputed champion.
McGregor vs Diaz fights
After winning the featherweight title, Conor moved up to lightweight to fight then division champ Rafael dos Anjos. RDJ had to pull out the week of the fight and Nate Diaz quickly stepped in.
Diaz had already expressed interest in fighting Conor and would get his wish at UFC 196. Nate would give Conor his first loss in the UFC in the highest rated fight in UFC history.
They would have a rematch UFC 202, where Conor would win the rematch by division. Breaking the PPV record that they set.
Lightweight Title & Floyd Mayweather
After beating Nate Diaz, Conor would fight lightweight champ Eddie Alvarez for the title. He would stop Alvarez in the 2nd round to win his 2nd UFC title.
Not satisfied with being two division champ, Conor set his sights on a huge money fight. This time in boxing against the best boxer in the world Floyd Mayweather.
Conor got his wish and signed a fight contract guaranteeing him a $100 million dollar purse. Mayweather would go on to stop Conor in the 10th.
Return fight against Khabib and comeback
Conor would make his return to the UFC in 2018 to fight champion Khabib Nurmagomedov. McGregor created more controversy before the fight attacking a bus Khabib was on with a dolly cart.
After he created another blood feud, the fight was set for UFC 229 in Las Vegas. Khabib would go on to win by RNC, but a riot broke out after the fight, when Khabib went to attack Conor's corner.
Both fighters were suspended and fined for their roles in the riot. McGregor would go on a hiatus for 2 years to promote his whiskey brand before making his return at UFC 246. Stopping Donald Cerrone in under a minute of the first round.