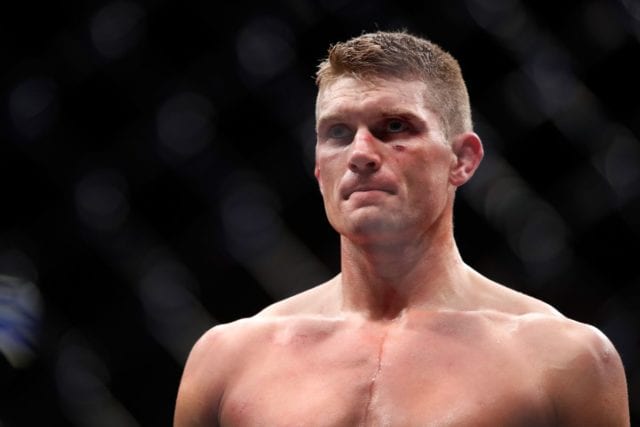 Former title contender Stephen Thompson is eyeing a certain fight for his UFC return.
As seen in the main event of UFC Liverpool event that aired live on FOX Sports 1 at the Echo Arena in Liverpool, England, rising prospect Darren Till picked up a unanimous decision win over former title contender.
This marked a win Till's own backyard. Shortly after the fight, Thompson revealed that he suffered a knee injury midway through the second round after eating a kick.
Thompson reflected on how the injury occurred as well as finding out that he tore his MCL on a recent episode of the Slip n' Dip podcast.
"In the second round he was really focused on kicking me in the knee," Thompson said (transcript courtesy of MMANytt). "He ended up hitting me in the knee, hyper-extending my knee and I ended up tearing my MCL. So in the fight, all the knee I had the injuries on, I've had four surgeries on my left knee and two on my right.

"About ten years I tore every ligament in my left leg and so after he hit it, I could feel some crunching going on so I backed up and I shook it off. I don't think I should've done that because I think he realized that he was hurting me so he kept going for it."

"They told me six to eight weeks minimum," Thompson said. "I'm taking it easy on my knee, but I'm still back into training, sitting in a chair and hitting the bag man. I'm always keeping ice on my leg, so hopefully by the end of the year I will have something set up. That's with my fingers crossed, that's what I want."
With Thompson just fighting the #7 ranked fighter in the division and his own ranking dropping from #1 to #3, Thompson is hoping to face a higher ranked opponent next.
In fact, he has a potential opponent and date for his next fight, which would be against former UFC welterweight champion Robbie Lawler at the upcoming UFC 230 pay-per-view event in November at Madison Square Garden.
"I dunno man, I want to fight someone in the top 5," Thompson said. "I got bumped down to #3. You got Robbie Lawler, hopefully, maybe things will just right because I know he had knee surgery a few months back so hopefully things will go just right and the timings work out so we could face each other or something.

"I got fans all the time asking me 'why don't you fight Robbie Lawler?' I think, I got a lot of respect for him and it would be a barnburner.

"He's just stands there and wants to bang it out. I love fighting guys like that — without getting hit in the knee of course. Hopefully we can get that shot at MSG, that would be sick."
If you enjoyed this story, please share it on social media!