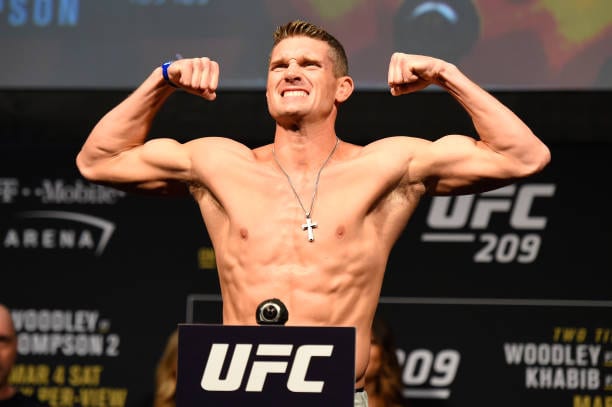 Last weekend (Sat. September 8, 2018) UFC welterweight champion Tyron Woodley successfully defended his title against Darren Till.
Woodley knocked the Englishman down in the second round before locking in a D'arce and forcing him to tap. After the bout, the welterweight division came out in full force, trying to shoot their shot for the next 170-pound title opportunity.
One notable name who took to Twitter was Stephen "Wonderboy" Thompson. Thompson has only won one of his past four fights. Despite this, Thompson said he and Woodley have unfinished business to attend to. "Wonderboy" and Woodley have fought two times before.
Their initial bout ended in a Majority Draw, while Woodley won a Majority Decision in the rematch:
"Great fight, well done @TWooodley.  I fought both guys, and I'm down to fight both again!  T-Wood, we got unfinished business!"
Great fight, well done @TWooodley.  I fought both guys, and I'm down to fight both again!  T-Wood, we got unfinished business! #WoodleyvsThompson3

— Stephen Thompson (@WonderboyMMA) September 9, 2018
Shortly after, Colby Covington responded to Thompson's Tweet, saying to get to the "back of the line":
"Oh shut the hell up you virgin! You're at the back of the line choirboy."
Oh shut the hell up you virgin! You're at the back of the line choirboy. https://t.co/JXeSRrCO44

— Colby Covington (@ColbyCovMMA) September 9, 2018
Thompson was recently interviewed by Fightful's James Lynch and responded to Covington's comments. "Wonderboy" said it made him chuckle a little bit:
"I did see it, you know what, it kind of made me chuckle a little bit. The stuff that comes out that guys mouth, it's funny, but at the same time, the dude's trying way too hard."
Thompson then said Covington is trying to poorly impersonate Conor McGregor. Because Covington uses his trash-talk to get big fights, Thompson seems confident "Chaos" will get the next welterweight title shot:
"He's trying to be a Conor McGregor and he's just not him, he's not doing a very good job of it. People love to hate this guy, that's the kind of character he is. Nobody likes him, but it gets him fights, and I think he will be getting that title shot next."