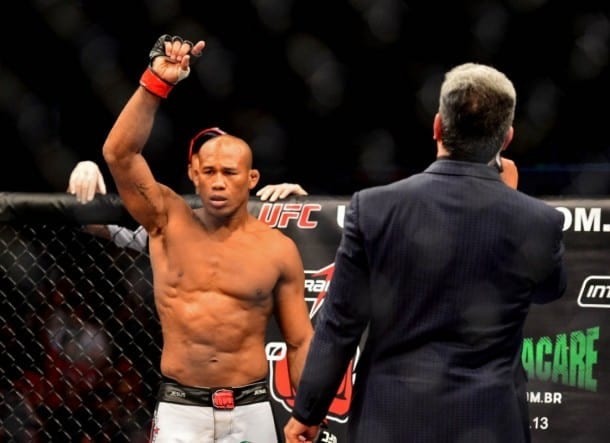 Former Dream and Strikeforce middleweight champion Ronald Souza has one goal that he wants to achieve this year.
The Brazilian jiu-jitsu legend had been on the cusp of a UFC title shot but suffered a TKO loss to current middleweight champion Robert Whittaker in his bout last April.
However, he got back on track in his most recent bout.
As seen in the main event of UFC on FOX 27 (UFC Charlotte) on Saturday, January 27, 2018, at Spectrum Center in Charlotte, North Carolina on big FOX, Souza scored a devastating knockout victory over Brunson in the first round.
Souza recently went on record that he plans to become the UFC middleweight champion by the end of this year.
He is slated to meet Kelvin Gastelum in the co-main event of UFC 224.
If he can beat Gastelum, then he would likely face the winner of the upcoming middleweight title bout against Whittaker and Yoel Romero at UFC 225 in July.
Thus, Souza's goal of becoming champion this year could become a reality late in 2018.
"If you analyze it, there's no better option," Souza told MMA Fighting. "Chris Weidman can't fight now, he's hurt. Kelvin Gastelum is here to fight, I'm here to fight, you know? Here's what's going to happen: in two fights I'll become the UFC middleweight champion.

"No disrespect, it's just me being confident. In two fights, I'll become the UFC middleweight champion. I'm working for that, and I believe in it, and it will happen. Kelvin is a tough fight, difficult, complicated, but I'm here to defeat anyone and I will win two fights to become UFC champion."

"I just hope it's a good fight and the better man wins," Souza said. "I want to be there, front row, watching who will win. I will fight the winner of this fight. I'm not rooting for any of them. Whoever has a better gameplan will win that night."
If you enjoyed this story, please share it on social media!