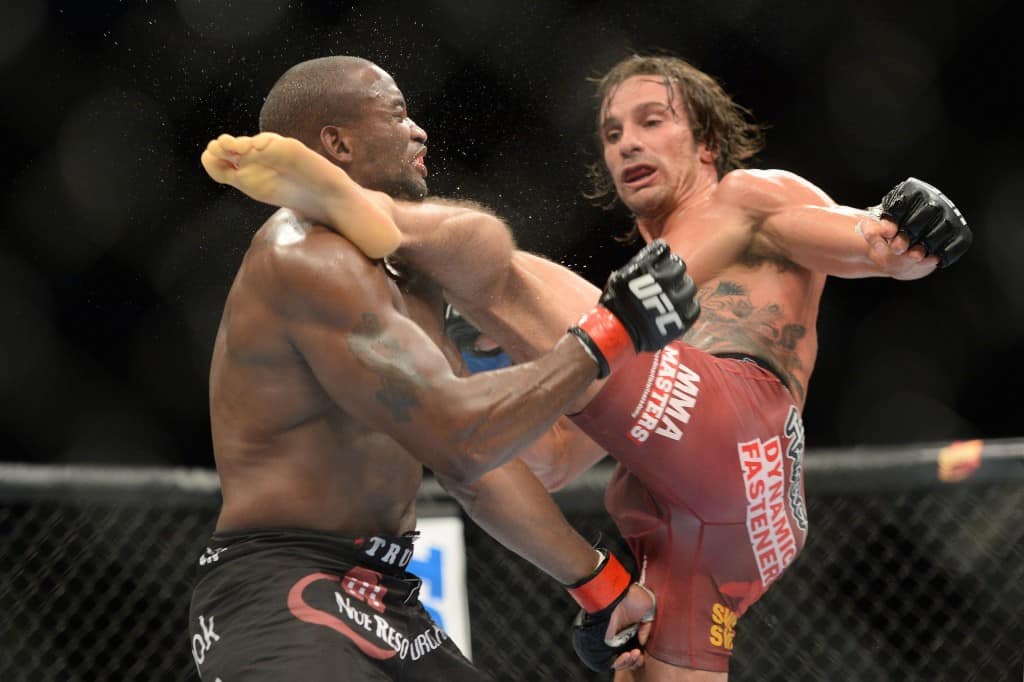 The history books will most likely have 2014 written down as one of the worst the UFC will have endured (at least, hopefully). An endless myriad of high-profile title fights were canceled due to injury like they were all part of some maddening clockwork, forcing the promotion into last-minute event shuffling that resulted in a shocking 40 percent drop in profits for the fiscal year.
But even amidst the mass chaos, 2014 saw some amazing fights, cards, and of course, knockouts. Some were just great because of their sheer power, others their technical ability, and even more for the circumstances in which they occurred.
It wasn't easy to pick out the top knockouts of 2014, but those listed below stood above the rest over the course of this year. I did take into account the magnitude of the bout in terms of ranking a bit; for example, the backstory of Dan Henderson knockout over Shogun Rua in their UFC Fight Night 38 definitely amplified the knockout's value for me.
You may not judge your knockouts based on that, and I understand that point of view as well. In any case, check out my list of the best knockouts of 2014, cast your vote on your picks for the best in the poll, and as always, feel free to list any you feel I left out in the comments section. Thanks and Happy Holidays!
The Best UFC Knockouts of 2014:
1.) Dong Hyun Kim vs. John Hathaway – The Ultimate Fighter (TUF) China Finale:
"Stun Gun" got the year kicked off right against John Hathaway in Macau, finishing the always tough Brit with a perfectly executed spinning back elbow to score his fourth straight UFC win.
Usually known for his smothering mat skills, Kim proved his striking was rapidly catching up with this stylish knockout, his second in a row and my pick for UFC Knockout of The Year.
2.) Josh Samman vs. Eddie Gordon – UFC 181:
TUF 17 veteran Josh Samman had been out of the cage for over a year-and-a-half dealing with a serious leg injury and the unfortunate passing of his girlfriend heading into his bout with TUF 19 winner Eddie "Truck" Gordon.
Samman let out all the frustrations of those trying times with a massive left high kick that instantly turned off the "Truck's" lights, earning him a "Performance of the Night" bonus and a triumphant return to the Octagon.
3.) Hendo vs. Shogun II – UFC Fight Night 38:
This rematch of what I feel is the greatest MMA fight of all-time started out extremely well for the fading Shogun, who seemed to be picking apart the aging Henderson with relative ease throughout the opening rounds.
But Henderson persevered and pulled out a bloody third round knockout with his all-powerful right hand, breaking Rua's nose and a three-fight skid in the process.
Both fighters would go on to lose their next bouts by finish and just haven't looked the same since their fateful first meeting at UFC 139, but they rekindled some of that old magic during this outstanding bout.
4.) Mark Hunt vs. Roy Nelson – UFC Fight Night 52:
This bout of heavyweight knockout specialists certainly lived up to its billing.
After a solid opening frame from both, Hunt uncorked one of his patented walk-off knockouts on the normally iron-chinned "Big Country" in the second, instantly knowing no follow-up shots were needed.
"The Super Samoan's" massive following was only furthered with this ground-shaking knockout, and he parlayed the win into an interim title shot against Fabricio Werdum at UFC 180.
5.) T.J. Dillashaw vs. Renan Barao – UFC 173:
Although this fight, like Hendo vs. Shogun II, was officially ruled a TKO, the sheer combination of power and precision that Dillashaw executed in his fight-ending sequence just couldn't be left off this list in my opinion.
The fact that it was at the hands of such a massive underdog in what is one of the greatest upsets in UFC history adds to that allure. And let's face it, Barao was knocked out. He probably had been since Dillashaw hit him with a huge overhand right in the first round.
That's a different conversation for a different time, though. For my money, there wasn't a better knockout combo that took all things into account in 2014.
6.) Abel Trujillo vs. Jamie Varner – UFC 169:
This slugfest started out with Varner in front, wobbling Trujillo with some big shots. It soon became a slugfest, with both fighters absorbing and winging some massive punches.
Trujillo was wild and desperate, and he swung for the fences with an absolutely crushing right hook that had Varner faceplanted down on the canvas. It was a great fight, and the knockout was just icing on the cake.
7.) Ronda Rousey vs. Alexis Davis – UFC 175:
Rousey came out like the dominant champion she is during UFC 175's co-main event, nailing an overmatched Davis with a stiff right hand before judo tossing her limp body to the canvas for some insurance shots.
This might have been the most one-sided title fight in UFC history, and Rousey was able to go through an entire finishing sequence with her top-ranked opponent most likely already knocked out.
That's efficiency and ruthlessness all rolled into one, folks.
8.) Chris Beal vs. Patrick Williams – UFC 172:
Beal, a TUF competitor who had overcome serious hardship in his life similar to Josh Samman, made his official UFC debut at April's UFC 172 in Baltimore, Maryland, and he took advantage of the opportunity.
Uncorking a vicious flying knee on talented wrestler Patrick Williams, Beal earned a much-deserved spot among the best knockouts of 2014.
9.) Godofredo Pepey vs. Noad Lahat – UFC Fight Night 38:
Like Beal, Pepey etched his name into the annals of UFC history with a flying knee, taking out Noad Lahat at March's UFC Fight Night 38 from Brazil.
It was undoubtedly one of the most exciting knockouts of 2014, and it propelled Pepey onto another win that has him poised for a big year in 2015.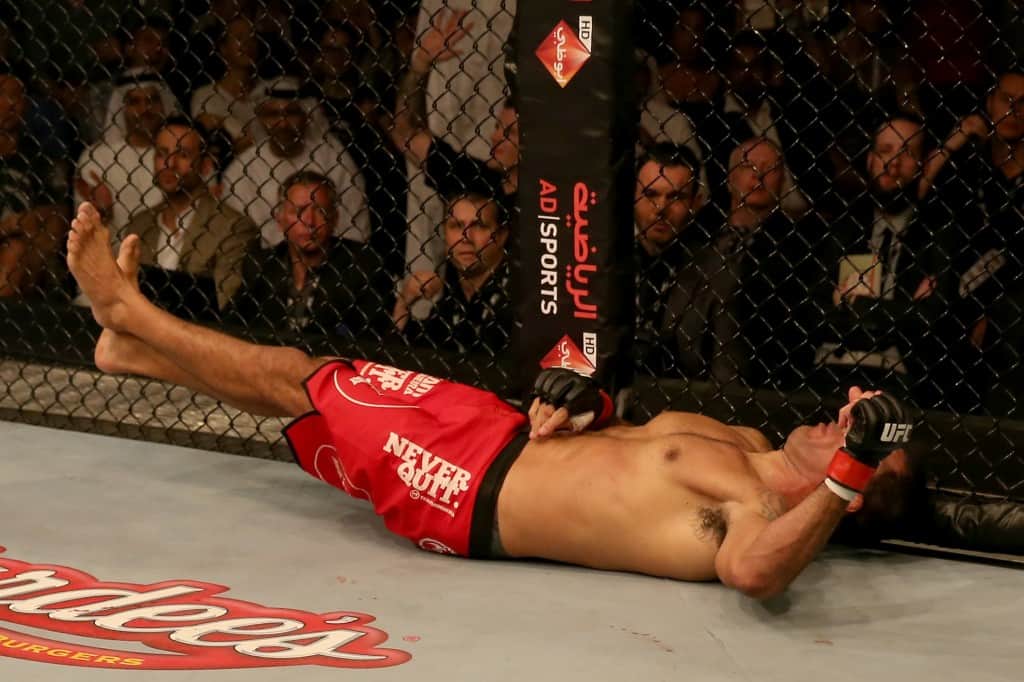 10.) Roy Nelson vs. Antonio Rodrigo Nogueira – UFC Fight Night 39:
Nelson may have been knocked out earlier o this list, but he earned a spot of his own when he starched former Pride heavyweight great "Big Nog" with a first round plastering in Abu Dhabi.
I haven't seen this knockout listed among many "best of" lists for this year, and that kind of surprises me. The punch that laid out Nogueira was nothing short of earth shattering, and "Big Country" evoked the man who would later knock him out (Hunt) by walking off like he knew it was over. It was.
11.) Andrei Arlovski vs. Antonio "Bigfoot" Silva – UFC Fight Night 51:
Both fighters came into this September main event from Brasilia with a lot to prove.
Arlovski was coming in off a sluggish split decision win over Brendan Schaub at UFC 174, and "Bigfoot was just returning from a nine-month suspension for elevated testosterone after his UFC Fight Night 33 draw with Hunt.
"The Pitbull" showed us why he was once a dominant UFC heavyweight champion, snapping crisp shots at "Bigfoot's" oversized chin. A powerful straight right found its mark, and a few (perhaps unnecessary) hammerfists later, Arlovski had somewhat unlikely found himself on the list of the best knockouts of the year.
12.) Danny Castillo vs. Charlie Brenneman – UFC 172:
The final knockout on my list was, simply put, an absolute blasting. Brenneman, who somehow had a job in the UFC even after a seemingly endless streak of losses, was obviously looking to use his wrestling to grind out a win over Team Alpha Male veteran Castillo.
"Last Call" would have none of it, finding "The Spaniard's" chin with a perfect right that had his sprawled out on the canvas like some fresh linens right out of the wash.
There are my picks for the best UFC knockouts of 2014. Cast your vote on whom you think deserved the top spot in the poll below:
online survey