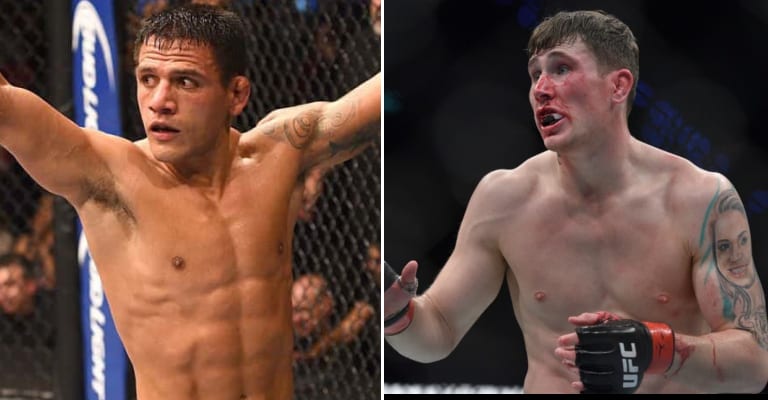 Former UFC lightweight champion Rafael dos Anjos is no stranger to difficult weight cuts.
After dropping back-to-back defeats at lightweight, dos Anjos decided to move up in weight and it has worked out for the better, as he's won three-straight fights and is set to take on Colby Covington for the interim 170-pound title in the co-main event of next weekend's (June 9, 2018) UFC 225 from Chicago.
Due to his experience, dos Anjos can relate to rising welterweight contender Darren Till, who missed weight ahead of his UFC Liverpool main event against Stephen Thompson last weekend. And although he won the bout, a video was later released detailing just how difficult Till's cut was.
Because of this, dos Anjos expects Till to eventually move up to 185 pounds:
"I don't see him fighting very long in this welterweight division," dos Anjos told MMAFighting.com. "Every time you make weight, it gets harder and harder and harder. I've been there before. I feel like every time I made 155, it was getting harder and harder harder every time. That's gonna happen to him and he's gonna go to 185 eventually.

"He didn't make weight, after all that," dos Anjos said. "And we could not even watch the whole video, right? And he was 3-1/2 pounds over — off the extra pound. If he would fight for a title, it would be 4-1/2 pounds. He's a great fighter, a young guy. But he's going to go to 185 eventually."
As far as his own career goes, dos Anjos recalled his troubling cuts down to 155 pounds, while confirming that moving up was the 'best' decision he's made:
"After I made weight, I couldn't stand up for like 40 minutes to one hour," dos Anjos said. "I lied down on the ground, on the hallway of the hotel, by my room, by my room's door. The guy said, 'OK, Rafa, it's time to make weight.' I couldn't stand up. I just couldn't walk. But I did it.

"It doesn't make any sense," dos Anjos said. "I'm passing through this, getting dehydrated, almost dying to the next day getting punched in the head. It just don't make sense. I've gotta make changes. I think it was the best thing I did."
Would you prefer Till to move up and compete and middleweight?