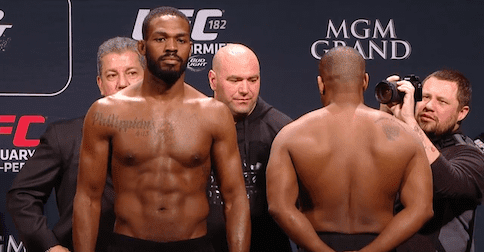 Tonight's (Sat., January 3, 2015) UFC 182 main event between pound-for-pound king Jon Jones and bitter enemy Daniel Cormier might just be the most anticipated title fight in UFC history.
It's projected to be a war between the most dominant light heavyweight champion ever and a dominant, undefeated former Olympic wrestler. It could definitely be said that there hasn't been a more evenly matched title fight in the division's history as well, making this the obvious favorite for UFC 182's "Fight of the Night."
However, the card also features a bevy of potentially exciting undercard bouts that could sneak in under the radar and steal the award. Fans can't forget the lightweight co-main event with title implications between Donald Cerrone and Myles Jury or the middleweight match between Brad Tavares and Nate Marquardt.
Dangerous welterweight contender Hector Lombard is a big favorite for a huge return against veteran Josh Burkman, but "The People's Warrior" has been known to surprise. Team Alpha Male veteran Danny Castillo will face undefeated prospect Paul Felder in the feature preliminary bout that could also deliver.
As the clock winds down to the most anticipated bout of the young year, are you picking Jones vs. Cormier as the clear "Fight of the Night," or will another fight win in an upset?
online polls
If you enjoyed this story, please share it on social media!