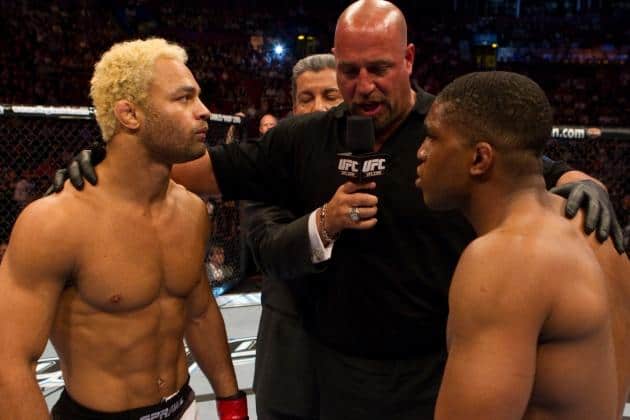 It's well known that there is no love lost between Josh Koscheck and Paul Daley. As you might recall, there was an incident at UFC 113 when Daley punched Koscheck after the bell sounded in the third round. Ever since that fight, the two have talked about fighting each other once again. Now, both fighters are in Bellator MMA, so the chances of that fight happening are good.
Daley did a recent interview and commented on Koscheck pulling out of Bellator 148, which he was set to headline.
"I've never pulled out a fight in my whole career due to injury, especially in my home town. Bellator went through a lot of effort to put on this event and build toward our fight," Daley told MMAjunkie. "Whether it was a training injury or he lost heart or he's scared of losing again to a lesser opponent. But for me, an English fighter to fly over to California to headline a card in his home town, it is pretty crazy. Koscheck's fans and friends should be asking him why he's not representing Fresno in this main event."
Daley explained that he wants to see Koscheck win a fight in Bellator MMA before they do the rematch.
"I would like to see Koscheck win a fight. I know he's been in there against top competition like current champions and former champions and has proven himself a lot in the past with solid wins, but I was doing fine without Koscheck," Daley said. "Obviously it's a big fight for Bellator it will do great for me financially, but I was comfortable. I've got plenty of people to fight. There's a title fight with Koreshkov. But now the fight definitely needs to be made, and made soon before he changes his mind."
Daley (37-13-2) is set to fight Andy Uhrich (11-5) at Bellator 148 in a welterweight bout. There's currently no word on when Koscheck will be fighting next.
Bellator MMA President Scott Coker has said in the past that he is open to that fight due to the bad blood between the two. It's pretty clear that Bellator MMA is trying to set that bout up. It's very possible that they will be fighting in the promotion shortly. Is this a fight you want to see? Let us know.