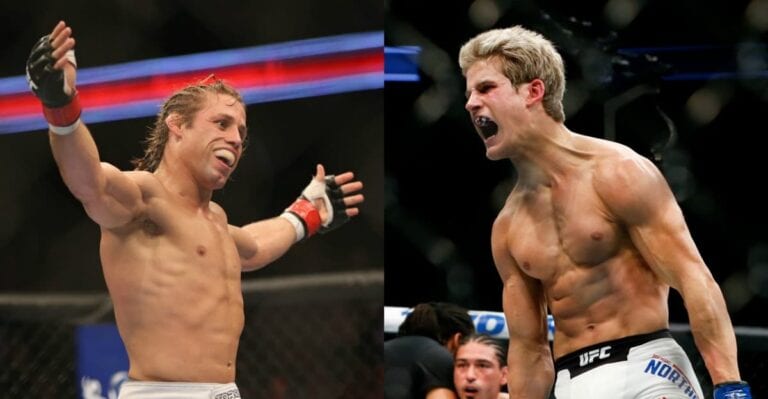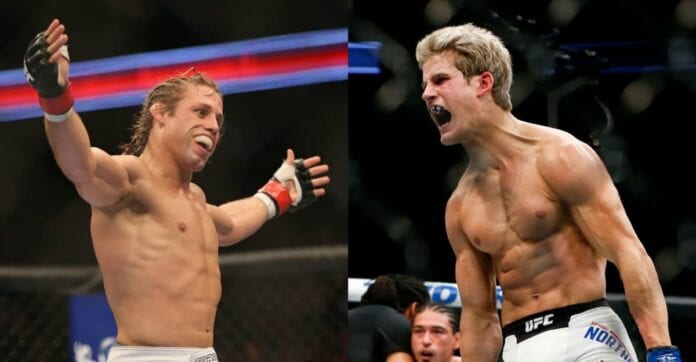 With an expanding roster and bottomless bank account, the UFC is able to tactically market promotional newcomers, rising prospects, and evolving contenders like no other mixed martial arts (MMA) outlet in the world.
The organization's efforts are understandable to say the least. In order to continuously grow into the billion dollar company that it is today, the UFC must stand by its readily-available talent.
But in many cases, the promotion's abundant marketing schemes, self-assuring build ups, and over-the-top billings prove downright futile. Whether it's a young prospect incapable of scaling his talent against higher competition or a recently acquired veteran succumbing to the overwhelming pressure of the Octagon, the UFC has struck out more than it would like to admit.
In accordance with those gutter balls, here are the top seven failed hype trains in promotional history.
7) Paige VanZant
Following the ascension of former champion Ronda Rousey, the UFC desperately attempted to market fellow female star Paige VanZant.
At just 21 years of age, and having only recorded a 3-1 professional record before entering the promotion back in 2014, it seemed like the UFC was desperately reaching for a beautiful and talented face to lead the newly created strawweight division.
While "12 Gauge" did train at the infamous Team Alpha Male, her accolades were not on par with her perceived greatness. Despite her relative inexperience and unproven track record, VanZant become one of only a handful of UFC fighters to exclusively sign with Reebook back in early 2015.
In predictive fashion, VanZant was unable to maintain her spotlighted climb atop the 115-pound roster, losing to a more well-rounded Rose Namajunus back at UFC Fight Night 80 this past December.
During that five-round beatdown, the highly-touted PVZ looked pedestrian at best. And after being taken down eight times, she saw her monstrous UFC stock instantaneously dwindle when Namajunas finished the fight by way of submission in the fifth round.
6) Jake Ellenberger
There haven't been too many UFC welterweights who have hit the proverbial wall quite like Jake Ellenberger.
And even though the heavy-handed veteran has finished admirable opponents in the past, specifically Jake Shields, Josh Koscheck, and Nate Marquardt, "The Juggernaut" has never truly cashed in on his athletic potential.
Along the way, the UFC had backed Ellenberger to the fullest. Pegging him as one of the most dangerous entities in the division seemed good on paper, but the 30-year-old has consistently frozen in the biggest of spots.
Since the beginning of 2013, Ellenberger's UFC record is a lackadaisical 2-5, while being finished three times. And through both of his decision losses, the proclaimed high-caliber wrestler secured just one total takedown.
While his hands are dangerous and have played a major role in his success in the past, Ellenberger is nothing more than a one-trick pony at this point in his career. No matter how the promotion spins it, you can only call a black horse red for so long.
5) Rousey's leftovers
Both Bethe Correia and Sara McMann were no where near close to being ready to challenge Ronda Rousey for the UFC women's bantamweight title.
While the promotion needed to hype every opponent who Rousey encountered, their public attempts to build Correia and McMann up were elementary at best.
For Correia, whose UFC opponents coming into her fight with Rousey at UFC 190 had combined for a promotional record of 1-7, she had accomplished nearly nothing that warranted a title shot. But with a memorable bashing of Rousey's training partner Shayna Baszler back at UFC 177, it became easy for the UFC to tag her as a heavy-handed striker with bad intentions for the champ.
As for McMann, who has lost three out of her last four, she was held at a higher regard because she came into the UFC as an Olympic silver medalist in wrestling. While that accolade is significant in many corners of the world, it doesn't mean much when you can't strike, defend submissions, or absorb a body shot. Unfortunately for McMann, this was never more true when Rousey quickly ended her title run via first-round TKO at UFC 170.
With limited MMA experience and the need to build up Rousey's competitors, it became extra difficult to determine which contenders were over-hyped sensations. In the case of Correia and McMann, they proved to be no-hit wonders.
4) Sage Northcutt
At just 19 years of age, it seems somewhat unethical to add Sage Northcutt to this list. But to no fault of his own, the UFC did peg him as the next big star in MMA, despite a dilapidated resume and unproven skill set.
As the most recent failed hype train to land in the UFC's temporary junkyard, Northcutt has a lot of learning to do if he wants to succeed at this level. Training with a camp that offers live sparring and useful submission defense would be a good start.
Nonetheless, "Super" was unable to cash in on his greatest opportunity to date when he took on Bryan Barberena at UFC on FOX 18 this past January, losing via second-round submission. What made things worse for the Texan was not only the fact that he tapped to an improper arm-triangle choke (according to UFC color commentator Joe Rogan), but more so the eight days of notice that Barberena had before fighting the most hyped prospect in the sport.
Northcutt is more than capable of rebounding from such defeat, but it just goes to show that experience inside of the cage goes a long way in shaping a fighter's resilience and ability to fight through pressure.
3) Takanori Gomi
Regardless of how well Takanori Gomi's UFC career went, he would always be considered one of the best Japanese fighters in MMA history.
But with the opportunity to take his skill set to the ultimate level during the pinnacle of the sport, "The Fireball Kid" came up considerably short.
The 31-5 (1) striker who had resided over the Pride and Shooto lightweight factions for nearly 10 years ran into a brick wall when he entered the UFC back in 2010. While his promotional debut opposite Kenny Florian was a tough matchup to stomach, Gomi went on to provide countless duds inside of the Octagon.
Not only was he finished five times in six defeats, but the Japanese legend earned close-decision victories over guys like Issac Vallie-Flagg and Mac Danzig. He recorded back-to-back victories only once and has mustered a mere 10 Octagon appearances in nearly six years.
As one of the highest ranked lightweights in the world prior to his UFC arrival, Gomi was expected to one day contend for a title. But with his skill set failing to carry over to the promotion within one of the deepest divisions in the sport, he has essentially become a resume padder.
2) Urijah Faber
Despite being the most accomplished UFC fighter on this list and one of the best bantamweights/featherweights of all-time, Urijah Faber can easily be considered a organizational bust at this point.
Before the UFC absorbed the WEC's roster, Faber was one of the promotion's biggest stars. He had defended his featherweight title five-straight times, while beating the likes of Dominick Cruz, Jens Pulver, and Jeff Curran. But over the two years prior to him making his Octagon debut, "The California Kid" lost three title fights in total to Jose Aldo and Mike Brown twice.
Despite his struggles coming into the promotion, Faber was still billed as one of the biggest stars in the sport. And after earning a unanimous decision victory over Eddie Wineland in his debut, the UFC quickly booked him to fight Cruz at UFC 132 for the 135-pound title. In typical Faber fashion, he came up short.
As a matter of fact, losing title fights became the norm for the Team Alpha Male coach. He not only lost to Cruz, but left two more championship belts on the table by succumbing to Renan Barao at UFC's 149 and 169.
With a track record for beating lesser opponents like Frankie Saenz, Francisco Rivera, Alex Caceres, Iuri Alcantara, Scott Jorgensen, Ivan Menjivar, and Brian Bowles, Faber's hype train has seemingly derailed on queue when pitted against the promotion's elite.
1) Mirko Cro Cop
Croatian sensation Mirko Cro Cop can easily be considered one of the best heavyweights to ever compete in MMA, but his UFC career is anything but legendary.
As one of the most highly-promoted free agent signings to ever grace the Octagon, the former Pride Open Weight Grand Prix champion was not only supposed to contend for a divisional title on arrival, but he was looked upon to one day serve as a perennial champion.
Unfortunately for the master of head kicks, things were never the same when Gabriel Gonzaga knocked him out cold with his own move at UFC 70. It remains one of the best finishes in MMA history and a knockout that forever cemented Cro Cop's less-than-impressive UFC run.
His promotional stint came to an abrupt end after getting knocked out three fights in a row by Frank Mir, Brendan Schaub, and Roy Nelson. While "Big Country" possesses devilish punching power, neither one of those three heavyweights should have outpointed the more accomplished Cro Cop on the feet, which made his demise that much more revealing.
He would go one to make one more UFC appearance by avenging his loss to Gonzaga at UFC Fight Night 64 this past April. The 41-year-old won that fight by third-round TKO, but would later retire from the sport.