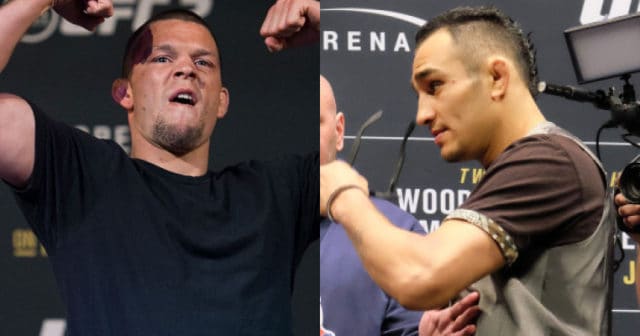 UFC fan favorite Nate Diaz was spitting seething venom on a variety of topics during a special episode of "The MMA Hour" earlier today.
Diaz predictably aimed much of his attack at arch rival Conor McGregor, whose rumored boxing match with Diaz believes he should be involved in. And with no suitable fight on the table in his opinion, Diaz has no problem taking the rest of the year off as he awaits the most lucrative fight possible.
The Stockton superstar said he hasn't talked to Dana White much, but apparently he has at least enough to receive a fight offer he originally accepted but turned down after some time to think it out:
"Yeah, I have — for July 8th. I wasn't supposed to say that. And I gladly accepted it, and then it was gladly rejected because of circumstances. Sure, I will fight him, but under these circumstances, you know what I'm sayin'? Then I was ignored and the rumors went on. So I said, 'why are the rumors still going if it's not popping?' And then I thought about it. Why am I going to do Conor McGregor's fuckin' work for him? No, fight each other motherfucker, and then you get a shot at the golden child right here, motherfucker. What are you going to do? You're going to take time off to make $100 million to fight Mayweather and I'm going to do your dirty work for you?"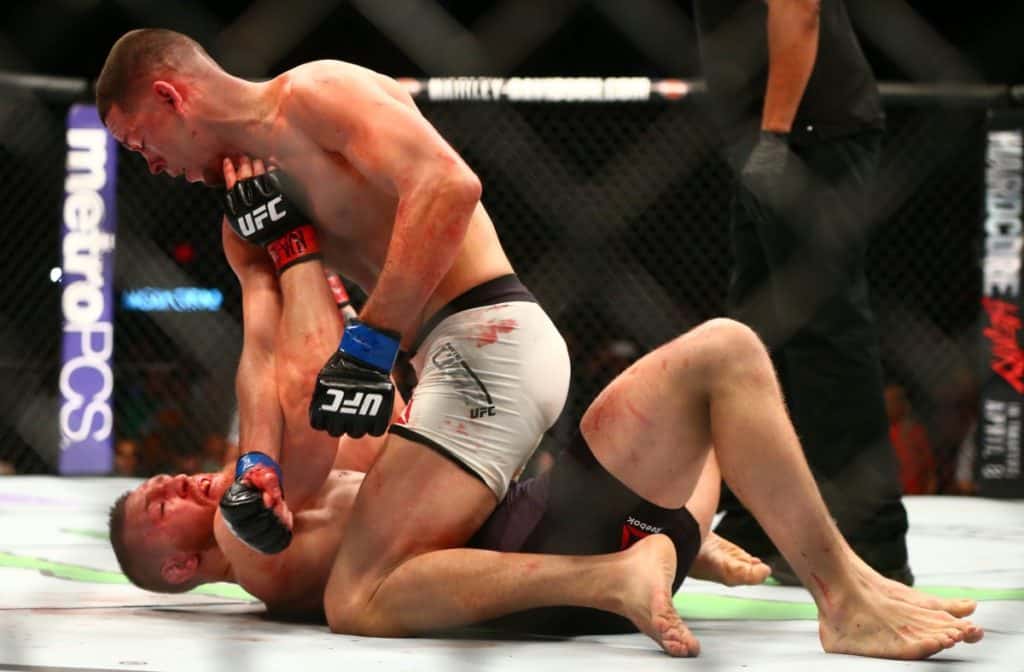 According to Diaz, he shouldn't be made to fight "El Cucuy," as that sending the surging contender down the ranks should be up to the lightweight champion whom Diaz submitted at March 2016's UFC 196. So Diaz proclaimed that while he has no hard feelings towards Ferguson, he cited the most likely true dynamic that fans would be tuning in to watch him compete rather than Ferguson:
"They're not stepping on my shoes without getting a bitch slap. I'm not mad at you Tony, but at the same time, you're not motivating me. In this game it's all about the money motherfucker. If it's not about the money then what the fuck are you doing it for? I want my piece. They're tuning in to watch me, not you, and that's your fault."
The proposition of Diaz vs. Ferguson arose when Audie Attar, McGregor and Ferguson's shared manager, suggested Diaz should 'earn' a third fight with McGregor by defeating Ferguson. Diaz thinks this is a bit of playing one of his fighters against the other, something he doesn't trust and a reason why he doesn't enlist manager:
"I ain't got no manager. I represent myself. I got my homeboys around me. I don't need no phony fucks around. Tony, Conor, Khabib and their manager, they're all on the same team. How can you trust somebody that work with the enemy? I'm about this war lifestyle. I'm taking a year off with my brother."
Diaz also said he wouldn't engage in the current trend of 'money fights,' because he is his own 'money fight' by himself:
"I ain't asking for no money fights because I am the money fight."
If you enjoyed this story, please share it on social media!