UFC women's bantamweight contender has a warning for her next opponent, the champion Holly Holm is in for an explosive battle according to 'Cupcake'….
It's strange how things turned out for UFC & Strikeforce veteran Miesha Tate in the current bantamweight title picture, and she owes a lot of it to Ronda Rousey. Up until UFC 194, Tate was being overlooked for a title shot, even though her recent run of form had included impressive wins over Sara McMann, Rin Nakai, Liz Carmouche and Jessica Eye.Then came the infamous 'plunder down under,' as Holm captured the title from Rousey with a monstrous head kick knockout.
All of a sudden 'Cupcake' was in with a chance at another title fight, having stumbled in her rematch with Rousey at UFC 168. Then 'Rowdy' revealed she'd be taking some time off to pursue her acting career, and that was the deciding moment for Tate. It wasn't long before she was paired with Holm for a UFC 196 collision, in a bout that has many intriguing qualities.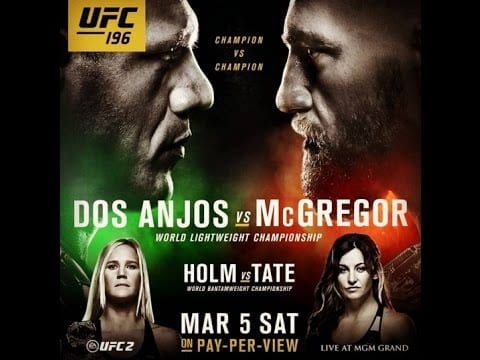 Tate spoke with FOX Sports lately to describe how she's a bigger challenge than former champion Ronda Rousey:
"I'm not like Ronda at all in my fighting style. I present different challenges and I have a lot more ring experience and I've been battle tested. I'm definitely a battle-tested veteran. I know I can take a punch to give a punch and I don't fear the clock."
"I don't care if it takes me 24 minutes and 59 seconds to win that fight, I will be…
Continue to page 2 for the rest of the interview…
"I don't care if it takes me 24 minutes and 59 seconds to win that fight, I will be in it to win it. I will be patient when I need to be patient, I will be explosive when I need to be explosive, I will be calculated and precise and I will do exactly what I need to do to win this fight."
Tate says she is a clear step up in competition for Holm and her Jackson's MMA camp, and a choice they'll live to regret:
"I think they're going to regret the decision after the fact," Tate confidently explained. "Like 'man, we really wanted to step up, we wanted to prove the we're the best in the world as champion,' but I'm going to spoil those plans."
"They know this is a huge step up in competition. They know that stylistically, I think everyone believes that I'm a more challenging style for Holly. I present different problems."